I built this computer with two goals in mind: I wanted lots of computing power, and it had to fit into a small package. The SilverStone TJ08 is moderately sized for a mATX chassis, but it is small enough to fit into the confines of a dorm room. A case with a smaller footprint generally means downsized cooling capability as well, which is what I aimed to conquer here.
With vanilla settings on the hardware, I was still hitting temperatures too high for my comfort. Here is a snapshot of my case when I began this adventure: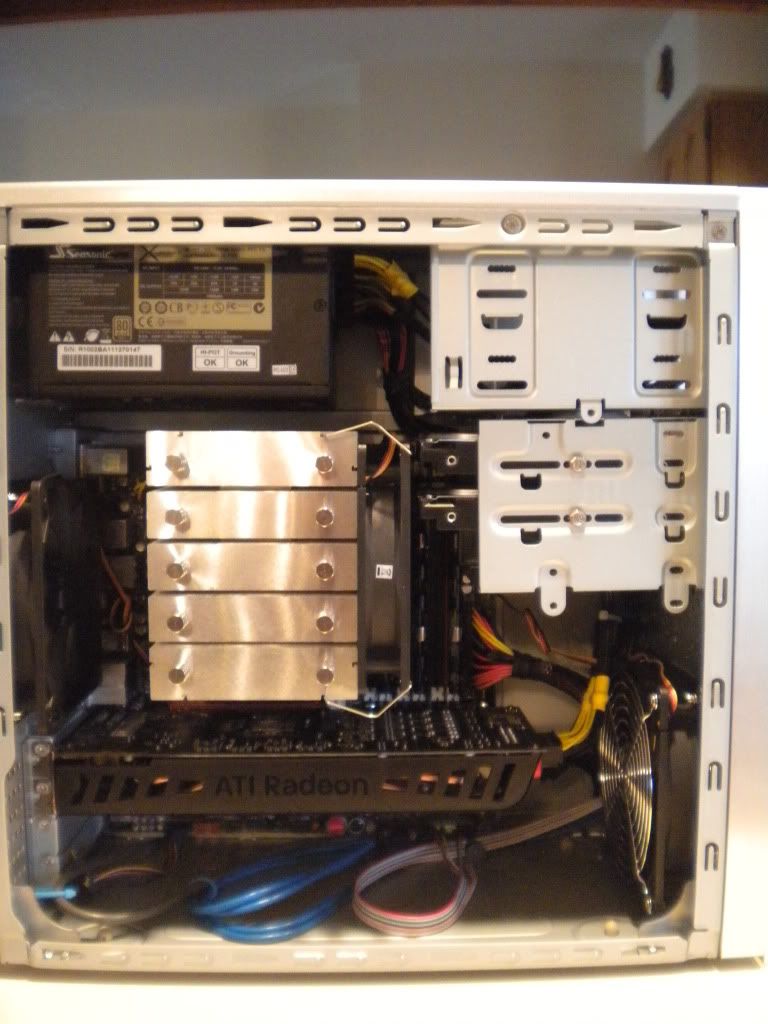 As you can see, airflow is quite restricted to the CPU cooler, and the "cooling" is provided by hot air drawn through the hard drive rack. This is far from optimal; I honestly don't know what I was thinking.
To get a look at before and after results, I took average temperatures from 3 different readings: Idle, 100% load with Intel Burn Test, and 100% load using F@H. In each instance the computer was left alone for 20 minutes. Ambient temperatures were roughly 71°F/22°C. As this isn't entirely scientific and controlled, I've rounded temperatures to the nearest degree.
So as my computer sat unscathed, err... stock?..., temps were as follows:
Idle: 36°C
Load with IBT: 68°C
Load with F@H: 57°C
Take your
pic
, but that's just not cool.*
I thought long and hard about how I could rectify this situation, and after a few beers, the answer came clearly, VOID A WARRANTY! And spend as little money as possible!!!
Lapping is a solid way to drop a few degrees and shouldn't be a worrisome process, even if you've never done it before! Take your time and clean thoroughly before reinstalling your hardware. To complete this project, I recommend having the following things on hand:
Wet/Dry sandpaper from grits 200-2000
A piece of glass
Duct tape
Isopropyl Alcohol (90% and above preferred)
Cotton Swabs
Latex or neoprene gloves
Water and dish soap, separate
A cool beverage and a TV, also separate
There are tons of guides on lapping, so I'll provide a few tips to guide you:
Start with a low grit like 100 or 200 to completely flatten your CPU or heat sink. Don't move on to the next grit until you're satisfied with the evenness of the current sanding.;
Be conservative with the water and soap. The copper dust and water form a nasty slurry that will cover your working surface, fingers (hence the gloves), and CPU.
Wet sanding provides a rougher sand, dry sanding provides a mirror finish at higher level grits.
Clean the IHS and contact grid thoroughly with rubbing alcohol and swabs. Also, clean any Surface Mount Components on the grid side as well.
A Dachshund named Dia:
And shots of the CPU and Mugen 2 at 1000 grit (sorry for the quality):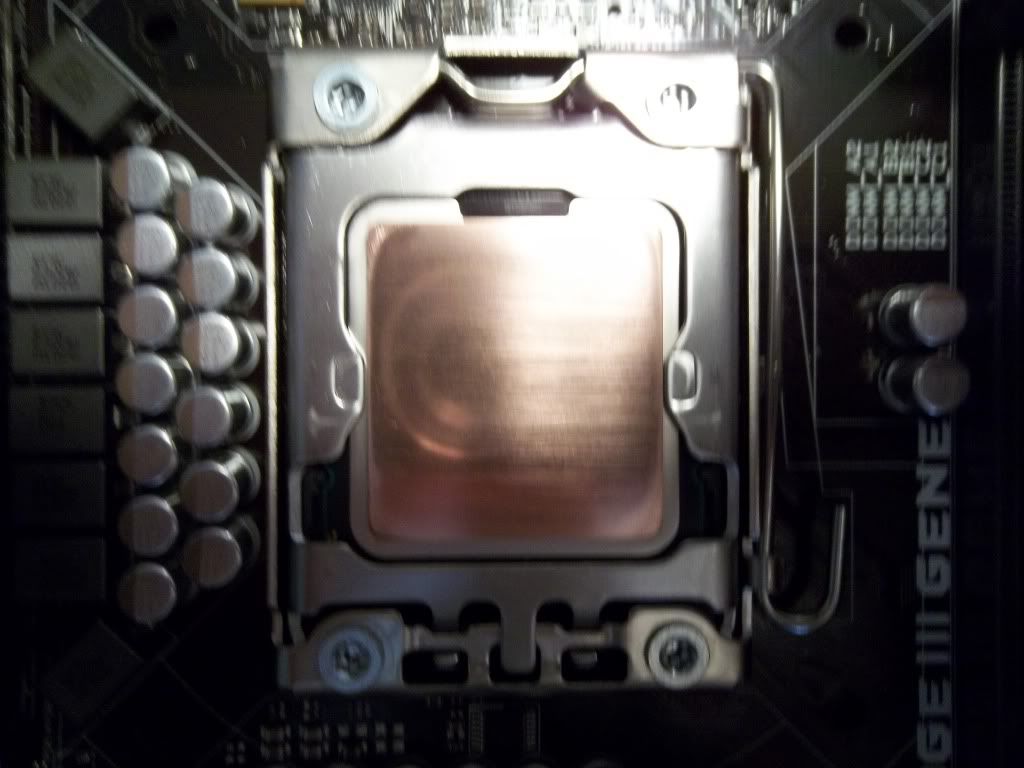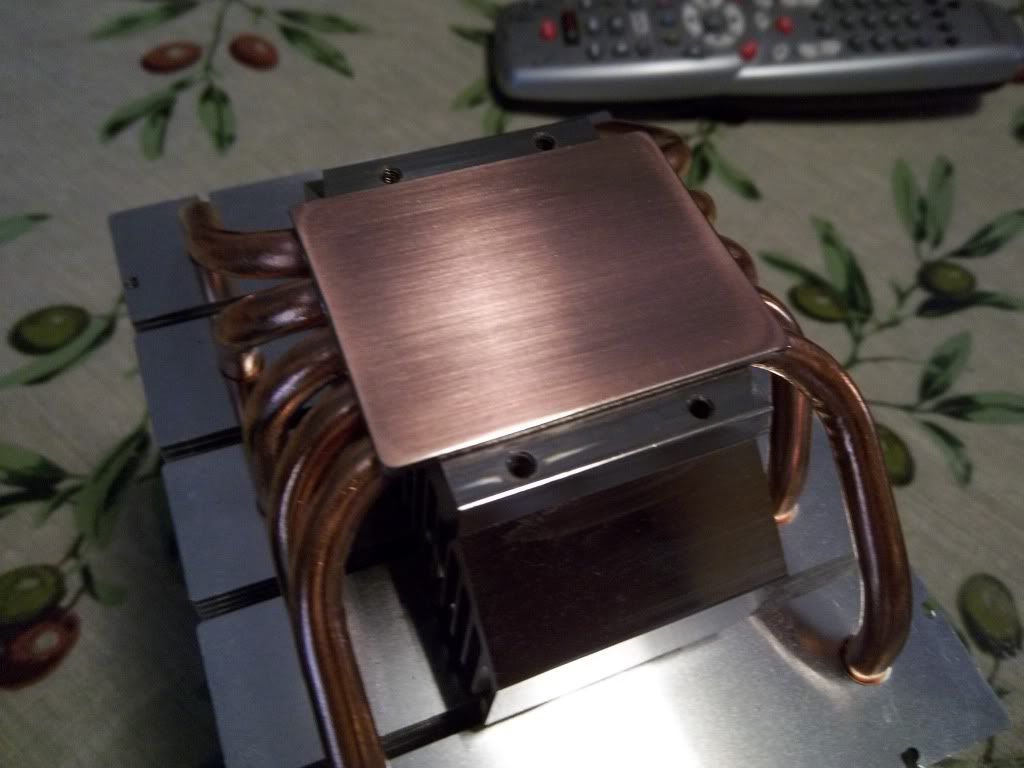 I was pressed for time and called it good enough at 1000 grit. To fill in the micro scratches, I tinned [tinted, as Artic Silver calls it) the CPU and heat sink surfaces with AS5 and a cotton swab.
The second part of my CPU cooling woes came from the fan location. I opted for a pull + shroud setup this time around. Hot glue holds the fan & shroud together.
The provided fan clips wouldn't work in my case, so several zip-ties gave me a removable solution. The top & bottom straps simply pull over the Mugen's fins.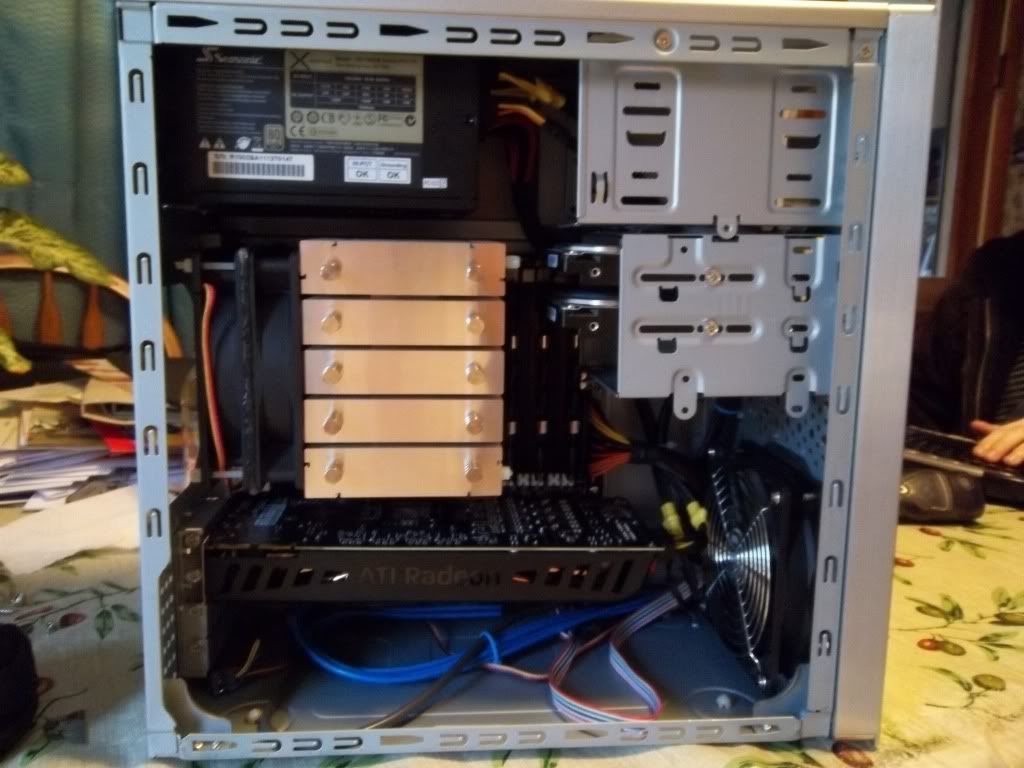 The final problem to be addressed was a bad air leak at the front fan intake. A $1 sheet of arts & crafts foam and hot glue equals a quick & cheap fan gasket:
Results:
Idle: 34°C
Load with IBT: 59°C
Load with F@H: 55°C
Idle temps dropped 2°C, IBT load temps dropped 9°C, and folding temps dropped 2°C. Worth it? Oh yes.
Edited by ILOVEPOTtery - 1/6/11 at 6:01am
CPU
Motherboard
Graphics
RAM
i7-7700HQ
Acer Aspire V15 VN7-593G
GTX 1060 6GB
16GB DDR4-2400 (2x8GB)
Hard Drive
Cooling
OCZ RD400 256GB NVME
lol
View all
CPU
Motherboard
Graphics
RAM
i5-4690k - 4.6GHz @ 1.250V
ASRock Z97M OC Formula
Sapphire R9 290
G.SKILL TridentX (2 x 4GB) DDR3 2400
Cooling
Monitor
Power
Case
2x H105s: CPU and 290 (via NZXT G10)
The Tube (39" LG LED)
Corsair AX760
Thermaltake Core V21
View all
hide details
CPU
Motherboard
Graphics
RAM
i7-7700HQ
Acer Aspire V15 VN7-593G
GTX 1060 6GB
16GB DDR4-2400 (2x8GB)
Hard Drive
Cooling
OCZ RD400 256GB NVME
lol
View all
CPU
Motherboard
Graphics
RAM
i5-4690k - 4.6GHz @ 1.250V
ASRock Z97M OC Formula
Sapphire R9 290
G.SKILL TridentX (2 x 4GB) DDR3 2400
Cooling
Monitor
Power
Case
2x H105s: CPU and 290 (via NZXT G10)
The Tube (39" LG LED)
Corsair AX760
Thermaltake Core V21
View all
hide details