Hey guys so I finally got all my parts and well I was able to fix me water cooling disaster like that I had posted lol. The parts that I used are the following:
HeatKiller 3.0 with AM2+ mounting plate.
XSPC RX 360 Radiator
XSPC Dual Bay Reservoir fits MCP655 Pump
MCP655B
8 feet of PrimoChill UV Blue (purchased at Koolertek.com)
Enzotech 1/2 Black Barbs(purchased at Koolertek.com)
Enzotech 1/2 Rotary Black Barbs(Purchased at Koolertek.com)
UV BLUE Clamps (purchased at Koolertek.com)
Here is the beginning of me trying to figure out how I wanted my tubing to go etc.
After I configured it some more, in witch I thought I had it how I wanted, I realized that I couldn't fit all 3 fans
(big fail on me lol)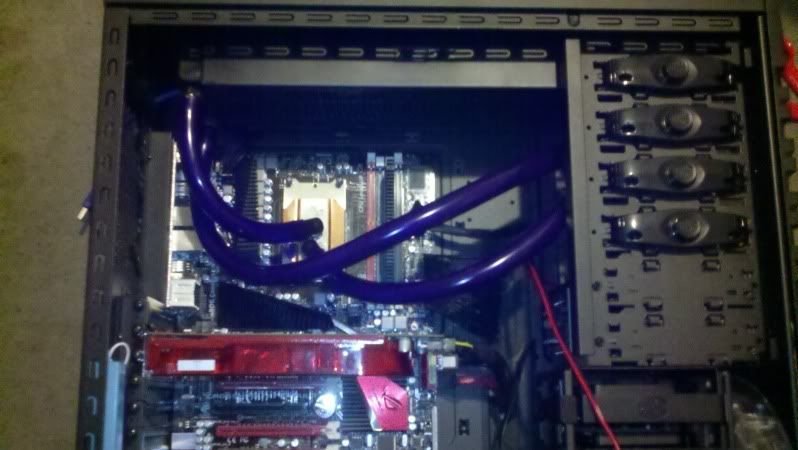 I had to mount my reservoir+pump at the bottom where the hot swapable bays where at and put my Blu-Ray Drive at bottom of it.(You can see my son sitting on the back enduring this journey of mine lol)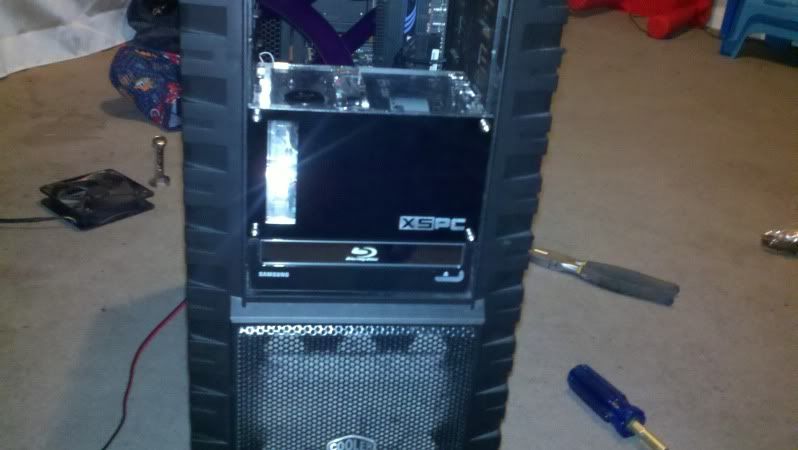 Now this picture here is Before I had cut out the excess from block to reservoir.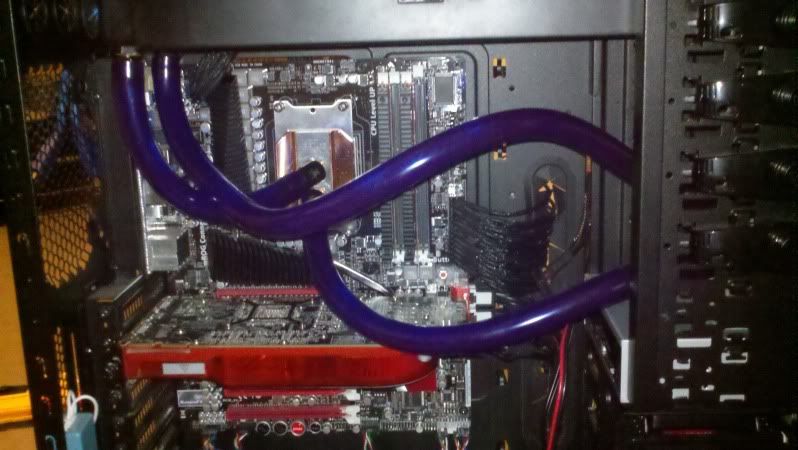 After excess is taken off and somewhat of final picture since from Res to Rad has some excess tube left but somehow I like that little loop in there that it has with the excess but I will probably cut some of it.
Edit: So I decided to cut the excess tubing and it's pretty nice the way it came up I think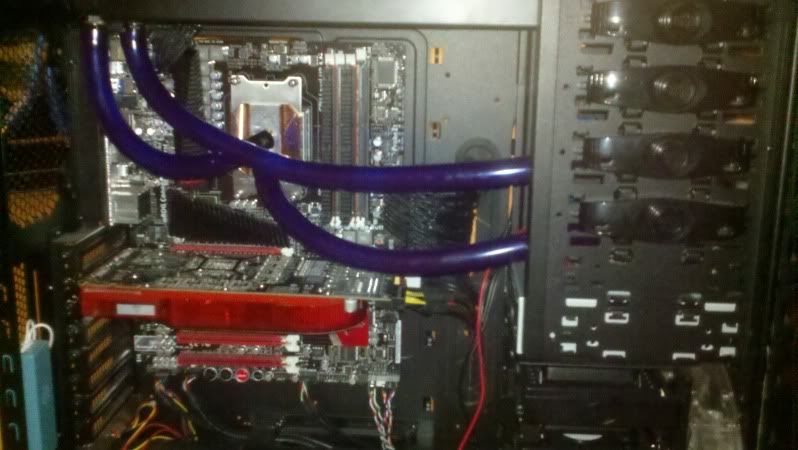 Tell me what you guys think of this build and hopefully it helps out some people out if they think of getting a HAF X and planning to water cool or have a HAF X but are some what scared of water cooling. I will definitely post more pictures once I upgrade my HD4890 and get a water block for the new card. Thanks for checking out this build log!
Edit: Here is a video on how lovely it sounds once the bubbles are out of the system, how quiet it really is! Also I would like to thank Juggalo23451 for helping me out and walking me through on my first water cooling build!
[ame]
http://www.youtube.com/watch?v=tsOdaFE7TbE[/ame
]
NEW VIDEO!
[ame]
http://www.youtube.com/watch?v=Eu1z2y4D_Tw&hd=1[/ame
]
Edited by 713King - 1/17/11 at 11:42am