Quote:
Originally Posted by
Digigami
Updated here, OP below
I have managed a highest clock of 5.1Ghz @ 1.450vcore, but temps hit 80`c when folding.
Higest clock for these benchmarks will be 4.9Ghz, @ 1.375vcore, ddr3-1600. Temps mid 70`s.
SMP results are in for P6074. Only multiplyer and vcore changed between the runs. Minimum 6 frames per run.

BIGADV preliminary results for P6900.

I will test a few different smp WU's down the road. Onto a 6900 now. This of course will take some more time, but will update thread and this post when I am done them.
My 2600K overclocking observations to date for those interested in OC info:
2600K D2 stepping, batch L038A660
Asus P8P67
Corsair 4GB(2x2) DDR3 1600Mhz C8
Corsair H50 w/one Scythe Kaze 1900rpm
running open air bench setup, extra fan over mosfet heatsinks
Firstly, my P8P67 board shipped with bios version 0408, which isn't even listed on the ASUS site. With this bios max OC was 4560MHZ, and IIRC 1.285vcore, LLC max, all other settings stock or auto. This was acheived with lowering bclock to 97 and multi at 47. No matter how much more vcore I supplied I could not reach any higher.
I updated to bios beta version 1053, which enables CPU internal PLL overvoltage, this has so far allowed me to get all the way up to 5.1Ghz.
Many reviews and talk about SB speaks of how much better it OC's with less voltage and less heat. So far the voltage aspect has proven true, requiring 1.45 for 5.1Ghz. Temps are also great up till 4.7 but start going up exponentially afterwards.
Vcore requirements thus far, up to 4.9Ghz I'm good with 1.375v, however to boot 5.0, 5.1 and 5.2 all required 1.450v, nothing less. This caused temps to rise up to 80`c under load, so I have not done any testing other then boot stable and running fah for about one minute.
I'll add to this as I think of things and tinker more.
OP here:
Yep.. That's right. I mentioned in another thread that for some reason I thought SB was to be released today, Jan 6 but I was wrong, it's the 9th. That however did not stop me from calling up a few friends who work at retail shops.. Afternoon coffee break today was a spendy one. I'll apologize for the poor quality pictures, I had planned on buying a decent camera this month, but that'll have to wait now.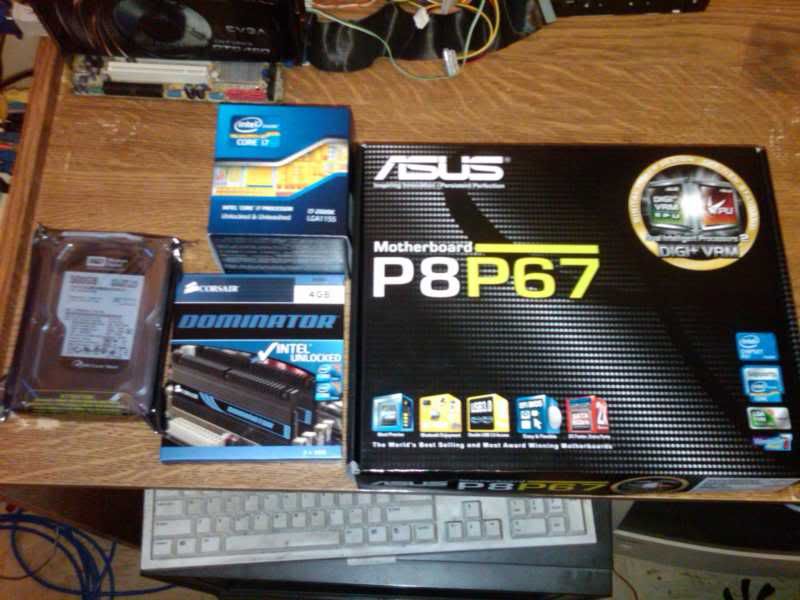 Thats the new bits, 2600K, Asus P8P67, Corsair 4GB Dominator 1600Mhz and a 500GB WD Black Sata 3.
Took the PSU out of my GPU rig and although SB has integrated graphics, only the Asus H67 chipset makes use of it, this being P67 I still require a discrete card, and since this is planned to be a dedicated bigadv rig, a GT240 is going in for now.
Onto unboxing, and yes I'll take more crappy pics. We should have some real world PPD numbers in a little while. I only have the stock cooler, so not sure how much I'll be pushing it just yet..
TCASE = 72.6°
http://ark.intel.com/Product.aspx?id=52214
CPU
Motherboard
Graphics
RAM
|i7 2600K|
|EVGA P67 SLI|
|N560GTX-Ti Hawk|
Waiting on Sandy Bridge :)
Hard Drive
OS
Monitor
Power
Waiting on Sandy Bridge :)
|Windows 7 Ulitmate 64-Bit|
|Hanns-G HZ281HPB 1920x1200|
|Silverstone Strider Plus 850W|
Case
|SilverStone RV03| ETA: 04/05/11
View all
hide details
CPU
Motherboard
Graphics
RAM
|i7 2600K|
|EVGA P67 SLI|
|N560GTX-Ti Hawk|
Waiting on Sandy Bridge :)
Hard Drive
OS
Monitor
Power
Waiting on Sandy Bridge :)
|Windows 7 Ulitmate 64-Bit|
|Hanns-G HZ281HPB 1920x1200|
|Silverstone Strider Plus 850W|
Case
|SilverStone RV03| ETA: 04/05/11
View all
hide details