Hello there.
I got a new ATI 1GB XFX5870 for Christmas and would just like to share a few benchmarks and personal things that I have experienced with the switch between cards. Pictures will be included.
My Mother ordered the card on the 23rd December and it got delivered on the 24th December which I thought was really good from the website/company Ebuyer.com. My mum gave it to me on Christmas eve because my mother and father are divorced and I went to my dads Christmas day so she said you might as well install it and have a play on it tonight instead of installing it tomorrow morning and then leaving and not having a go. Which I didn't complain about.
The packaging from XFX I though was great. Pulled off the sleeve and opened the box to find the CD, installtion guides, door hanger, crossfire and cables in the top compartment. Lifted that up and the card was underneath. My first thought was how big the card was compared to my what it seemed tiny 5850. I didn't really research into the size of the 5870 just looked at the specs and this thing is pretty big. Here are some pictures..
Contents
Width difference
Size difference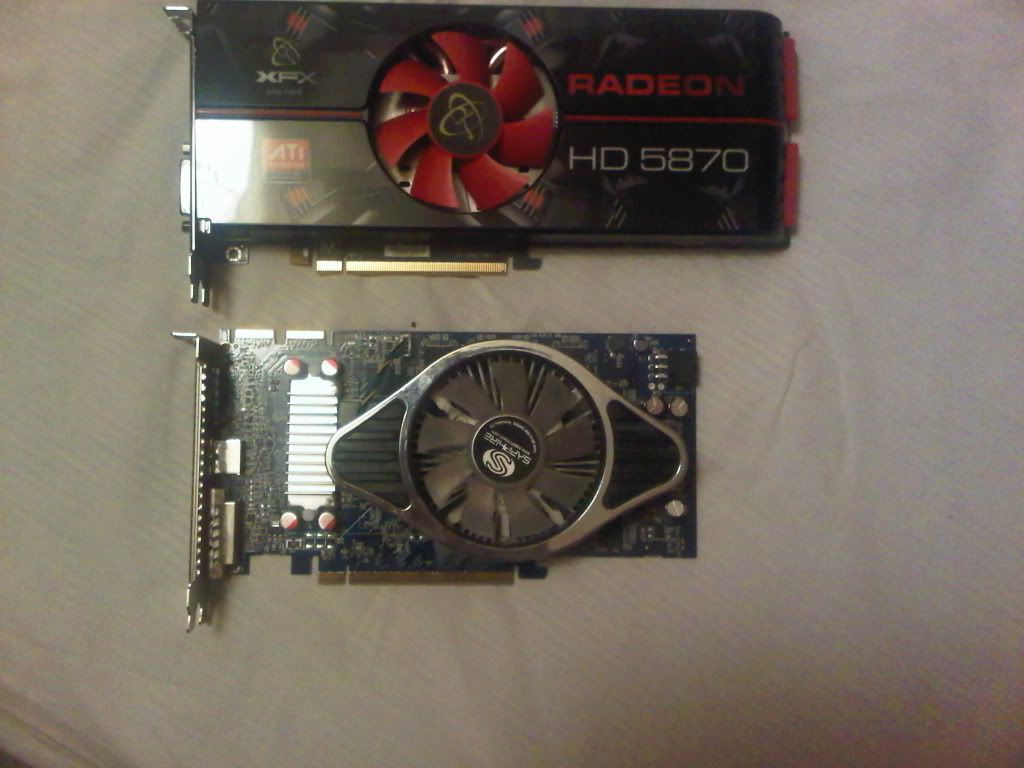 In the system
I had my CPU at stock and today I have installed the H50 to my system and managed to overclock to 4.0GHz. Before I did this however I took a few benchmarks of the stock CPU on both cards to see how much difference there was in clock speeds. I used 3DMARK06 and I didn't get any print screens but wrote down what the final score was on each things. Although didn't get the overall scores of the SM2.0, HDR/SM3.0 and CPU.
Here's the stock CPU scores(AMD Phenom II X4 955 Black Edition 3.2GHz, 1.325V)
ATI Sapphire 4850 (0xAA)
Overall Bench Score:
13,333
SM2.0
GT1 - 36.849FPS
GT2 - 47.525FPS
HDR/SM3.0
HDR1 - 55.119FPS
HDR2 - 64.568FPS
CPU Score
CPU1 - 1.476FPS
CPU2 - 2.158FPS
After seeing these scores I wondered how much the 5870 would do with 8xAA on with the same clock speed CPU here are the results.
ATI RADEON 1GB XFX5870 (8xAA)
Overall Score
16038
SM2.0
GT1 - 55.269FPS
GT2 - 57.431FPS
HDR/SM3.0
HDR1 - 83.704FPS
HDR2 - 58.061FPS
CPU Score
CPU1 - 1.510FPS
COU2 - 2.171FPS
I wasn't really that surprised how the card did on FPS as it is such a better card, although I was surprised that it had a better score on the CPU as I didn't think it would change anything?
Now onto the overclocked CPU results
AMD Phenom II X4 955 Black Edition 4.0GHz, 1.456V
ATI Sapphire 4850 (0xAA)
Overall
13907
SM2.0
GT1 - 37.115
GT2 - 49.687
HDR/SM3.0
HDR1 - 55.358
HDR2 - 64.704
CPU score
CPU1 - 1.770
CPU2 - 2.568
ATI RADEON 1GB XFX5870 (8xAA)
Overall Score
17670
SM2.0
GT1 - 63.766
GT2 - 65.407
HDR/SM3.0
HDR1 - 84.158
HDR2 - 57.976
CPU score
CPU1 - 1.858
CPU2 - 2.646
I was surprised how much the scores changed from an overclocked CPU. Obviously it can process the information quicker but never really realised it could change that much FPS. Although there isn't a lot between them it still improves gameplay.
However what I did find interesting was the fact that on the stock cpu on the 5870 is that the HDR2 test had an average of 58.061FPS and on the overclocked cpu the same test had an average of 57.976FPS. So the frame rate has gone down ever so slightly, anyone know how to change that?
Now the change in game with high graphics is awesome. The difference between them is extreme. The difference in some games was a lot sharper and more textures which made the experience much better although I am a gameplay person, the graphics does help out a lot. The recent game of COD:Black Ops performance changed between the two cards. With the 4850 I had all the graphics on low to minimize the crashes that it was experiencing and it seemed to be really bad with me compared to friends. As soon as I installed the 5870 I set all the graphics to high with AA full. It was so smooth and have not yet to date experienced any crashes or jitters I may have found on my old card. Saying that they did update the game but not when I changed cards.
Just Cause 2 I've also see a huge difference in. The textures again and graphics were all set to low which allowed a good frame rate. Installed the new graphics card and then could have everything on high whilst seeing the distance in the background. FPS was the same as well which I was impressed by.
Mafia 2. I completed the game so I didn't really play much of it on the new card, but however I did use the benchmark really quickly which is on the game. I was averaging about 30FPS on low settings and now on high settings with the new card its around 45-50FPS which doesn't seem a lot but it's still and big increase.
I hope you enjoy reading this, sorry to drag it on but just thought I'd share this with you if you're interested.
Thanks BMorrisSly.
Edited by BMorrisSly - 1/10/11 at 8:16pm