Hey guys, I just wrapped up my review on the Sony DR-GA500 and I thought I'd share it with you. Please be sure to check out the video review as well, it'll really help me out so I can produce more videos/written reviews
With all of the different kinds of headsets we discuss on MLG, Sony is a brand that is rarely mentioned. While Sony has a strong line of audiophile and consumer grade headphones, it hasn't really stepped into the world of gaming audio until now. I'm a long time user of Sony electronics. At MLG events, I use Sony MDR7505's to manage Tekken 6's stream audio, so I was excited when Sony announced the DR-GA500. Truth be told, at first glance, I thought it was going to be in the same price range as higher end headsets like Beyerdynamic MMX300's/Sennheiser PC360's/QPad QH-1339's. Much to my surprise, the Sony DR-GA500 was reasonably priced at 80 dollars for the headset only (dubbed as the GA200) and 200 for the headset/decoder system (dubbed as the GA500 system). With a strong brand reputation and a competitive price to boot, how does this headset stack up with the competition? Read below to find out.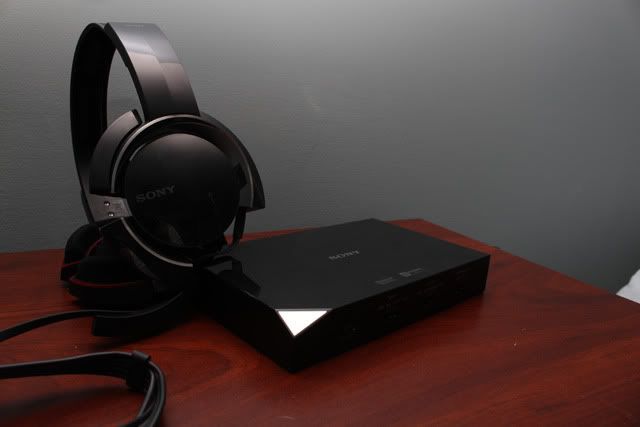 Design:
Looking at the DR-GA500, you can instantly see that it's quite unique. Over the past year, the market has been flooded with headsets. With such fierce competition, companies look for multiple ways to differentiate their product; such as SteelSeries' Audio Mixer implementation, Pysko's "true 5.1 surround sound", etc. The DR-GA500's innovative ear pads design has broken Sony away from the pack. Sony has implemented a triple enfold design, where the ear cup is divided into three segments. This allows for greater ventilation and longer gameplay. While wearing the headset, with the center pad touching the ear with the three segments around the ear, was initially awkward, it soon became second nature. The triple enfold design withstood long gaming sessions, as air flow wasn't impeded allowing for a cooler Steggy. It's something I would definitely like to see carry onward with future headsets from Sony.
My only suggestion for Sony's future headsets is to test different materials to see if it could further improve comfort. The surrounding segments were nice, but the center pad was the same material as the standard Xbox 360 headset, only a bit thicker. If the center pad were the same material as the surrounding pads it would be even more comfortable.
Within the triple enfold design, the GA500 has a fixed microphone that folds outward. It feels like a Bluetooth headset in the sense that the microphone goes along your cheek. I didn't experience ambient noise leaking into my conversations and it picked up my voice quite well, so for performance I have no complaints. Sony could further improve its headset by adding removable microphones so we can enjoy the headsets as headphones when not gaming.
Following the headset down, you have a flat ribbon cable design, much like you see in some Beats headphones and the new Astro A*Stars. This alleviates cord tangling like braided cords do. This was the first headset I had personally tested with this kind of cable design, and I liked it a lot. I don't really have a big problem with tangled cords with full size headsets, but it's always nice to have that extra insurance. It makes the headset sleek and refined. On the flat ribbon cable, there is a puck with a mic mute and a volume control; the essentials for any PC headset.
Sound:
The sound quality of the DR-GA500 was impressive. As far as sound signature goes, the DR-GA500 is comparable to the Sennheiser PC350 and SteelSeries 5HV2. The headset had bright bright highs but a weaker low end. In PC gaming, I was able to compensate for this using an EQ, but as I've seen on the MLG forums, there are many who prefer to have the higher end predominant over the lower end for gaming use. For sound clarity, the GA500 easily trumps the 5HV2, but I peg the PC350 a little bit higher than the DR-GA500. For sound leakage, the DR-GA500 leaks less sound (inward and outward) than the 5HV2 since the 5HV2 has the open…ish grills. However, the PC350 has no leaking at all thanks to its pleather ear pads. However, you do have to consider that the PC350 goes for $130 while the DR-GA500 headset is $80, so those who are looking at these headsets would need to question whether or not the added noise isolation and clarity is worth the extra 50 dollars.
Using the headset for music and PC gaming, I had the EQ bringing the lower end up to balance out the dominant highs. For PC gaming, it worked out well. Bullet fire and footsteps were heard well enough, and the EQ brought the immersion factor into play. For console play, I didn't get that immersion or home theater-esque experience until I plugged in the Mixamp 5.8, since it has the bass boost function. The headset can work fine simply paired with the xbox 360 adapter or the audio mixer from SteelSeries, but the added Dolby Headphone from a Turtle Beach DSS or Astro Mixamp helps out like it does with other headsets with the directional positioning. However, the DR-GA500 does come with its own decoder box, so how does that fare?

GA500 Decoder Box:
As mentioned earlier, the Sony headset is available on its own for 80 dollars, dubbed as the GA200, and the headset is also bundled with a decoder for 200 dollars. The decoder is advertised as a virtual 7.1 decoder box. When I first saw this, I was thinking "Oh no, not another company touting a fake virtual 7.1". Let me explain. Some companies advertise their products as producing a virtual 7.1 signal to stereo headphones. However, what isn't mentioned is that the optical connections that these devices have only accept up to 6.1 signals, and that Xbox 360 games only have 5.1 audio because of the optical cable's limitation. The virtual 7.1 surround sound that is advertised is a matrixed virtual 7.1, as in the last 2 channels are derived from the channels in the 5.1. In layman's terms, 2 channels from the 5.1 signal are duplicated to give you the 7.1 surround sound. Anyways, I had a pleasant surprise when I saw that the Sony decoder box actually takes in an analog 7.1 signal instead of the optical signal that other company's decoder boxes take. This decoder box in fact actually produces virtual 7.1 surround sound.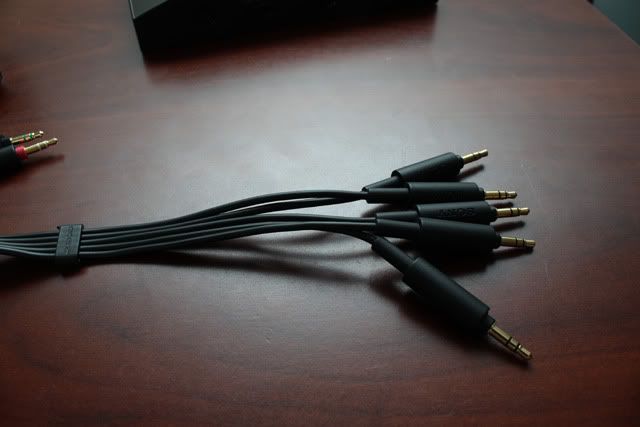 This decoder reminds me a lot of the Tritton AX720 decoder. You have the 7.1 going into the decoder box, and you have it output to the stereo headset (which makes the decoder unit compatible with any stereo PC headset, though it's only bundled with the Sony DR-GA500). On the front of the unit, you have a couple of effects you can throw on. There is standard, surround, and FPS. To be honest, I didn't really notice a difference between surround and FPS, but it's basically what is turning on the virtual surround, so I just left it on the surround dial for my gaming. The decoder box also features a compression switch, which basically tones down loud explosions so they don't pierce your ears. If any of you have ever turned up the volume on your TV because of a dialogue scene where people are whispering, and then it goes into an action scene with explosions, you then know why this feature was put in.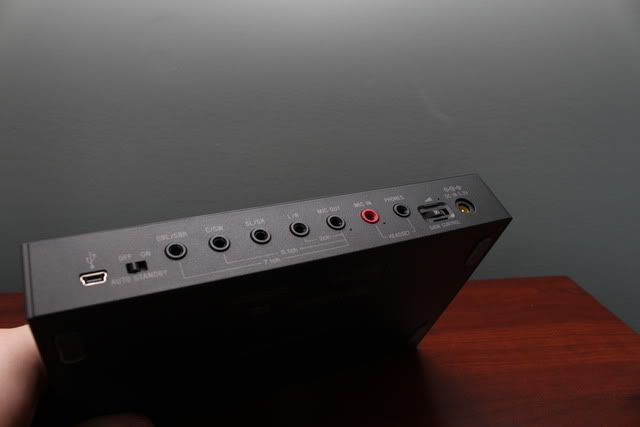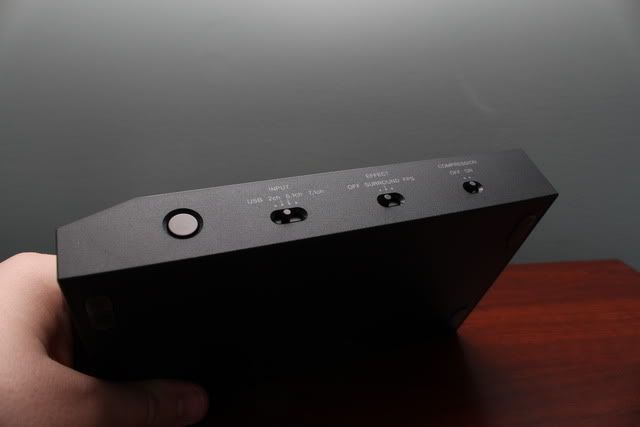 But how did the decoder box fare in gaming? Well, it does have real virtual 7.1 surround sound, but did I find that this virtual surround surpassed the virtual 5.1 surround sound from devices such as the Astro Mixamp or Tritton Ax720 decoder box? Not really. I found them to be pretty equal in terms of directional positioning. I expected that it would happen. While I don't feel that the virtual 7.1 surpasses the virtual 5.1, what I can say is that Sony gets my respect for putting forth what they advertise. I like the honest marketing from them.
Conclusion:
With all things considered, what is my final opinion on this audio system? Well, I'm sort of split. I really like the headset. I feel that for those looking for the sound signature that this headset touts, the clarity/quality for the price is really nice. You have a headset that's great for ventilation, good clarity, good cable management, and the standard features of a PC headset for a great price. And like I said earlier, for those looking for the added benefit of noise cancellation and a notch higher sound quality can look towards the Sennheiser PC350, though keep in mind you'll be ponying up 50 dollars more. However, where I'm torn is with the decoder. Now, the decoder does everything as advertised, and I can't fault it for that. My only thoughts are that being a PC decoder box, it has some serious competition. The type of people who would be looking at the audio system would be gamers who game mainly on the PC. Now, PC gamers generally have a high end custom built PC with a more than average sound card; and a lot of higher end sound cards come equipped with CMSS-3D virtual surround sound outputting from the stereo jacks without the need of an external decoder. I haven't personally tried this form of surround sound, but Sony's PC only decoder box seems like it would have some stiff competition out there. As for myself, I'm a multi-platform gamer, so if I had to choose, I would take the GA200 with an Astro Mixamp and have virtual 5.1 surround sound on Xbox/Playstation 3/PC. In short, I think the GA200 headset is going to be a contender in the myriad of gaming headsets we have to choose from, but the GA500's decoder box will have a more difficult time in its bout against the competition.
CPU
Motherboard
Graphics
RAM
Core i7 920 @ 2.66ghz
Asus P6t SE
XFX ATI 1gb 4850
6gb Mushkin DDR3 Triple Channel
Hard Drive
Optical Drive
OS
Monitor
1tb Western Digital
Pioneer Bluray
Windows XP | Windows Vista | Windows 7
22" Viewsonic Vx2260wm
Power
Case
Mouse
Mouse Pad
Corsair tx650w
Antec 900
Logitech G5
Icemat
View all
hide details
CPU
Motherboard
Graphics
RAM
Core i7 920 @ 2.66ghz
Asus P6t SE
XFX ATI 1gb 4850
6gb Mushkin DDR3 Triple Channel
Hard Drive
Optical Drive
OS
Monitor
1tb Western Digital
Pioneer Bluray
Windows XP | Windows Vista | Windows 7
22" Viewsonic Vx2260wm
Power
Case
Mouse
Mouse Pad
Corsair tx650w
Antec 900
Logitech G5
Icemat
View all
hide details