ASRock > Products > P67 Professional
BOX PEEP-A-BOO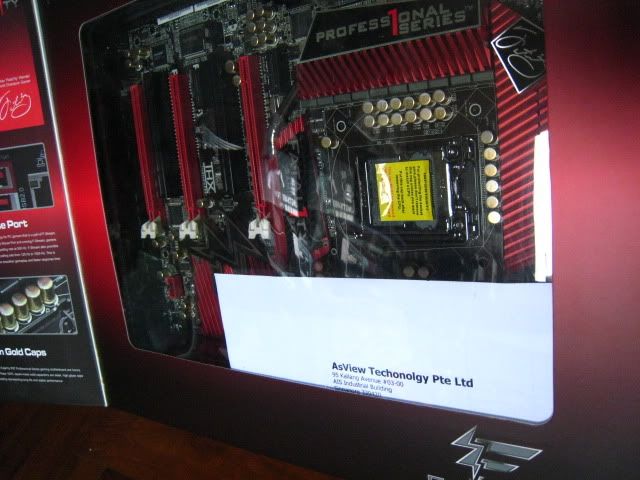 SHE'S GOT THE LOOKS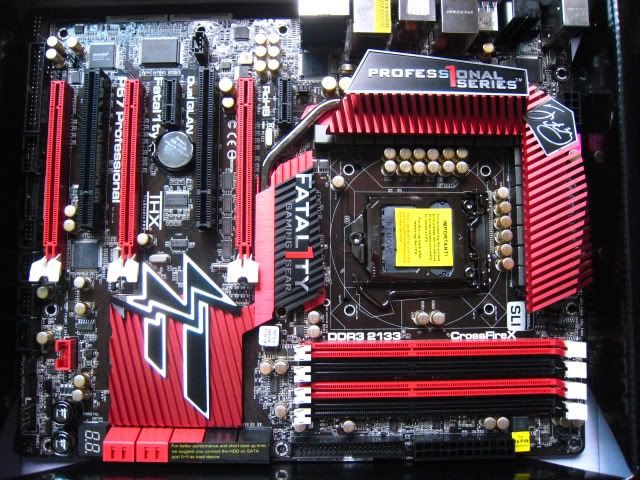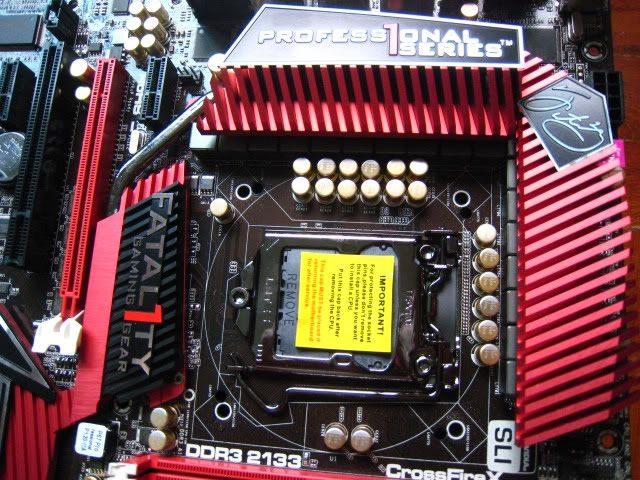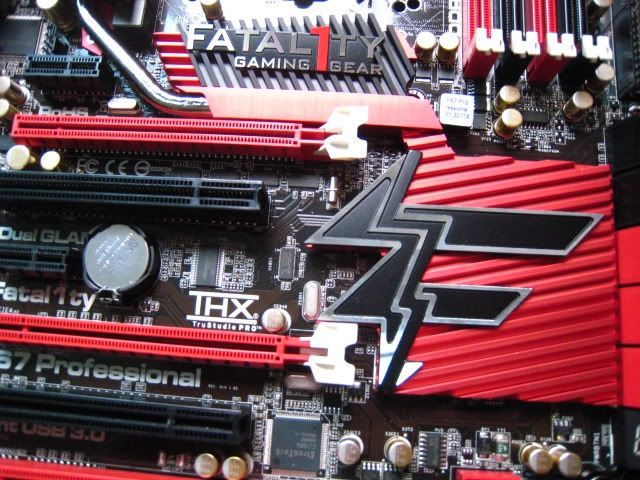 SHE'S GOT THE GOODS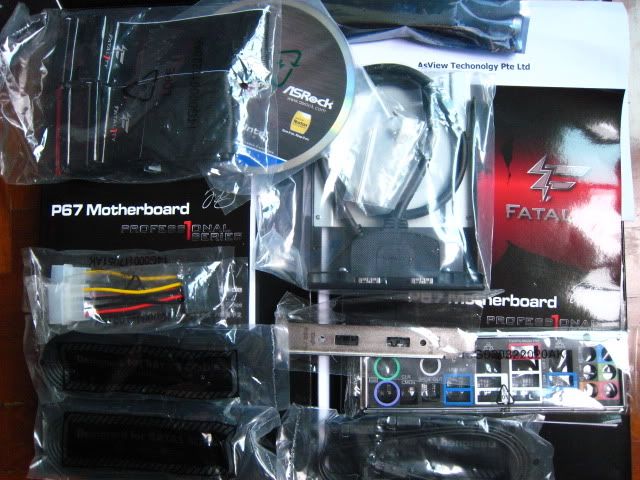 RED IS GREAT!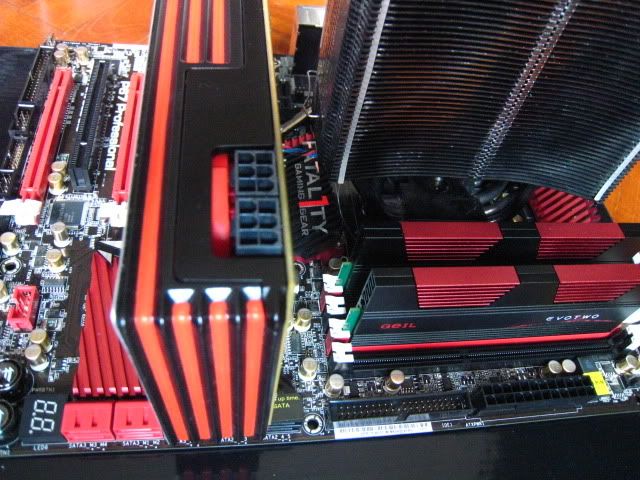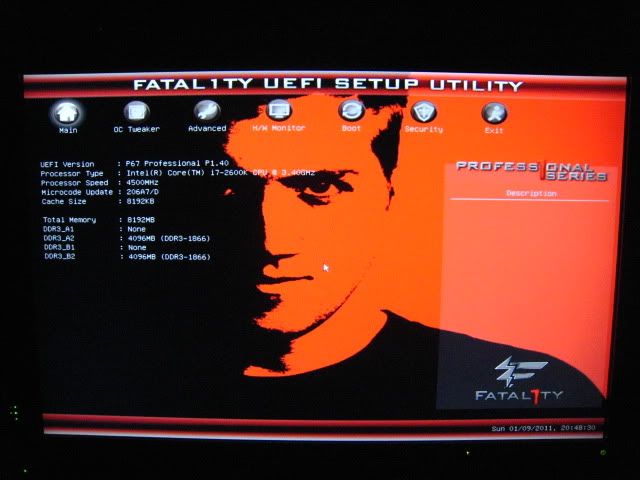 TEST SETUP
i7 2600K at 4.5GHz, Vcore offset +0.02V, push pull TRUE120, ambient air
Asrock Professional mobo
Asus GTX460 TOP clocked at 900-2000
Seventeam 850W PSU
Win 7 x64
FEATURES IN WORDS
Very strikingly beautiful design with impeccably matched colours
Massive beautiful heatsinks all anchored down with screws
All solid Jap caps (with golden print)
Power/Reset/Clr CMOS buttons available - large, well positioned with LED
Incredibly well featured - 10 SATA, IDE, FDC, infra-red onboard
Onboard Debug LED
7 slots! Supports SLI/Crossfire at 16x (single), 8x8 (dual), 8x8x4 (triple)
?8 layer PCB
Relatively spacious between CPU and RAM
Standard ATX despite the innumerable features
2 LAN ports with teaming
Good retail bundle with USB 3.0 front port box
Unigue feature, 2 CPU fan headers - 1 x 4 pin, 1 x 3 pin
LGA775 mounting holes
Pleasing POST chirp instead of the usual flat beep
Detailed UEFI BIOS with 3 setting save slots
S3 sleep and resume works great
Very good CPU overclocking options
- 3 ways to set Vcore - Auto, Manual - fixed or offset
- fully adjustable power throttle - both short and long duration settings
- 5 levels of Vdroop control
BIOS P1.40 has the internal CPU PLL fix for higher o'cing
CONS
Fatal1ty overload - there's really no getting away from his image, many have had enough of Mr Fat... already.
RAM overclocking can be improved.
Very promising mobo with great design, arguably the best looking red-black colour combo mobo for now. Full of features cramped into a standard sized ATX design is definitely not an easy task. Asrock seems really forward looking with exciting potential for their future mobos. Definitely the choice mobo for those who treasure clear acrylic display or large window casings.
CPU
Motherboard
Graphics
RAM
AMD | Intel
Asrock | Asus
AMD
32GB Vengeance Pro DDR3-2666
Hard Drive
Optical Drive
Cooling
OS
IntelSSD
Pioneer | Samsung
NiCu Heatkiller 3.0 | 655 | MicroRes | GTX360
Win7 x64
Monitor
Keyboard
Power
Case
1920x1200
Logitech
Corsair-Enermax
Open air MoBoX | MSI Bench 3G
View all
hide details
CPU
Motherboard
Graphics
RAM
AMD | Intel
Asrock | Asus
AMD
32GB Vengeance Pro DDR3-2666
Hard Drive
Optical Drive
Cooling
OS
IntelSSD
Pioneer | Samsung
NiCu Heatkiller 3.0 | 655 | MicroRes | GTX360
Win7 x64
Monitor
Keyboard
Power
Case
1920x1200
Logitech
Corsair-Enermax
Open air MoBoX | MSI Bench 3G
View all
hide details