Hello,
I'm new to the forum, and to liquid cooling.
Figured I'd share my build... criticism and ways to improve comments welcome.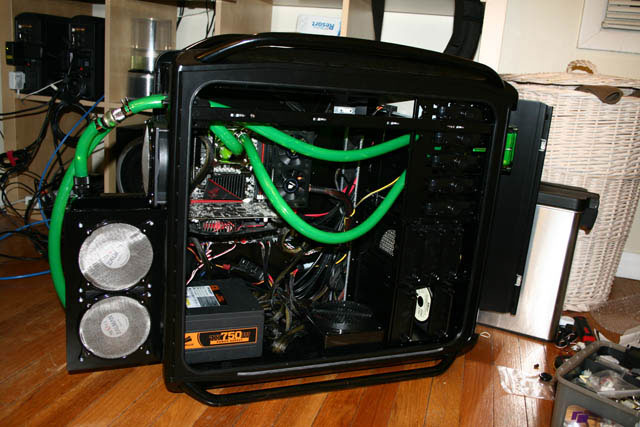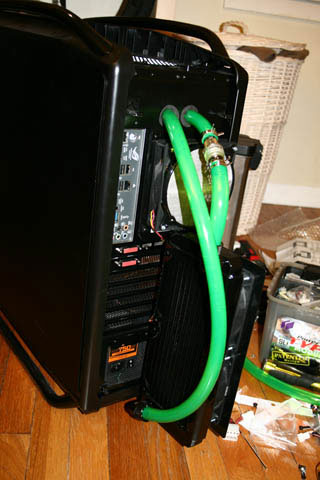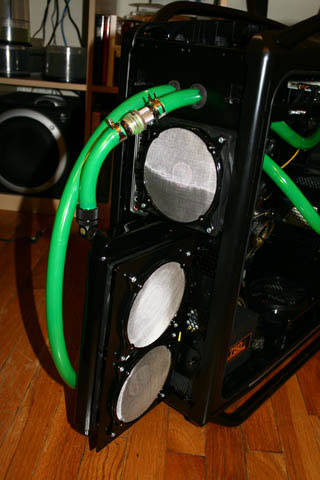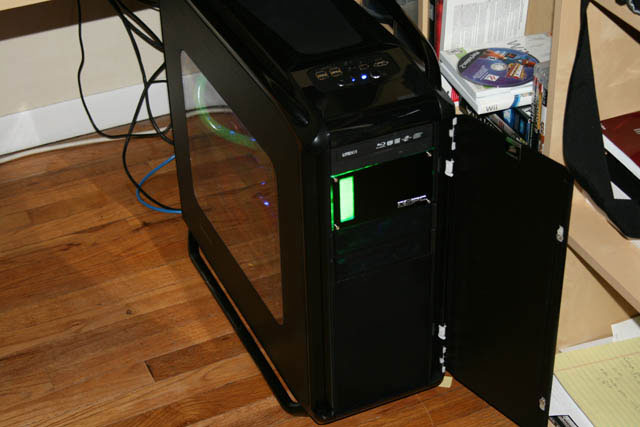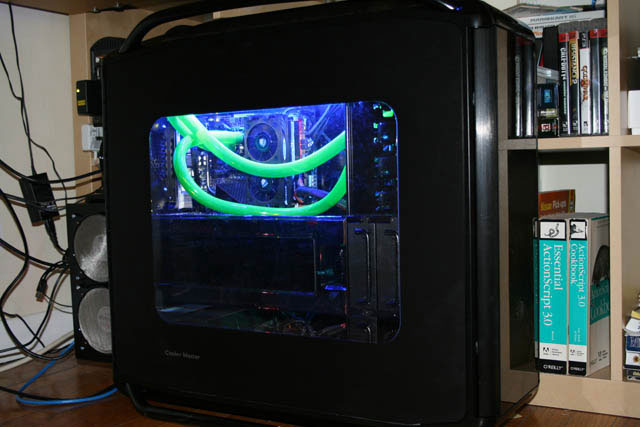 Before this I was running the biggest zelman 135mm cpu fan I could mount on the 2.8 Ghz 930 i7 and at 4.0 Ghz, prime95 would give me 82 - 86c and 48 - 50c idle, which I guess is safe but I was not comfortable with.
I was really skeptical about liquid cooling but apparently it works. Now I'm running 4.2 Ghz (210 x 20 (yes I know, low bus speed... limited by my DDR3 mem... still working on this)), idle at 34 - 39c depending on the core, and w/ prime95 @ 100% load, 62 - 71c depending on the test & core. Max time I've been able to run prime95/blend test was 3 hrs, which is an improvement considering I started crashing around the 1/2 hour mark... so I've been tweaking.
I guess liquid really shines when the proc is at 100% load.
I made the newbie mistake of using UV coolent. I read the massive thread about it breaking apart so I'll be switching to distilled + silver in the next week or so.
This is obviously a simple 1/2 inch loop for the proc... which might be a bit overkill (or maybe not). My next move is to either cool the chipset or the ram (can only afford 1 at the moment). Ram would allow me to eliminate the fan, but my chipset is around 50c so... I don't like that either. Which would you, the community, recommend?
If you really have some time to kill, you can check out my little girl building the box for me
http://www.youtube.com/watch_popup?v...71dB0&vq=hd720
Thanks,
Chris
CPU
Motherboard
Graphics
RAM
i7 930 Bloomfield
Asus Rampage III Gene
XFX HD 5750
Corsair Dominator DD3 1600 12Gb
Hard Drive
OS
Power
Case
Intel SSD 80 Gb
Win 7 Pro 64
Corsair 750TX
Cooler Master Cosmos Black Ed.
View all
hide details
CPU
Motherboard
Graphics
RAM
i7 930 Bloomfield
Asus Rampage III Gene
XFX HD 5750
Corsair Dominator DD3 1600 12Gb
Hard Drive
OS
Power
Case
Intel SSD 80 Gb
Win 7 Pro 64
Corsair 750TX
Cooler Master Cosmos Black Ed.
View all
hide details