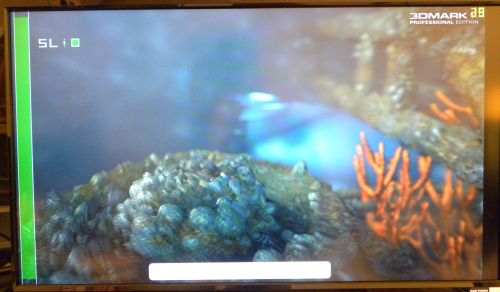 3dMark 11 SLi /TRi SLi Nvidia Profile ** Ohne Flickering **
first install the nvidia new beta drivers 266.35 for gtx 400 / 500 series then apply this profile .... then you will see no flickering and more score
Simply by using a tiny tool developped by NVIDIA and called GeForce 3D Settings Profile Manager. You can download it here:
http://www.megaupload.com/?d=SXXBO156
1 – Start Geforce_SLI_Profile_Tool.exe
2 – Export the profiles file
3 – Add this block in the profiles file:
Profile "3DMark11"
ShowOn GeForce
ProfileType Application
Executable "3dmark11.exe"
Executable "3dmark11cmd.exe"
Executable "3dmark11demo.exe"
Executable "3dmark11workload1.exe"
Executable "3dmark11workload2.exe"
Setting ID_0x00a06946 = 0x084000f5
Setting ID_0x1033cec1 = 0x00000003
Setting ID_0x1033cec2 = 0x00000002
Setting ID_0x1033dcd2 = 0x00000004
Setting ID_0x1033dcd3 = 0x00000004
Setting ID_0x1095def8 = 0x02c00005
Setting ID_0x209746c1 = 0x04280001
Setting ID_0x20ebd7b8 = 0x00000020
EndProfile
4 – Import the profiles file
6 – Start 3DMark11.
** Thats it , Now you have your SLi / Tri SLi enabled and guess what ! NO FLICKERING ...
Please Note : your 3dmark11 must NOT be open while you are doing this trick
Edited by kayawish24 - 1/15/11 at 4:00pm