title says all.
i can only OC it 50 more Mhz than stock. when i go over whats iin the screenshot, the slider snaps back! how can i make it unlock so i can actually OC this?
btw it loads at 45C so thermals are not an issue.
if i run the comp fan on it, it drops to 38C.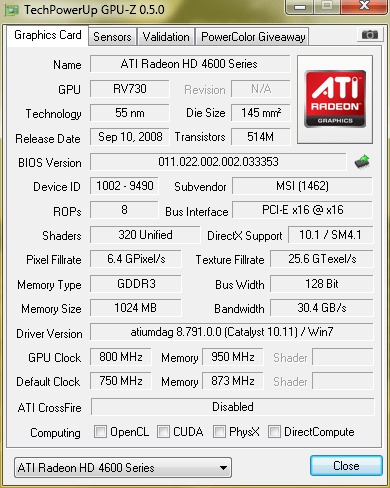 CPU
Motherboard
Graphics
RAM
[Athlon 64 3400+ NewCastle| 2.4Ghz]
[ASRock K8Upgrade-NF3 | Coming SOON]
[Saphire Radeon X1600PRO | AGP]
[1GB Double Data Rate Synchronous Dynamic RAM]
Hard Drive
Optical Drive
OS
Monitor
[Seagate 250GB | IDE]
[Generic DVD Drive]
[Windows XP Pro 32bit]
[HP 15" | 1024x768]
Keyboard
Power
Case
Mouse
[Crappy HP keyboard]
[Generic 300w =/ ]
[Case? BAHAHAHA!!]
[Crappy Ball Mouse]
Mouse Pad
LOLWUT
View all
hide details
CPU
Motherboard
Graphics
RAM
[Athlon 64 3400+ NewCastle| 2.4Ghz]
[ASRock K8Upgrade-NF3 | Coming SOON]
[Saphire Radeon X1600PRO | AGP]
[1GB Double Data Rate Synchronous Dynamic RAM]
Hard Drive
Optical Drive
OS
Monitor
[Seagate 250GB | IDE]
[Generic DVD Drive]
[Windows XP Pro 32bit]
[HP 15" | 1024x768]
Keyboard
Power
Case
Mouse
[Crappy HP keyboard]
[Generic 300w =/ ]
[Case? BAHAHAHA!!]
[Crappy Ball Mouse]
Mouse Pad
LOLWUT
View all
hide details