Hi guys, I get directed to this forum all the time when in search for overclocking help, so I thought it was about time to sign up here and share my overclocking for views and help.
My previous system was a E6550 which I had overclocked to 3Ghz. So I'm not new to overclocking but I'm certainly no expert!
I am stuck in two minds with what to do next with my system but before I get in to that, here are the details...
My current system which I bought in August 2010 is:
i5 760
Gigabyte GA-P55A-UD3
G.Skill 4GB (2x2GB) kit, PC-12800 (1600Mhz), 6-8-6-24-2N
Corsair CMPSU-650HX 650W ATX Modular PSU
Gainward GTX 460 GS-GLH
1TB Western Digital Black Caviar
Antec 300 Case
2xScythe S-FLEX 120mm Fan 1200RPM (Front of case)
Xigmatek Dark Knight Revision 3 CPU Heatsink & Cooler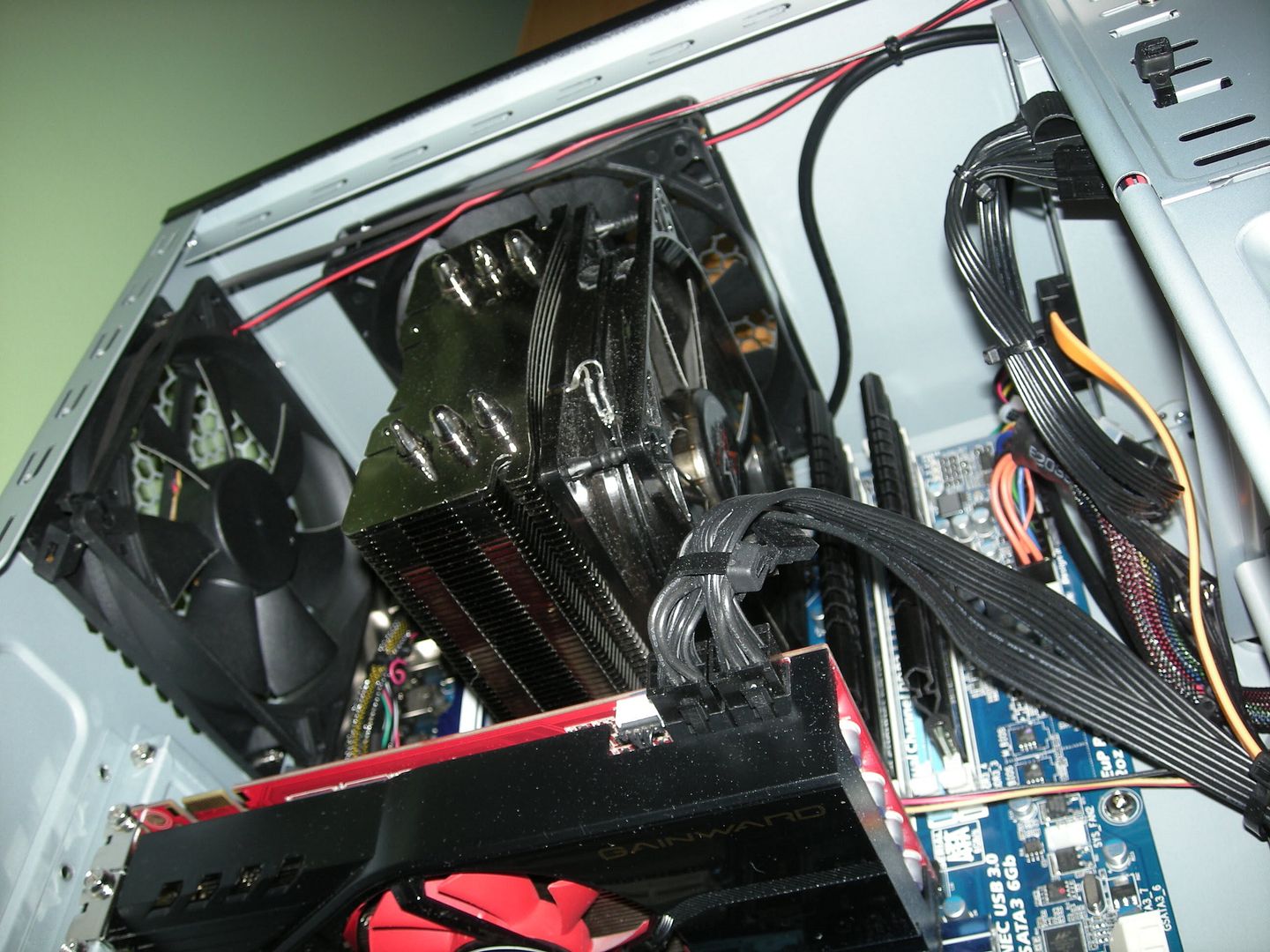 I bought this to be able to run games at 1680x1050 on high detail. I currently only play BC2 but with games like Crysis 2, Dues Ex & BF3 on the horizon I needed a good quality and reasonably affordable PC to do this.
It did not take me long for the overclocking bug to bite, so off I went in search of higher clock speeds and fast memory timings. (As at stock the memory only runs at 1333Mhz and CL9)
I wanted it to still run at low clock speeds during windows but wind up to super speeds when all 4 cores are loaded. So I left the power saving options on and turned OFF Turbo.
My current stable overclock (after quite a few lock ups and BSOD's) is:
160x9 = 1440Mhz @ 0.864V at idle &
160x21 = 3360Mhz @ 1.088V at load.
Memory @ 1600Mhz (160x10 SDP) 6-8-6-24-2N
I am fairly happy with this, my temps don't go any higher than ~50C. Even when I run Intel Burn Test for hours (OCCT Version).
Here are the BIOS settings with this current overclock: (Does everything look ok??)
http://s140.photobucket.com/albums/r.../Overclocking/
Here is a picture of the voltages and temps under load and idle: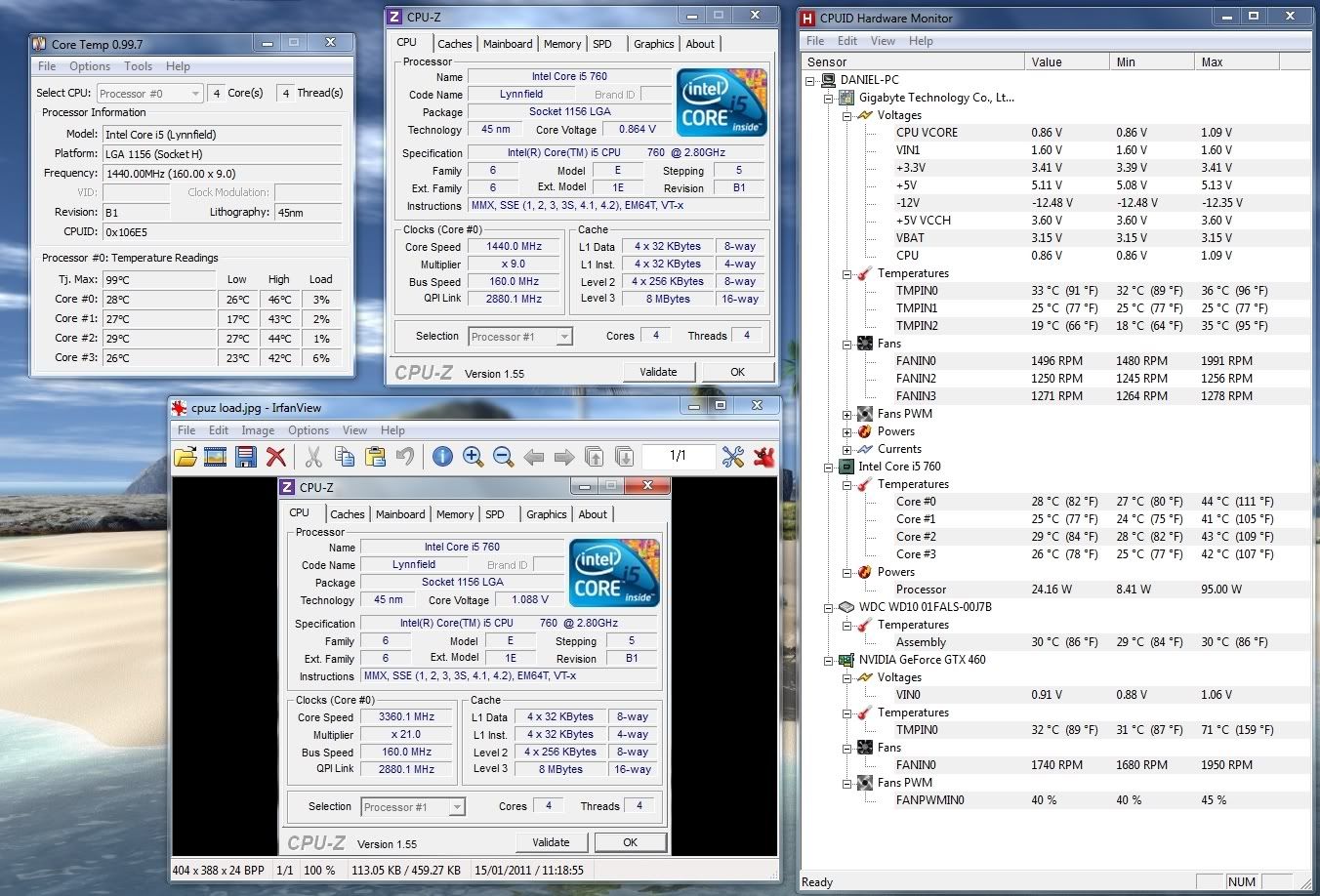 This setup runs stable in windows, BC2 & OCCT (both OCCT test and Intel Burn Test)
Is there any other programs I should run to test the stability? Prime95? LinX?
I do get one slight occurring thing happen with my CPU Fan that is a little worrying, every now and then during Windows use (no load), the CPU fan spins up to ~2000rpm for about 3 seconds then goes back to around 1500rpm. My temps don't go up nor does my voltages. Should this be a concern?
My other question and I guess the BIG ONE, is what to do next? Should I aim to get it stable with TURBO on? (I have had a couple BSOD's when I have tried to this in the past). Or should I aim to increase the BCLK and leave turbo off?
Any other thoughts would be greatly appreciated.
Thanks