Last night I read over 150+ thread visited over 10 forums to find voltage control for these cards. I was also trying to solve ATI Tool artifact problem which was really bothering me. A few people who own the 6950 and flashed it to 6970 reported artifact on ATI Tool as well.
After flashing the card to 6970 bios (Asus, Sapphire, XFX, MSI, etc..) all my games run smooth. Benchmark and stress test without a problem except for ATI Tool. I keep getting artifact in ATI Tool with every 6970 bios flash. So I thought maybe that's all my VisionTek could handle... I was wrong. I've read through Guru3D forum,
http://forums.guru3d.com/showthread.php?t=335318
, and one of the member had a solution. He created 6950 mod to unlock the shader from the
origina
l bios without the overclock and the extra voltage. I was contemplated on using it because I wanted the extra voltage to overclock higher. After several hours of reading I decided to give it a try. ATI tool no longer show artifact but I can't reach 840+ on the core due to CCC limitations
I came across another thread at 4AM! and got my MSI Afterburner to voltage tweak my 6950 with a few easy adjustment. So now I have an unlock 6950 with voltage control running 6970 spec without no artifacts at lower voltage! It was a win win situation!
6950 Mod - Shader unlock
http://forums.techpowerup.com/showpost.php?p=2137760&postcount=381
MSIAfterburnervoltunlock.exe This version of AB will allow over 1.3v.
http://www.xtremesystems.org/forums/attachment.php?attachmentid=110036&d=1291470526
After unlocking the shader go to MSI Afterburner directory and look for MSIAfterburner.cfg.
UnlockVoltageControl= 1 (default 0)
UnlockVoltageMonitoring= 1 (default 0)
Then go to MSI After burner setting and check unlock voltage control and unlock voltage monitoring.
There you go... now you have a 6950 unlock shader with your original bios + voltage control and no CCC limitation on overclock.
I increase the voltage by a little bit to show yall that it work.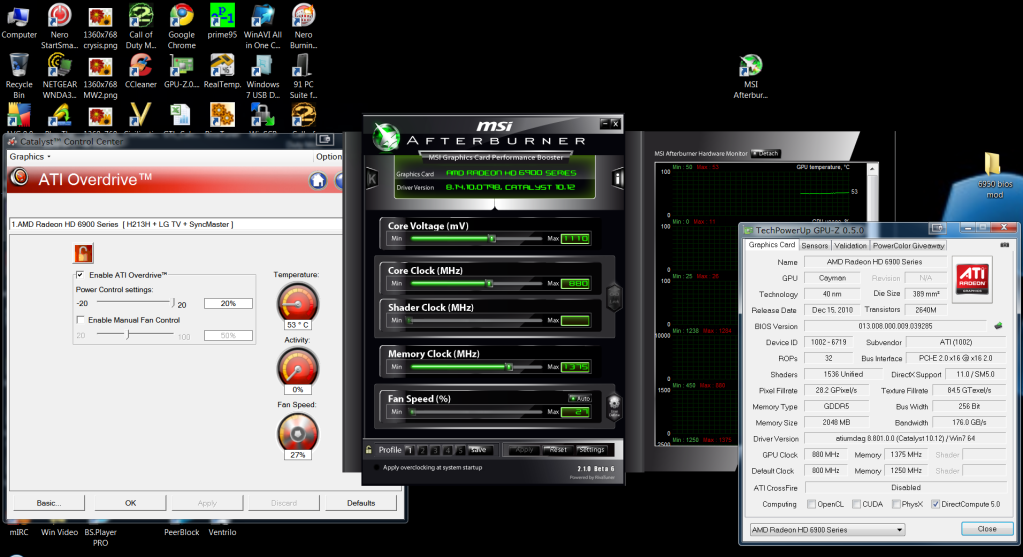 MSI Afterbuner 2.10 Beta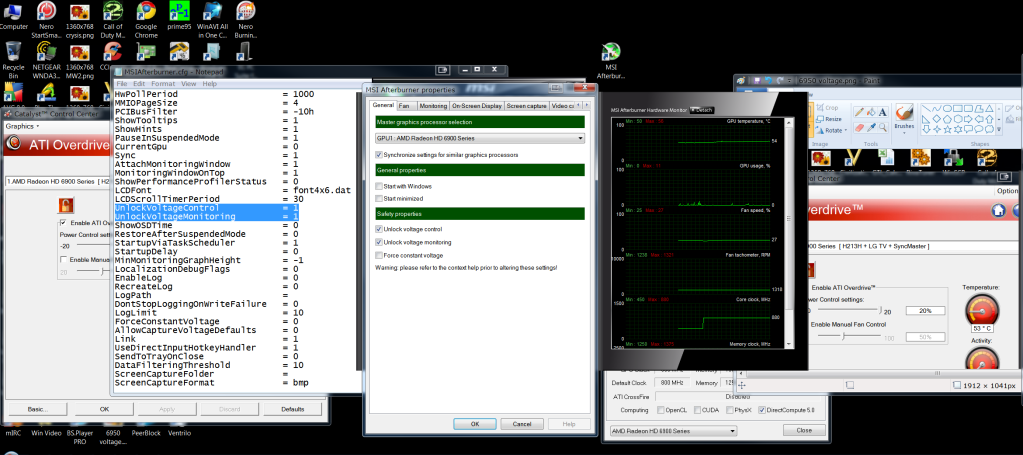 Edited by DaRookie - 2/9/11 at 12:25pm
CPU
Motherboard
Graphics
RAM
Q9300 @ 3.6GHz 480FSB
GA EP45-UD3P
HD 6950 SOLD! Rokn 8800GT
Patriot Viper DDR2
Hard Drive
OS
Monitor
Power
2x500 Raid0 -250 OSX
Dual Window7/Snow Leopard
LG 32LD350 HDTV/Samsung T240 1920x1200
Cooler Master 550W
Case
Mouse
Mouse Pad
Antec 900 Modded
MX518
QCK+ Steel
View all
hide details
CPU
Motherboard
Graphics
RAM
Q9300 @ 3.6GHz 480FSB
GA EP45-UD3P
HD 6950 SOLD! Rokn 8800GT
Patriot Viper DDR2
Hard Drive
OS
Monitor
Power
2x500 Raid0 -250 OSX
Dual Window7/Snow Leopard
LG 32LD350 HDTV/Samsung T240 1920x1200
Cooler Master 550W
Case
Mouse
Mouse Pad
Antec 900 Modded
MX518
QCK+ Steel
View all
hide details