Figured I'd post here asking for help, I have a P8P67 Pro that obviously has 3 PCI-Express slots. Two run at x8 when both are populated then the 3rd is x4 or x1 depending on the USB Controller.
Whenever I run SLi, my second card runs at PCI-E 2.0 x1 for some odd reason lol Even if I take out the 1st card and run the 2nd card solely by itself, it runs at 1x...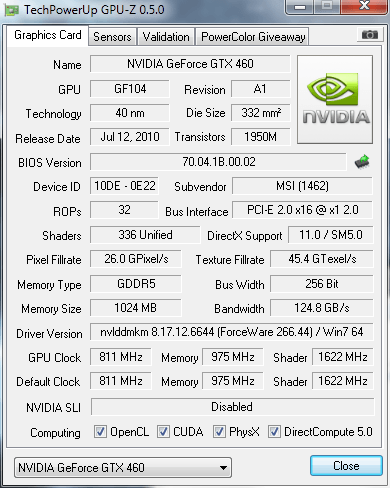 There's a screenshot lol Notice the bus says PCI-E 2.0 x16 @ x1 2.0...
Any suggestions or possible fixes I could do or anything? If I run a single card in the 1st PCI-Express slot, I get full x16 bandwidth.
There are no other cards occupying any of the slots other than the Navy Blue (x16) and Grey (x8) slot. I'm on 1053 Bios and I've tried 1003 along with optimized defaults.
CPU
Motherboard
Graphics
RAM
Core i7 2600K
ASUS P8Z68-V PRO
EVGA GTX 465 w/ 470 Shaders/Memory/Clocks
8GB G.Skill DDR3 1866
Hard Drive
Optical Drive
OS
Monitor
Samsung F3 1TB
LG 22X DVD±R DVD Burner
Windows 7 Professional 64-Bit
Dell U2311H + LG W2242S
Power
Case
Corsair 750TX
Coolermaster RC-692 Advanced
View all
hide details
CPU
Motherboard
Graphics
RAM
Core i7 2600K
ASUS P8Z68-V PRO
EVGA GTX 465 w/ 470 Shaders/Memory/Clocks
8GB G.Skill DDR3 1866
Hard Drive
Optical Drive
OS
Monitor
Samsung F3 1TB
LG 22X DVD±R DVD Burner
Windows 7 Professional 64-Bit
Dell U2311H + LG W2242S
Power
Case
Corsair 750TX
Coolermaster RC-692 Advanced
View all
hide details