not so many reviews out there,so i start my own little one.
hardware used:
mainboard-asrock p67 extreme 6 bios 1.3
cpu-2600 k/36b125t
ram-2x4 gig ddr3 1600 cl 9
gpu-gtx 470 stock
system disk-crucial real ssd sata 3
+ 2x2 raid 0 @sata 2 ports
+ tv card cine s 2
---
coming from x 58 asrock extreme 3 @ 4220 mhz;so no new install of win 7 64 bit-simply removed and added some drivers.
asrock has removed the bios 1.3 from their servers, although it has already the pll override-an updated version probably next week.
initially i grabbed that sandy platform cause of being bored while waiting for socket 1356;now i have to admit, that this one is running fantastic,even compared to x 58!
even at 5 ghz my idle power consumption dropped from ~320 w to 230 w (complete system)
of course some benches here: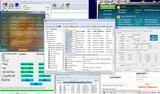 Edited by clock12 - 1/15/11 at 6:08pm