Here is a quick shot of the completed Sandy Bridge "Beast"....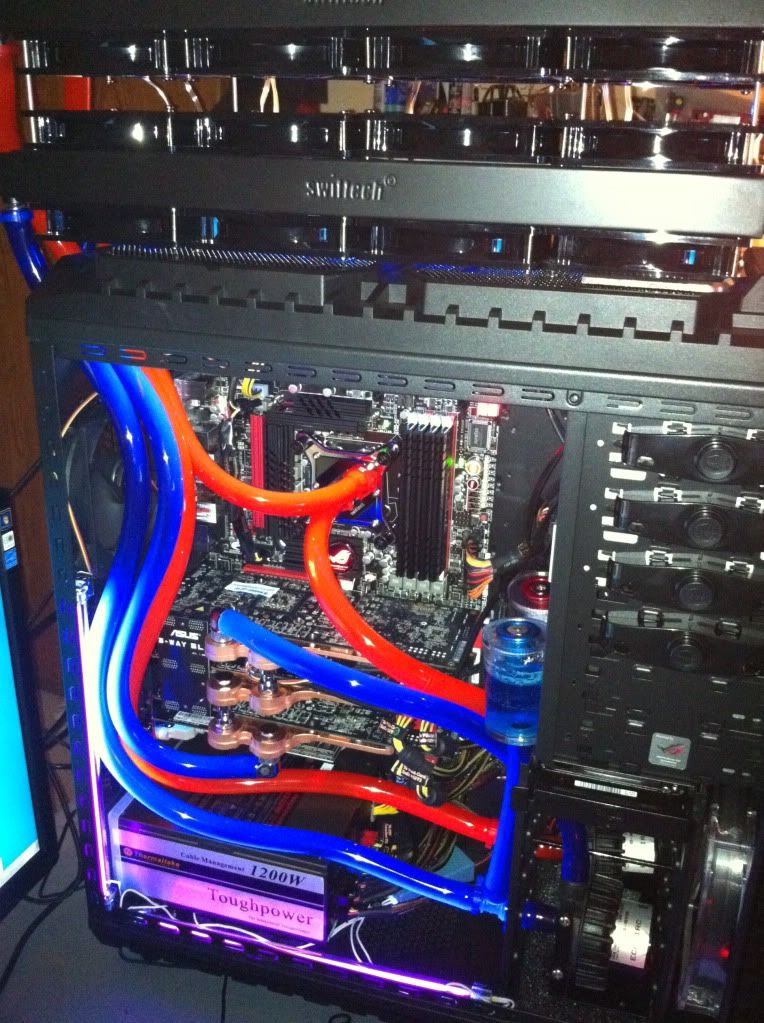 I just turned it on yesterday and had no problems at all!! Just starting to benchmark...but have to go out of town all week!!! I did end up with one puzzling issue..Here is the setup:
I have the Revo Drive X2 in the bottom 4x PCIe slot...The Three GTX 580's in PCIe slots 1,2,4...The M4E is telling me that slot 1 is 8x and 2 and 4 are 16x. I also have a soundcard in the 1x slot...
The Revodrive is only running at about half it's rated speed...somewhat discouraging...I have been trying to think what the cause might be:
1.) PCIe Lanes are maxed??
2.) Bios issue with bandwidth in the 4x slot..
When I get back on Friday I plan on switching off a couple of the 580's to see if the Revodrive speeds up...that might tell me if it is a PCIe saturation issue...If not it might be a bios issue...I was also thinking of removing the Sound card from the 1x slot to see if that has any effect...Can't wait to bench this beast..!! If anyone has some insights, they would be greatly appreciated...
Thanks,
-M
Edited by managerman - 2/14/11 at 10:29am
CPU
Motherboard
Graphics
RAM
Core i7-2600K
Asus Maximus IV Extreme
(3) EVGA GTX 580 SC
16GB Patriot Viper Xtreme 1866
Hard Drive
Optical Drive
Cooling
Cooling
2x Raid-0 Vertex 3 Max IOPS 120GB
(2) LG Blu-Ray 10x Writers
(2) Swiftech 120.4 Radiators
(2) Dangerden D5 Pumps
Cooling
Cooling
OS
Monitor
(3) Danger Den GTX580 Waterblocks
Swiftech Apogee GT CPU block
Windows 7 x64 SP1
(3) Samsung 24" Monitors in Nvidia Surround - 1...
Power
Case
Thermaltake 1200W Toughpower
Coolermaster HAF X 942
View all
hide details
CPU
Motherboard
Graphics
RAM
Core i7-2600K
Asus Maximus IV Extreme
(3) EVGA GTX 580 SC
16GB Patriot Viper Xtreme 1866
Hard Drive
Optical Drive
Cooling
Cooling
2x Raid-0 Vertex 3 Max IOPS 120GB
(2) LG Blu-Ray 10x Writers
(2) Swiftech 120.4 Radiators
(2) Dangerden D5 Pumps
Cooling
Cooling
OS
Monitor
(3) Danger Den GTX580 Waterblocks
Swiftech Apogee GT CPU block
Windows 7 x64 SP1
(3) Samsung 24" Monitors in Nvidia Surround - 1...
Power
Case
Thermaltake 1200W Toughpower
Coolermaster HAF X 942
View all
hide details