Hi folks, i dont have alot of pics, and this build is still work in progress.
I was water cooled with a eco A.L.C. I swapped it out for a cooler master hyper 520 N. I eventually plan to make a gravity fed<no pump> water cooled system that will be able to accept gpu water blocks. The advantage of this of course is never having to worry about a pump dying. I will still be using a radiator from the A.L.C with a small aquirium as a reservoir and pressurizer.
intel 950 i7 bloomsflied
Asus formula rampage III MB
4gb G,skill 7cas 2200mhz ram
2x One Terabyte WD7500rpms HD's Black label Raid0
4x case fans high cfm, 3 intake and one exhaust. 1 front 2 side 1 rear.
2x evga GTX 460 768mb SLI
1100watt ABS Gold rated PSU
The case was designed for a much older style MB so it required cutting so that all the ports were accessible and the port plate to fit correctly. The case does offer some nice features, like a quick disconnect motherboard tray. One screw removed and the hole mother board slides right out.
I used a drill press to drill holes into the sidepanel so i could mount two high cfm fans to blow directly onto the gpu's.
The cpu fans are in a push/pull sucking heat off the ram and expelling it out of the case. There is no top fan... but the air flow is so effecient in the case its not an issue.
The front case fan pull air in through the front and also has ducts that pulls hot air off the harddriives as well. one drive is flipped to keep the heat from rising onto the drive above it.
Once i perfect my water loop, i will be able to do some serious overclocking.
SD drives will be added in the future when they are cheaper lol.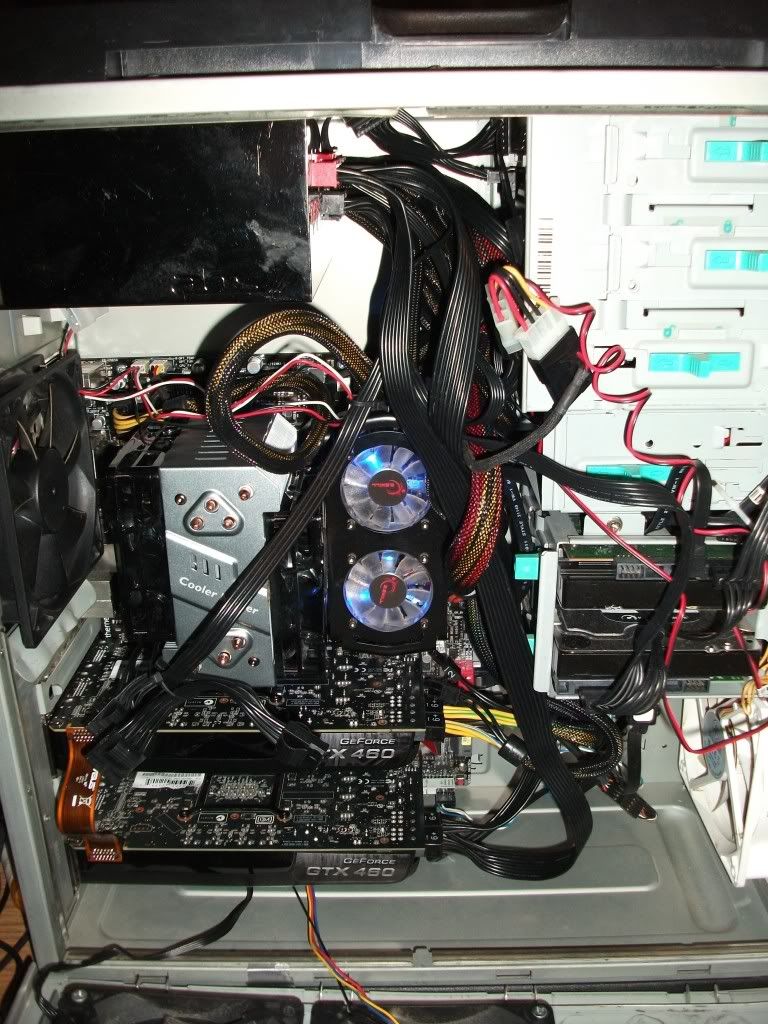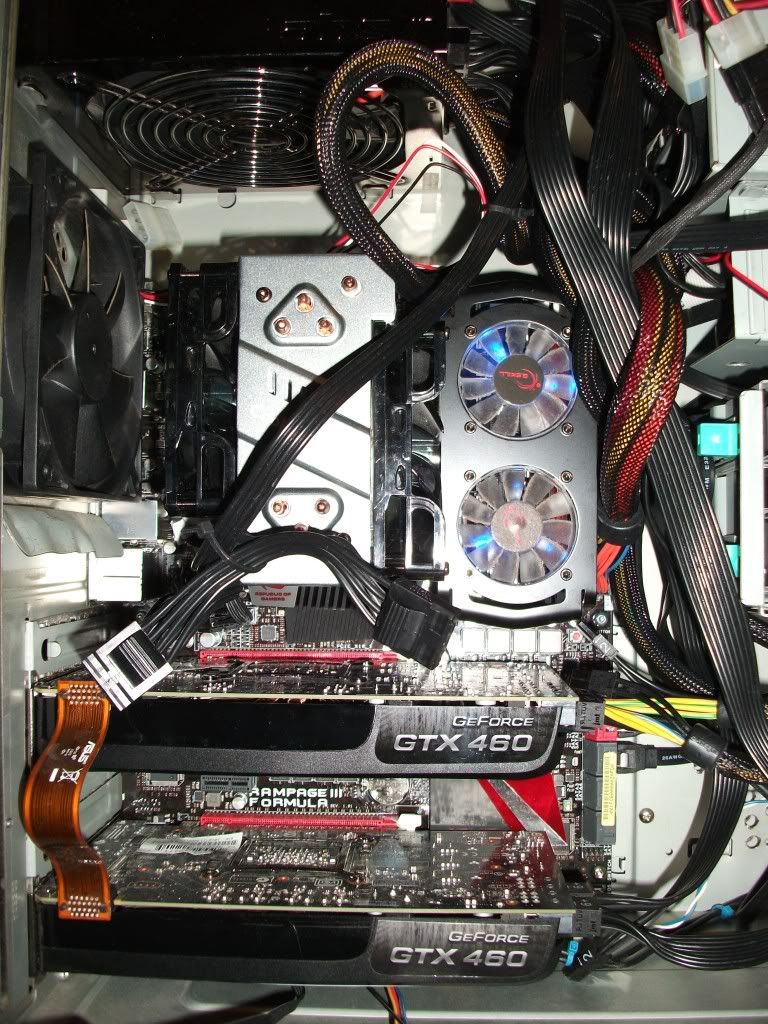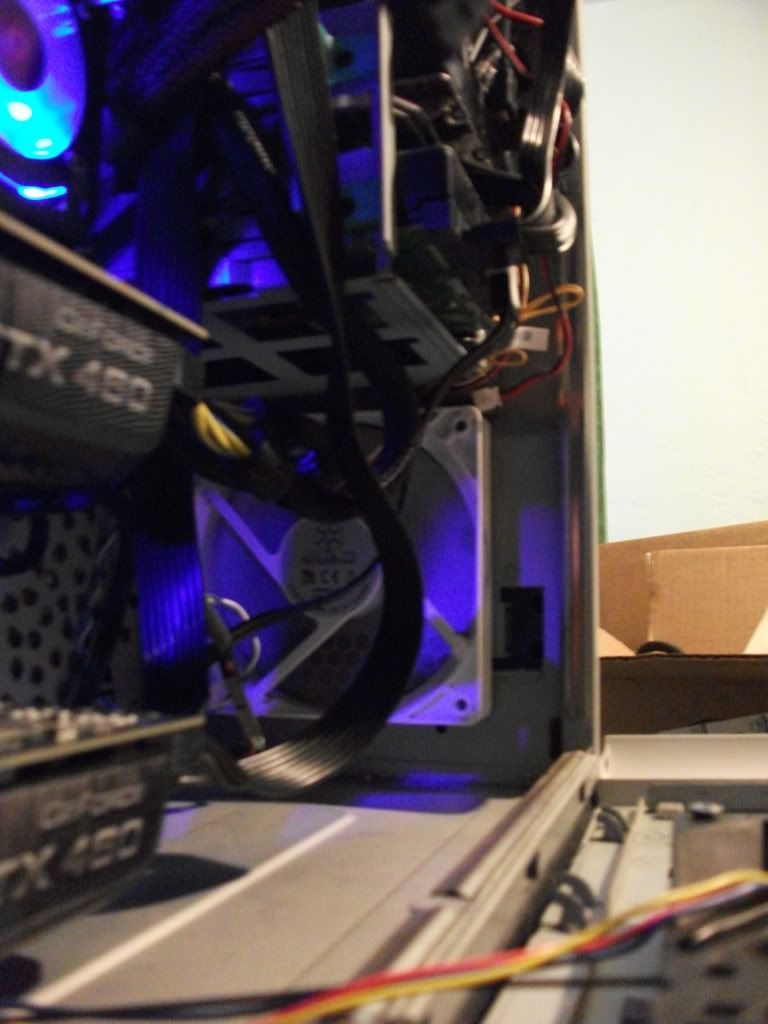 Edited by MadOblivion - 1/19/11 at 6:55pm
CPU
Motherboard
Graphics
RAM
i7 950 3.6 @1.185v
Asus Rampage III Formula
2x gtx 460's 900mhz1.112v o.c.
4gb 2200 mhz g.skill 7-10-10-28 1t
Hard Drive
Optical Drive
OS
Monitor
2x 1 TB WD bLK LBL Raid0
dvd somethin or other
Win 7 64
3 displays two 19'" one 23" 3d viewsonic
Power
Case
1100 abs gold rated
modified Vintage Gateway
View all
hide details
CPU
Motherboard
Graphics
RAM
i7 950 3.6 @1.185v
Asus Rampage III Formula
2x gtx 460's 900mhz1.112v o.c.
4gb 2200 mhz g.skill 7-10-10-28 1t
Hard Drive
Optical Drive
OS
Monitor
2x 1 TB WD bLK LBL Raid0
dvd somethin or other
Win 7 64
3 displays two 19'" one 23" 3d viewsonic
Power
Case
1100 abs gold rated
modified Vintage Gateway
View all
hide details