A friend wanted me to build a pc for around $2000 AUD. It had to use an Antec 900 as the case and include a decent screen. He already has a keyboard and mouse. I have already told him that I can reduce the price by $99AUD if he only goes with 4GB's of RAM and that 8GB's is overkill.
This is what I have so far: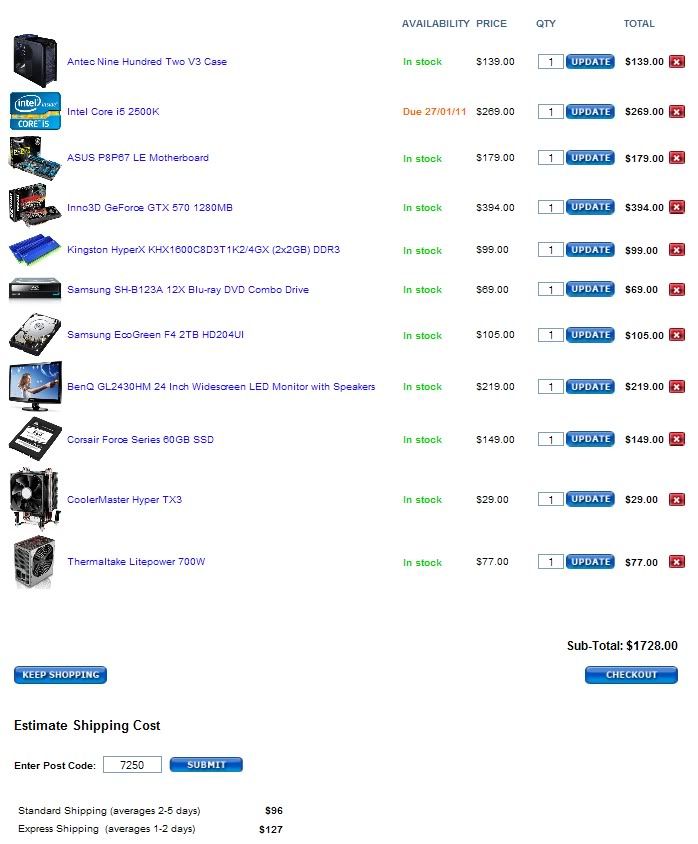 Any thoughts on ways to improve?
I have used PCCaseGear for all of the parts trying to keep it one place to save postage.
EDIT: updated
Edited by cazza1938812 - 1/19/11 at 8:18pm
CPU
Motherboard
Graphics
RAM
Intel 2600k @ 5Ghz
ASUS P8P67 PRO
ATI RadeonHD 5970
4Gb Kingston HyperX 1600mhz
Hard Drive
Optical Drive
OS
Monitor
WD 500Gb Sys, 1Tb Storage
Pioneer DVR-218L
Windows 7 Ultimate
Samsung 40 Inch LED TV
Keyboard
Power
Case
Mouse
Razer Arctosa
CoolerMaster Silent Pro M1000
SilverStone Raven RV01
Logitech G9x
Mouse Pad
Razer Goliathus Speed
View all
hide details
CPU
Motherboard
Graphics
RAM
Intel 2600k @ 5Ghz
ASUS P8P67 PRO
ATI RadeonHD 5970
4Gb Kingston HyperX 1600mhz
Hard Drive
Optical Drive
OS
Monitor
WD 500Gb Sys, 1Tb Storage
Pioneer DVR-218L
Windows 7 Ultimate
Samsung 40 Inch LED TV
Keyboard
Power
Case
Mouse
Razer Arctosa
CoolerMaster Silent Pro M1000
SilverStone Raven RV01
Logitech G9x
Mouse Pad
Razer Goliathus Speed
View all
hide details