Well thinking I had a major catastrophe on my hands with my power supply or something was just amiss....well to my amazement it was just the darn button cell battery, replaced it with another 2032 and was back in business.....
Then after running it about 36 hours this developed...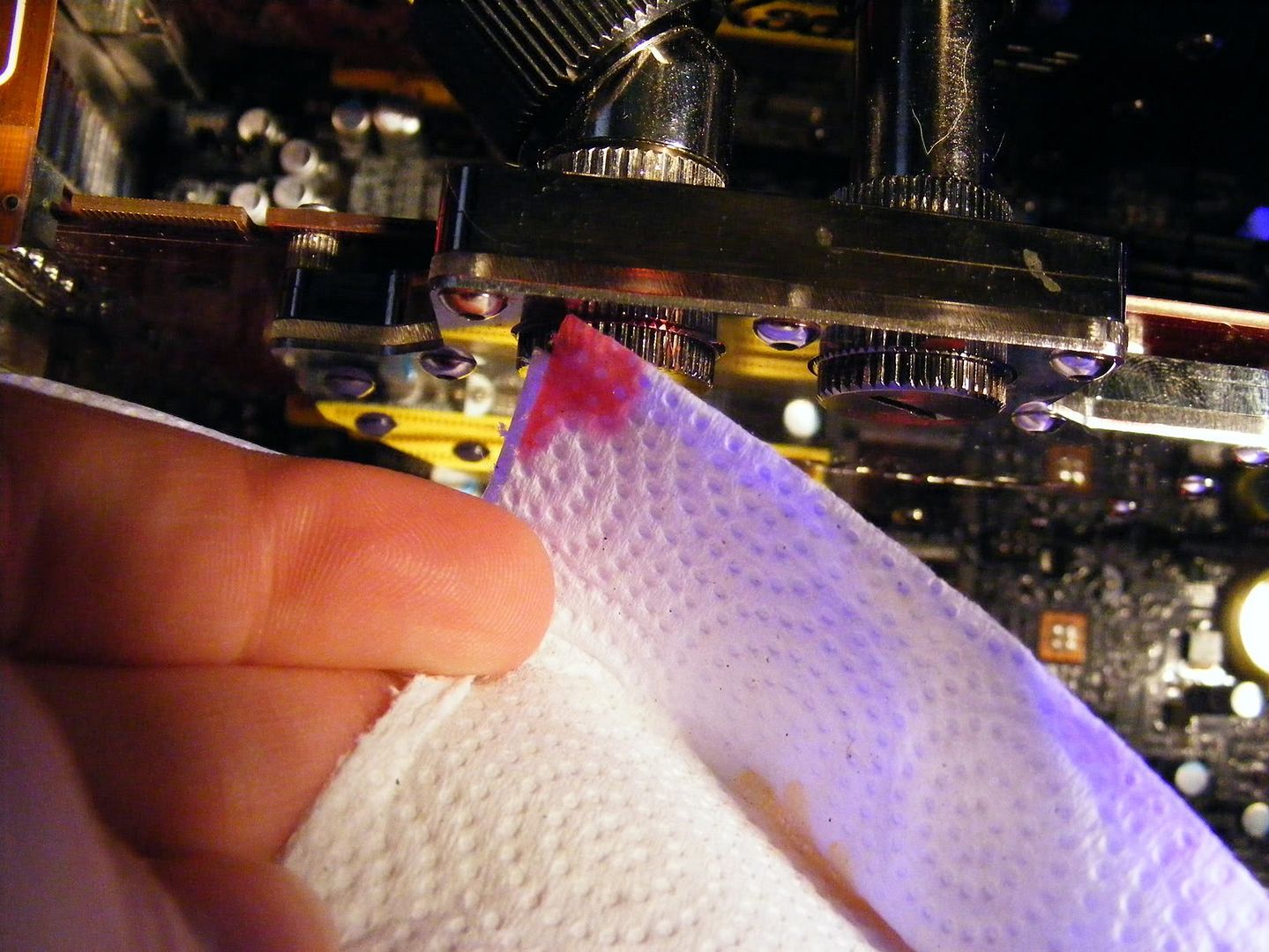 well I put a rag under it for a while and it seemed to have sealed it self up....so no more leaks.....
Fast forward about 2 weeks.....
I had moved the rig over to the other side of my desk, and hooked it up to my 40" sammy tv, was loving it, was still doing some benchmarks on it and messing with OC's on the processor/ram/gpus, and I had been leaving it on all day just waiting for a leak to develop....still no leaks...then when I tried to switch to the input on my tv I was getting no video from the computer.....I thought uh oh......
Well after some digging and trying a few things in the bios and just trying to get it to display video, I thought I would try the bottom card for SnG's and boom I have video again...so at this point I'm thinking the top card gave out....
So I drained the loop yet again, took the waterblocks off both cards reseated them, and switched the order around now putting the bottom card on the top and so on.....boot up.....no video on the top card again...but video on the bottom card after the switch.....so then I moved the whole crossfire down the board and used the second and third PCIe slots, and still the same thing bottom card video, top card no video...but in windows now it's seeing both cards instead of just seeing one, but it won't crossfire at all.....
So after all this headache I'm willing to say the fall this board took during storage is probably the reason it won't accept more than 4gb of ram and probably the reason now it won't crossfire at all.....I even put an old 4350 in the first slot by itself and no video......so now that the project has kinda died, I plan on resurrecting it with BULLDOZER in the future.....I'm kinda hoping that the AM3+ boards will support an AM2 processor....but if it won't oh well, I want a Bulldozer processor anyways, and I also figured by that time I should be rocking a 6000 series card on my main rig and that means I'll have two 5870's looking for a home, and I'll probably pair them up with the Bulldozer build...just all depends on how the benchmarks turn out between my i7 and the Bulldozer.....because if the Bulldozer over takes my i7, then the Bulldozer will be my main and I'll put the 6000 series card in it instead.....
Sorry that this build turned out to be a flop....and that I neglected on documentation during the last month or so....I haven't been getting any feedback from anyone so I kinda just said oh well with it.....
Anyways thanks for everyone's input that contributed in this worklog, and I look forward to resurrecting it in the very near future.....
CPU
Motherboard
Graphics
RAM
i7 920
ASUS Rampage II Extreme
2x 5870's
6gb Corsair Dominators
Hard Drive
OS
Monitor
Keyboard
WD Velociraptor
Windows 7 Ultimate
3x Acer AL2216W's
Logitech G15
Power
Case
Mouse
Corsair HX 1000W
Antec 1200
Logitech G9x
View all
hide details
CPU
Motherboard
Graphics
RAM
i7 920
ASUS Rampage II Extreme
2x 5870's
6gb Corsair Dominators
Hard Drive
OS
Monitor
Keyboard
WD Velociraptor
Windows 7 Ultimate
3x Acer AL2216W's
Logitech G15
Power
Case
Mouse
Corsair HX 1000W
Antec 1200
Logitech G9x
View all
hide details