I have reset the HSF again, running 1 line of AS5 down the middle of the chip.
Right now running @ 4650mhz / loaded temps =76* (still not happy with this).
I did find a couple things with the Tuniq 120 Extreme that may have been contributing factors.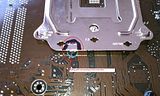 I fixed the back plate earlier today and still had high temps after reinstalling.
This I found a little while ago and thought it was for sure contributing to the issue, once resolved temps are still fairly high imo. It hit the heat sinks regardless of which direction it was installed.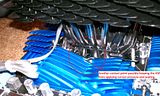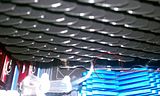 Edited by svntwoo - 1/22/11 at 7:16pm