I use a Dell Precision 490 workstation at work. It has a Dell-branded power supply with a rated output of 750W and is currently running a Quadro FX 550 GPU. I would like to use my 8800GTX with this system for folding (don't pay the power bill at the office!) but I am unsure if the PSU in this system would be up to the extra load.
I assume that even if the unit only peaks at 750W, it should still be sufficient. Below is a shot of the only stickers on the PSU. Not sure if that will help at all (sorry for poor quality iPhone photo).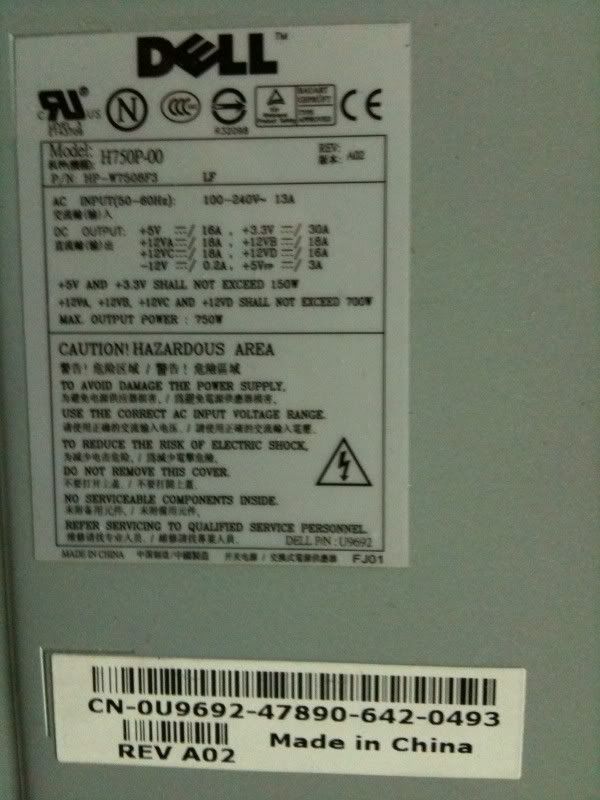 BTW the CPU (Xeon 5050) is already folding SMP 24/7.
CPU
Motherboard
Graphics
RAM
920 D0 | 4104MHz@1.23V
Big Bang XPower
5850 | 880/1050
6GB Sector 7 | 1728MHz
Hard Drive
OS
Monitor
Power
F115
W7P64
245BW
SPI Magna 1kW
Case
cardboard (case/loop in prog)
View all
hide details
CPU
Motherboard
Graphics
RAM
920 D0 | 4104MHz@1.23V
Big Bang XPower
5850 | 880/1050
6GB Sector 7 | 1728MHz
Hard Drive
OS
Monitor
Power
F115
W7P64
245BW
SPI Magna 1kW
Case
cardboard (case/loop in prog)
View all
hide details