Got my new Sapphire Radeon HD 5870 into the rig yesterday and overclocked it to 900/1300 and wanted to show it to everyone! Gonna run Heaven and dark tower bench on just cause 2
this is the new toy!
http://www.newegg.com/Product/Produc...82E16814102883
my desktop with GPU-Z, CPU-Z, my temps, and my heaven setup
Heaven Bench at 16x AF and 8x AA
Heaven Bench at 4x AF and no AA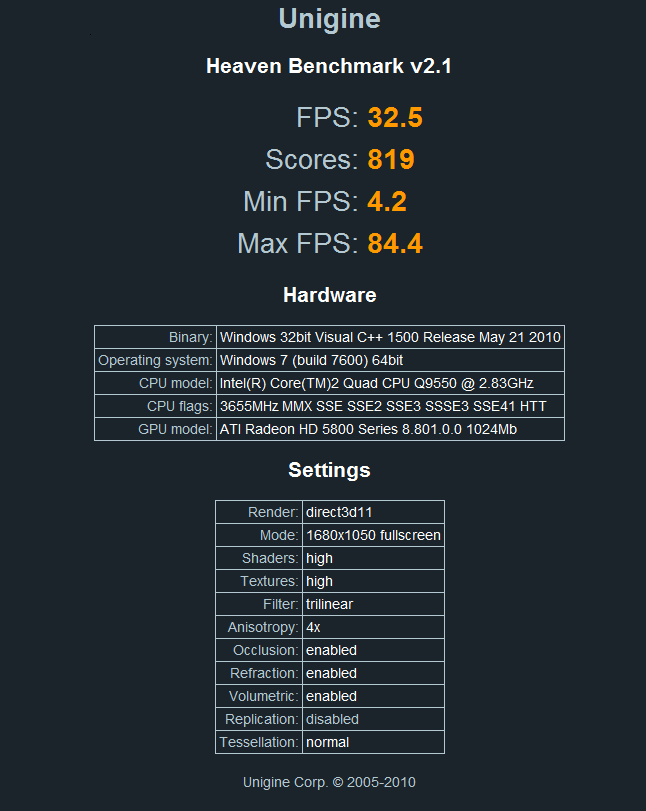 And I ran Just Cause 2's Dark Tower bench with 8x AA and 16x AF with vsync and recorded an avg. FPS of 53.91
so far im loving this thing, what do you guys think? anything i can do to up some of these numbers even?
CPU
Motherboard
Graphics
RAM
2600k @ 4.5Ghz
Gigabyte GA-Z68X-UD3P
Sapphire Radeon HD 5870 1 Gb
2 x 2GB RIPJAWS X 1600 cas 9
Hard Drive
Optical Drive
OS
Monitor
500 GB WD Caviar Black; 1TB Spinpoint F3
Samsung Black 22x DVD Burner
Windows 7 Home Premium 64-bit
ASUS VW224U 22"
Keyboard
Power
Case
Mouse
Saitek Eclipse III
CoolerMaster UCP 700w
Modded HAF 922
Logitech MX518
Mouse Pad
Razer eXactMat
View all
hide details
CPU
Motherboard
Graphics
RAM
2600k @ 4.5Ghz
Gigabyte GA-Z68X-UD3P
Sapphire Radeon HD 5870 1 Gb
2 x 2GB RIPJAWS X 1600 cas 9
Hard Drive
Optical Drive
OS
Monitor
500 GB WD Caviar Black; 1TB Spinpoint F3
Samsung Black 22x DVD Burner
Windows 7 Home Premium 64-bit
ASUS VW224U 22"
Keyboard
Power
Case
Mouse
Saitek Eclipse III
CoolerMaster UCP 700w
Modded HAF 922
Logitech MX518
Mouse Pad
Razer eXactMat
View all
hide details