Hi, I have been having some issues with my new build and am thinking it is either a HDD or Motherboard issue.
First I'll start with what is going on. My computer runs fine most of the time it will benchmark fine run most everything fine (more on most everything in a bit) I have passed 8+ hours of Prime95 small FFT no problem and 14+ hours of Prime95 large FFT no problem. I have let memtest86+ complete 3 cycles with no errors. So I have pretty well ruled out my OC or memory.
What happens is any time I let the computer idle say I go to bed or leave to go to the store after about an hour it will just freeze up. Sometimes it powers down my keyboard and mouse sometimes it does not. I do not get any BSOD and there is nothing in the event log other than an inproper shutdown due to me having to reset it. I have noticed sometime when I put a full load on the drives in RAID things will slow down and take 30sec or more to load. This has been the only issue with some programs anything running off the SSD or my Black drive do fine. I had also noticed when I tried to back-up my RAID to my other drive I started getting corruption errors about 70% of the way from Acronis.
I decided to dismount the RAID and check my Velociraptors to see what is going on both WD Lifegaurd and HD Tune show the SMART status of both drives as Pass and Ok, but CrystalDiskInfo shows one of the drives as caution. HD Tune shows no bad sectors when I do an error scan.
The drive that shows caution on CDI seems to run a normal benchmark on HD Tune but the drive that shows no problems seems to run a very erratic benchamark. Also when I am running the benchmark on it I cannot do anything else the system slows down to a crawl while it is spiking.
I am running an extended test on both drives with WD Lifegaurd now and the "good" drive is crawling compared to the "caution" drive one claims 20 hours remaining the other claims 1 hour remaining both started at the same time.
They are both on the Sata III Marvell controller on my motherboard as my Intel controller is being used for my SSD.
Hopefully this is enough info for someone to be able to help me out or give some opinions here are some screenshots of HD Tune I also threw in a run of my 1TB WD Black just as comparison
this first picture everything locked up after the test was over and quit responding. It is the same drive pictured on the right in the following test after reboot.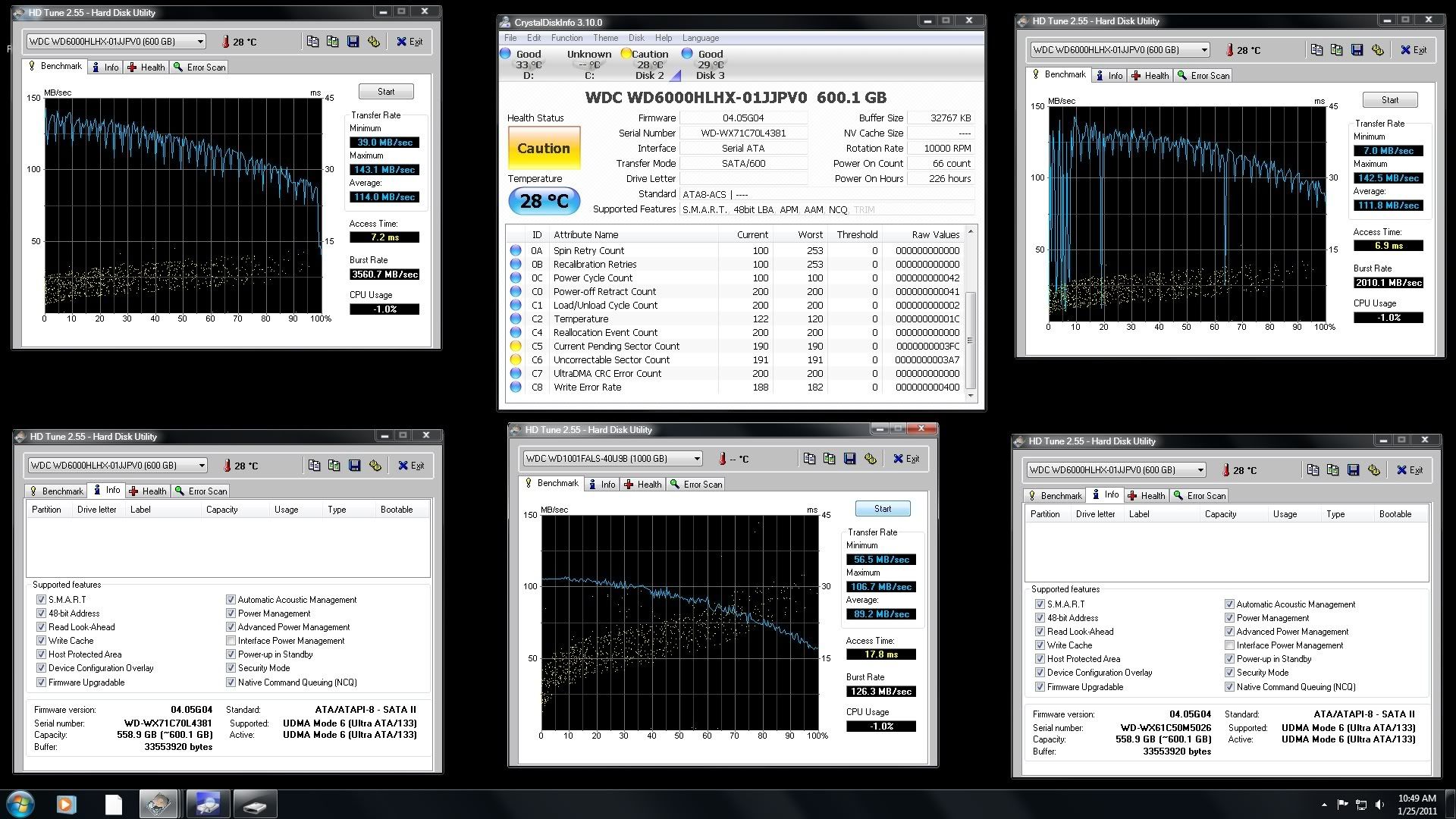 Edited by WRXSTi0487 - 1/25/11 at 9:28am
CPU
Motherboard
Graphics
RAM
Ivy Bridge (Future)
Undecided
Saphire HD 6950 x2
G.Skill (Undecided)
Hard Drive
Optical Drive
Cooling
OS
Crucial C300 128GB and 2 600GB Velociraptors Raid0
LG DVD-Writer
Noctua NH-D14
Windows 7 Pro x64
Monitor
Keyboard
Power
Case
Acer 21.5" 1080p
Logitech G-19
Seasonic X750 Gold
HAF-X Blue/Black
Mouse
Razer Naga
View all
hide details
CPU
Motherboard
Graphics
RAM
Ivy Bridge (Future)
Undecided
Saphire HD 6950 x2
G.Skill (Undecided)
Hard Drive
Optical Drive
Cooling
OS
Crucial C300 128GB and 2 600GB Velociraptors Raid0
LG DVD-Writer
Noctua NH-D14
Windows 7 Pro x64
Monitor
Keyboard
Power
Case
Acer 21.5" 1080p
Logitech G-19
Seasonic X750 Gold
HAF-X Blue/Black
Mouse
Razer Naga
View all
hide details