I'm currently in the process of overclocking my 1055t processor on a 880GA-UD3H motherboard and have so far achieved 3.9Ghz stable, but have settled at 3.7Ghz as it only requires a minor cpu voltage tweak - to 1.40v.
The temperature readings i've been using have been the TMPIN1 reading from HWmonitor and i've been recording around 49° at load.
I thought i'd give Everest a try and installed it today, but its showing the cpu temp as TMPIN2 - which I thought was the motherboard temperature. The temperatures i've been recording on this are 55° under load - so its not too high, but i'm a bit unsure which is correct.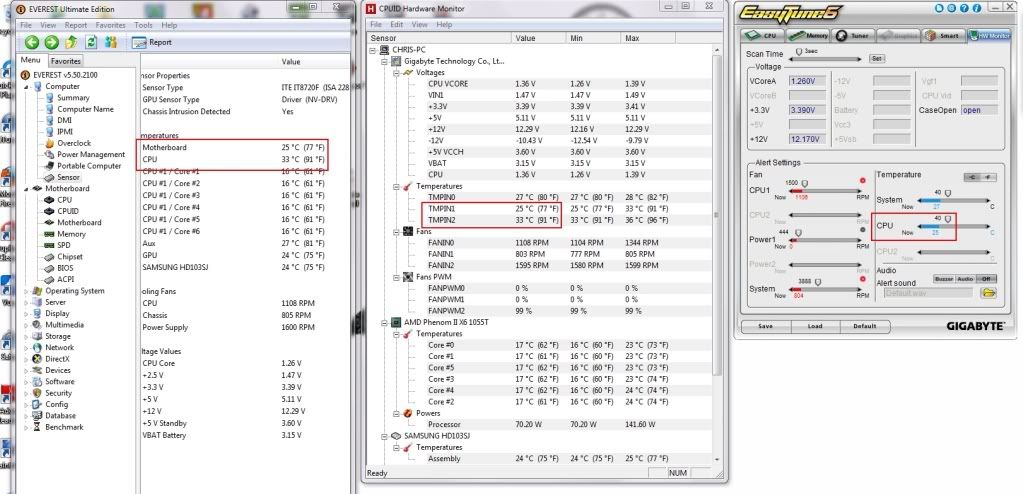 The temperatures shown on easytune match HWmonitor, but can anyone confirm which is correct?
CPU
Motherboard
Graphics
RAM
1055t (3.92ghz - 1.40v)
M4A89GTD
MSI 460 Talon Attack
4GB XMS3 1333Mhz
Hard Drive
Optical Drive
Monitor
Power
Samsung F3
Samsung SH S223C
24" S2409W
Antec 650w Truepower
Case
Silverstone FT01
View all
hide details
CPU
Motherboard
Graphics
RAM
1055t (3.92ghz - 1.40v)
M4A89GTD
MSI 460 Talon Attack
4GB XMS3 1333Mhz
Hard Drive
Optical Drive
Monitor
Power
Samsung F3
Samsung SH S223C
24" S2409W
Antec 650w Truepower
Case
Silverstone FT01
View all
hide details