Sorry alancsalt, I thought I had uploaded a picture that satisfied the criteria. What I did before was edit the benchmark picture in my original post but those settings were also not correct. Here is a score with 'hopefully' everything ok.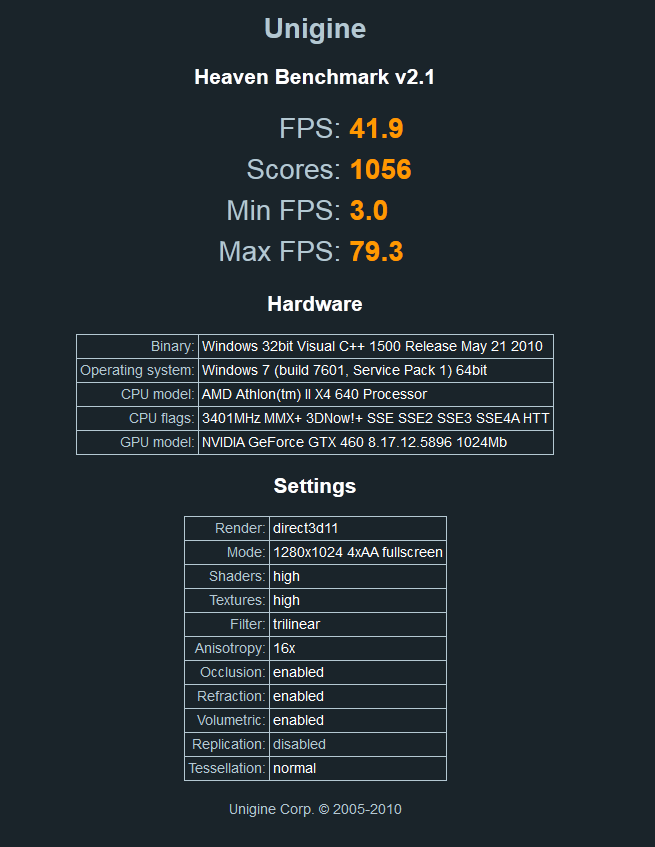 On a side note, what can I do to get this better? A lot of the top scores don't have a minimum as low as mine.
I have got my card clocked to 875, 1750, 2000. Been trying to get to 900 but it won't run stable in OCCT for 25 mins although it does get close but then the screen just turns off like there is no signal coming from the card.
CPU
Motherboard
Graphics
RAM
Athlon II x4 640
Asus M4A87TD
EVGA GTX460
4GB G-Skill 1600 7-7-7-24
Hard Drive
OS
Power
Case
60GB Agility SSD, 1TB Seagate 7200.11
Windows Ultimate 64 bit
Corsair AX750
Fractal Design Black Pearl
View all
hide details
CPU
Motherboard
Graphics
RAM
Athlon II x4 640
Asus M4A87TD
EVGA GTX460
4GB G-Skill 1600 7-7-7-24
Hard Drive
OS
Power
Case
60GB Agility SSD, 1TB Seagate 7200.11
Windows Ultimate 64 bit
Corsair AX750
Fractal Design Black Pearl
View all
hide details