I just picked my phone up off the desk, and was greeted with this: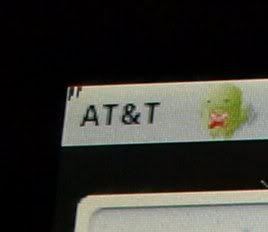 The phone has never been dropped or abused in any way, but it looks like the screen has some physical damage. I'm seriously considering RMA'ing it now, especially since I'm getting occasional spontaneous reboots and the letters are falling off the back, so it now reads "DEL" without the circle around it.
Has this happened to anyone else? What are the chances that Dell believes me and allows the RMA?
CPU
Motherboard
Graphics
RAM
258x Omron MY4N relay @ 4 Hz
plywood
um, blinky lights?
4096 bit core memory
OS
Monitor
Keyboard
Power
Machine code FTW!
100+ LEDs
lots of switches
some huge 24V transformer
Case
Audio
plywood
CLICK CLICK CLICK
View all
CPU
Motherboard
Graphics
RAM
Q9000 @2.0 GHz
HP DV7 2270us
Mobility Radeon 4650
4GB DDR3
Hard Drive
Optical Drive
OS
Monitor
40GB Hitachi
DVD-RW drive
Debian + W7 Home premium x64
23" AOC panel
Keyboard
Power
Case
Mouse
Undecided
500 Whr Lithium ion
homemade out of ABS sheet
Wacom Bamboo touch
Mouse Pad
N/A
View all
CPU
Graphics
RAM
Hard Drive
Atom N270
Intel GMA
1GB DDR2
160GB
OS
Monitor
Ubuntu 12.04
10.1 inch 1024x600 lcd
View all
hide details
CPU
Motherboard
Graphics
RAM
258x Omron MY4N relay @ 4 Hz
plywood
um, blinky lights?
4096 bit core memory
OS
Monitor
Keyboard
Power
Machine code FTW!
100+ LEDs
lots of switches
some huge 24V transformer
Case
Audio
plywood
CLICK CLICK CLICK
View all
CPU
Motherboard
Graphics
RAM
Q9000 @2.0 GHz
HP DV7 2270us
Mobility Radeon 4650
4GB DDR3
Hard Drive
Optical Drive
OS
Monitor
40GB Hitachi
DVD-RW drive
Debian + W7 Home premium x64
23" AOC panel
Keyboard
Power
Case
Mouse
Undecided
500 Whr Lithium ion
homemade out of ABS sheet
Wacom Bamboo touch
Mouse Pad
N/A
View all
CPU
Graphics
RAM
Hard Drive
Atom N270
Intel GMA
1GB DDR2
160GB
OS
Monitor
Ubuntu 12.04
10.1 inch 1024x600 lcd
View all
hide details