New to OC'ing video cards with voltage tweaks. Like to take my EVGA GTX 580 SC card and OC it to a safe, stable, healthy overclock without risk under air cooling. Well ventilated case with top, side, front, back fans. Room temp always 76F all year around.
Anyone like to give some stats on their GTX 580's please post. Need a 24/7 OC that I can set and forget about it.
I'm currently without voltage tweak at 838Mhz Clock / 1051Mhz Memory / 1676Mhz Shader. Getting 40.2 GPixels fillrate and 201.8 Gb's Bandwidth. Haven't had issues at all playing games, streaming, and Blu-ray movies.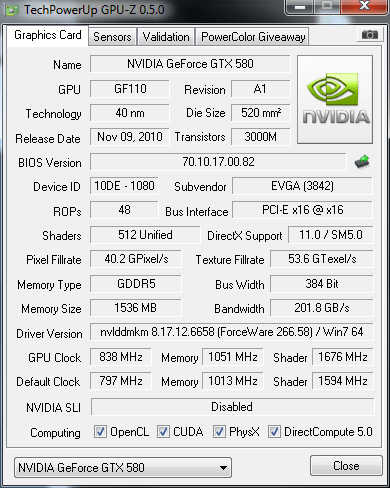 Like to learn a bit more about this card even though I don't need to it's more of a hobby I'm getting into with GPU and CPU.
Thanks in advance for those who post their stats and sage advice in advance for me and anyone else new to the GTX 580 or even OC'ing.