So just got this 920 used off ebay a while ago. Owner said it was used in a work PC and was never overclocked and he isn't a overclocker so he upgraded to a 950. My chip is batch number 3911A234 if you were wondering.
Anyways, here's my OC results. 4.0ghz stable at 1.216 v core. I have ran 50 runs of IBT stable, and folded -bigadv''s for a good 2 weeks so i'd say she's stable
Also, my ambients were pretty hot there. Temp's are between 60C and 65C while folding -bigadv's.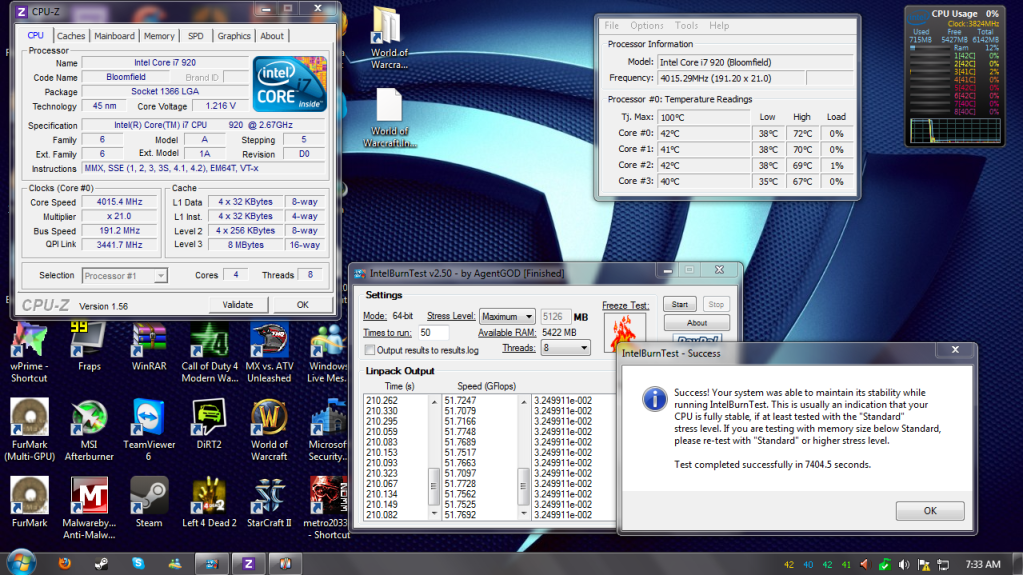 CPU
Motherboard
Graphics
RAM
Skt 478 P4 2.8 1m cache
Gigabyte GA-8IP900
XFX 6600gt AGP
Corsair Value Ram 1 gig PC3200
Hard Drive
Optical Drive
Cooling
OS
Western Digital 40gb IDE
LG 22x DVD burner
Stock
Windows XP Pro
Monitor
Keyboard
Power
Case
ViewSonic VA1932wm
Logitech G15 Rev 2
Raidmax 450w
Raidmax Tornado
Mouse
Logitech MX518
View all
hide details
CPU
Motherboard
Graphics
RAM
Skt 478 P4 2.8 1m cache
Gigabyte GA-8IP900
XFX 6600gt AGP
Corsair Value Ram 1 gig PC3200
Hard Drive
Optical Drive
Cooling
OS
Western Digital 40gb IDE
LG 22x DVD burner
Stock
Windows XP Pro
Monitor
Keyboard
Power
Case
ViewSonic VA1932wm
Logitech G15 Rev 2
Raidmax 450w
Raidmax Tornado
Mouse
Logitech MX518
View all
hide details