Oh well, i've just destroyed my pride and joy in a jet of flame
My POV Gtx 570 was a beauty... it ran 3d mode @ 0.963v, overclocked to 860/1980 @ 1.038v, and 880/2000 and beyond on 1.05v.
With the Arctic Cooling AXP temps never went above 48'c.
However one thing bugged me....I used OCCT to verfiy the OC's with fullscreen hour runs, but I noticed that fps used to decrease with more voltage (eg fps with 880/2000 @ 1.05v was ~102fps, much lower than 860/1980 @ 1.038v with ~130fps)
note: Total system power draw was about 340w in these tests.
It was obvious to me that the powerlimiter was kicking in....so i got thinking, How could I call my 880/2000 oc stable, if the power limiter was kicking in and reducing clocks/power draw dynamically ???
So I set about disabling it with GPU-z and retested.......... (I was worried about the VR cooling with the AXP, so prior to the test I strapped 2x 120mm akasa apache fans to the card, blowing into the VR and VRAM areas, the result was a further 6-8'c off load temps)
Well i was impressed at first @ 880/2000 1.05v fps was ~195 in OCCT fullscreen complexity 8 !!!!
I then checked system power usage and was gobsmacked.....525w
Things were looking good, temp was hovering 44/45'c 20mins and no errors, 195 steady fps..... then POP and the computer restarted.
Tentativley i started the machine back up and low and behold, it started..... So I thought i'd got away with it...untill I fired up some BC2, then BANG/FLASH.... flame shot out and monitor went blank
Yes I'd fried my card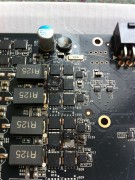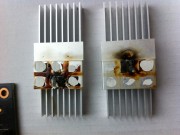 Hindsight is a wonderful thing.... maybe it wasn't so clever to disable the limiter
and
OC to 880/2000
and
run OCCT
The cards in the bin, a GTX 580 is coming to replace it on Tues.
Note sure if I trust the AXP VR cooling enough to use it again, wonder if the above would have happened with better VR cooling ???? It also used to make a funny squeal as soon as i turned the computer on..which was off-putting.
Anyway you live and learn.... I've learn a harsh £250 lesson !!!!!
CPU
Motherboard
Graphics
RAM
4770k @ 4.7ghz
MSI Z87 GD65
eVGA FTW Hybrid 1080 @2126/11000
16gb GSkill TriX 2666mhz
Hard Drive
Cooling
OS
Monitor
Sandisk Extreme Pro SSD
Corsair H90
Win10 x64
AOC G-Sync
Power
Audio
Corsair GS800
Realtek 1150
View all
hide details
CPU
Motherboard
Graphics
RAM
4770k @ 4.7ghz
MSI Z87 GD65
eVGA FTW Hybrid 1080 @2126/11000
16gb GSkill TriX 2666mhz
Hard Drive
Cooling
OS
Monitor
Sandisk Extreme Pro SSD
Corsair H90
Win10 x64
AOC G-Sync
Power
Audio
Corsair GS800
Realtek 1150
View all
hide details