Hey guys,
Just need something clearing up.
I have crossfire 5850s, ones a Sapphire and ones a MSI.
I have 2 monitors attached to the first as monitors don't show up on the second if you xfire. I don't think anyway
Maybe something else needing clearing up.
Well obviously seeing as the second doesn't have any monitors attached, at idle it runs at 157/300
But my first GPU runs at 400/1000 which is understandable with 2 monitors but the core clock fluctuates betwen 725/400mhz constantly and pretty consistently. Here have a looksie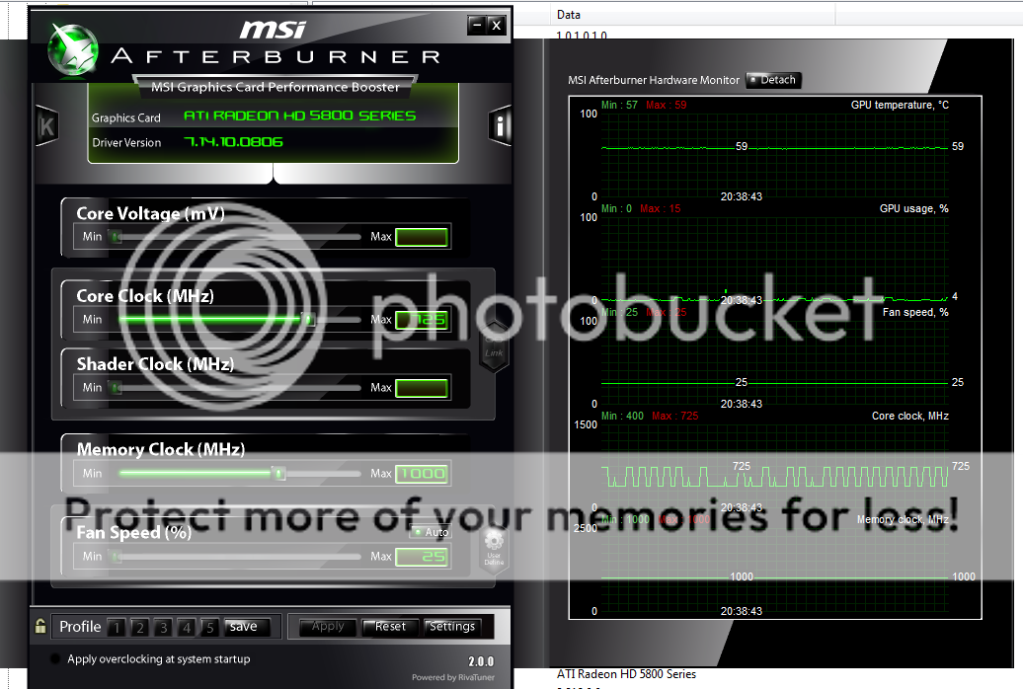 Just wondered if its a bug or thats just how it is.
Thanks
CPU
Motherboard
Graphics
RAM
Intel i7 2600k @ 4.9ghz
Asus ROG Maximus IV Extreme-z z68
Nvidia MSI Twin Frozr GTX580
8gb(2x4gb) Corsair Dominator GT @ 1866mhz
Hard Drive
OS
Monitor
Keyboard
Corsair Force 160gb SSD
Windows 7 HP 64bit
LG W2363D x 2
Dell keyboard
Power
Case
Mouse
Mouse Pad
Corsair AX1200w
Corsair Obsidian 800d
Razer Mamba
Razer Goliathus
View all
hide details
CPU
Motherboard
Graphics
RAM
Intel i7 2600k @ 4.9ghz
Asus ROG Maximus IV Extreme-z z68
Nvidia MSI Twin Frozr GTX580
8gb(2x4gb) Corsair Dominator GT @ 1866mhz
Hard Drive
OS
Monitor
Keyboard
Corsair Force 160gb SSD
Windows 7 HP 64bit
LG W2363D x 2
Dell keyboard
Power
Case
Mouse
Mouse Pad
Corsair AX1200w
Corsair Obsidian 800d
Razer Mamba
Razer Goliathus
View all
hide details