This is going to be my first Intel build. I am fairly new to building computers, so with this one I am just going to have some fun.
This is what I will be using as the basis for my build:
These are the stock specs:
CPU: Intel CeleronD 330 2.66GHz CPU
Motherboard: ECS 661FX-M7
Chipset: SiS 661FX
Devices
40 GB HDD
Combo DVD-ROM/CDRW Drive
Floppy drive
Memory: 128MB DDR333
Operation System: Windows XP Home Edition SP2
Mainboard
Open AGP 8x slot, 3 x PCI slots (1 used)
6 x USB ports (4 back, 2 front)
DirectSound AC97 Codec on board
Provides ATX power connector supports various functions of ATX Power such as Suspend, Shutdown
10/100 Network Interface Card and 56K Modem Card provided
I have already upgraded the ram to 2 stick of 512 ddr 400
and will be ditching the cd/rw for a modern dvd/rw, however, I may just keep the floppy drive for nostalgia sake
The main goal of this build and where the name comes from is that I will be completely flipping the frame of the case around: bottom mounted psu, cpu below pci slots, etc... In addition, I will be adding many case fans and a heatsink (as large as physically possible) in the hopes of taking the d330 as high as I can get it.
I suppose this build is more of a case mod, but system performance (based on the stock parts from the original gq 5100 Compaq build) is also a primary goal. Should be fun.
Getting started:
I forgot to get a pic while it was still assembled, but will continue from here out.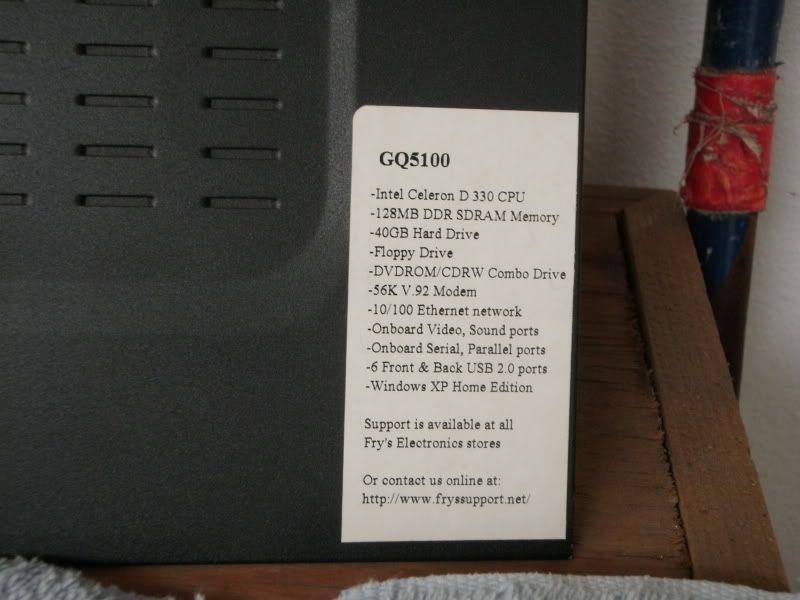 Should be fun. I will keep updating as I go.