*UPDATE* So funny thing, I felt like running HDTUNE on the RAID config again for the heck of it...funny results. Same drives as the RAID config below. Yes one of the drives is still failing just thought it was funny to get two wildly different scores.
Test two of Velociraptor Raid 0 150GB x4: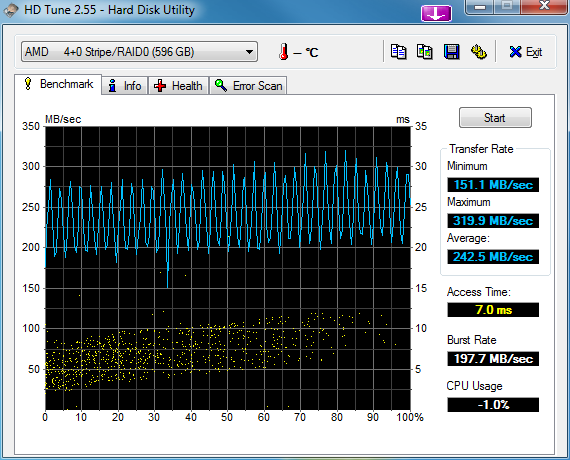 *Original Post Starts here*
So I have had a fair bit of freezing up, CHKDSK errors, over the last week, and getting worse. Diag's pull up nothing on the single drives, WD Diag sees no errors on the RAID 0 setup (4 Velociraptor 150's). Well...then I did some HD Tune test, you all tell me.
Raid 0 Velociraptor 150GB x4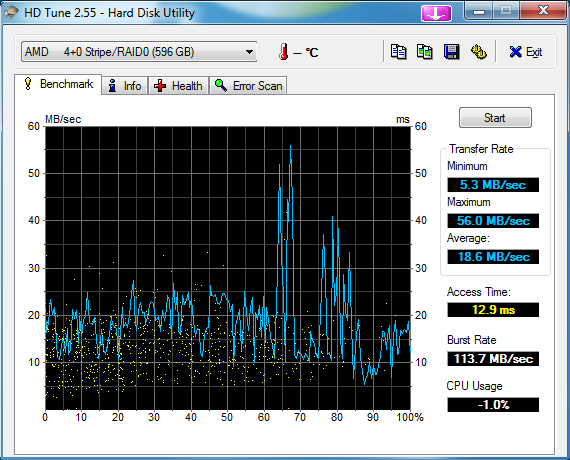 WD 640GB Black
Samsung 1TB HD103SJ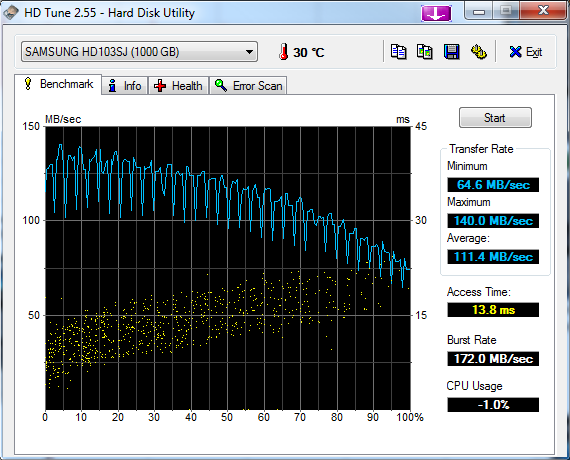 As you can see none of them are amazing, but something is VERY wrong on the raid. Used to get over 300MB Max Read and no less than 200MB Minimum.
Do the other drives seem about right to you all?
Thanks!
Edited by Iamthebull - 2/13/11 at 11:49am
CPU
Motherboard
Graphics
RAM
AMD 8350 @4GHz
GIGABYTE GA-970A-UD3 AM3+
eVGA 980Ti SC+ w/ACX
8GB G.Skill DDR31600
Hard Drive
Hard Drive
Hard Drive
Optical Drive
Samsung 830 256GB
WD 640GB Black
Samsung F3 1TB
ASUS BC-08B1ST BD-R/DVDRW
Cooling
OS
Monitor
Keyboard
Swiftech H220-X w/Gentle Typhoon's
Win7 Home Premium 64-bit
HannsG 28" Widescreen LCD 1920x1200
ABS M1
Power
Case
Mouse
Seasonic X650 Modular
CM690 II Basic
Logitech G400s
View all
hide details
CPU
Motherboard
Graphics
RAM
AMD 8350 @4GHz
GIGABYTE GA-970A-UD3 AM3+
eVGA 980Ti SC+ w/ACX
8GB G.Skill DDR31600
Hard Drive
Hard Drive
Hard Drive
Optical Drive
Samsung 830 256GB
WD 640GB Black
Samsung F3 1TB
ASUS BC-08B1ST BD-R/DVDRW
Cooling
OS
Monitor
Keyboard
Swiftech H220-X w/Gentle Typhoon's
Win7 Home Premium 64-bit
HannsG 28" Widescreen LCD 1920x1200
ABS M1
Power
Case
Mouse
Seasonic X650 Modular
CM690 II Basic
Logitech G400s
View all
hide details