Hey guys, im not sure if this is the right place to post everything, but here goes. I just wanted advise and inputs regarding my newly put together system. Specs are:
Intel i7 950 Currently at 4.00ghz
EVGA x58 classified 3
EVGA GTX 570 SLi
GSkill Trident ddr3 2000 @ 8-9-8 2003mhz
XSPC RX 360 kit
Corsair HX850
WDC Black 1tb
Screenshots: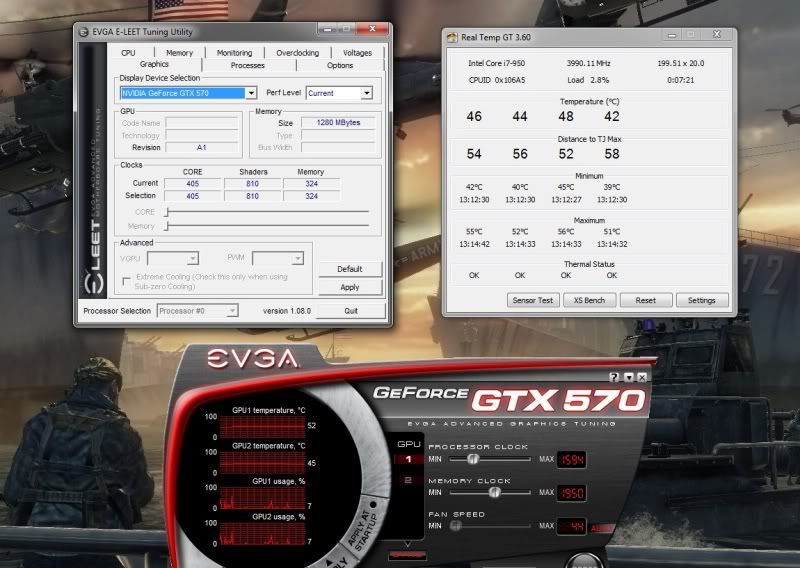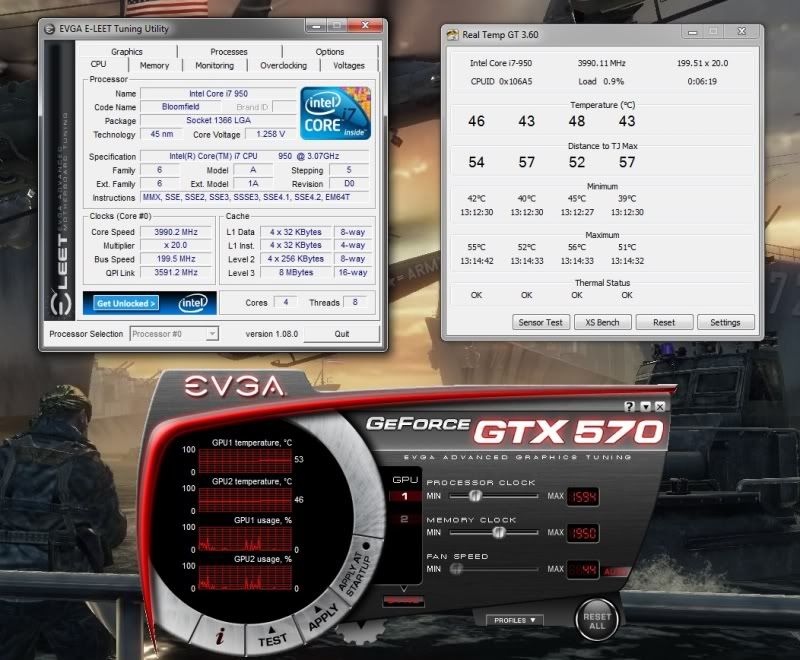 My questions are, are my numbers safe? Specifically the voltages? Temps are a bit high compared to what ive seen but its hot here in my country. Also, compared to evga precision, why are my videocard numbers (clocks etc) lower than in evga e-leet? The two buggers also keep on getting code 43 since i overclocked my cpu. Thanks guys.
CPU
Motherboard
Graphics
RAM
Intel i7 950 4.01ghz
EVGA x58 Classified 3
EVGA GTX 570 Superclocked SLi
G.Skill Trident 6gb DDR3
Hard Drive
Optical Drive
Monitor
Keyboard
Western Digital Caviar Black 1tb 64mb cache
Liteon combo drive
3 x LG e2350v in Surround
Logitech G110
Power
Case
Mouse
Corsair HX 850
Coolermaster HAF-X
Razer Imperator
View all
hide details
CPU
Motherboard
Graphics
RAM
Intel i7 950 4.01ghz
EVGA x58 Classified 3
EVGA GTX 570 Superclocked SLi
G.Skill Trident 6gb DDR3
Hard Drive
Optical Drive
Monitor
Keyboard
Western Digital Caviar Black 1tb 64mb cache
Liteon combo drive
3 x LG e2350v in Surround
Logitech G110
Power
Case
Mouse
Corsair HX 850
Coolermaster HAF-X
Razer Imperator
View all
hide details