I've got a
Mutant Mods Furious Fan Controller
right now. Thing is, the resistors popped in it.
What I know about the fan controller:
3 Channels, with High / Medium / Low / Off settings
Supposedly only built for one fan per channel (didn't know this till now)
What I want out of it:
What I WAS getting out of it (after the popped resistors):
Intake only section was tested.
Here's a picture of the PCB (you can see the blown resistors areas):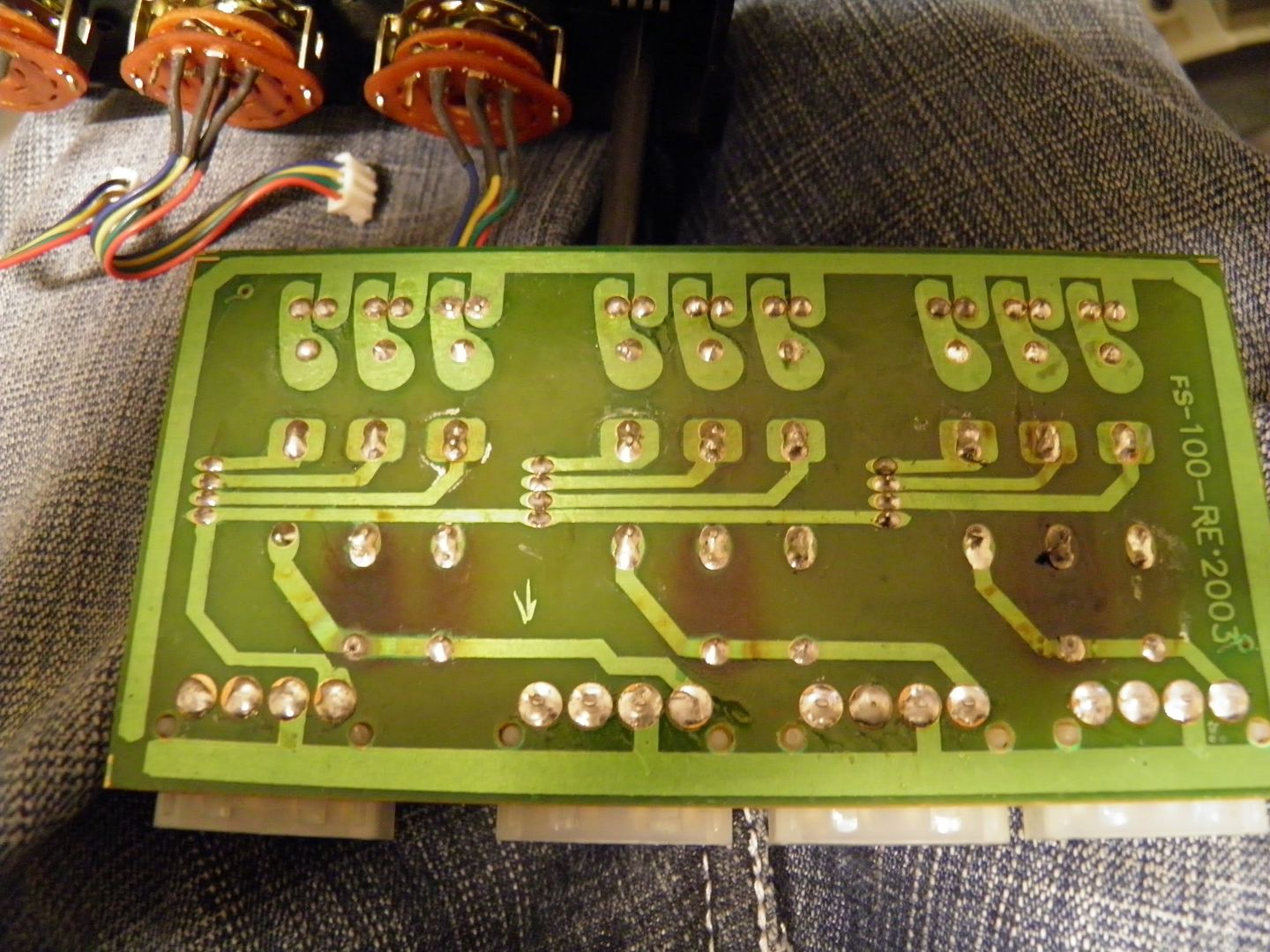 Now, if you focus on that burnt area (just the left side, that's channel 1), you can follow what I'm about to explain.
Voltage comes in at the bottom left connector.
The entire outside is ground.
Voltage goes up into the three switches (just focusing on the first).
Voltage comes OUT of that switch in 3 locations.
Voltages goes UP and DOWN on the PCB.
Up goes to resistors, then the front panel LED's. This area is fine.
Down goes into a Diode.
From the diode it goes into resistors (Medium / Low), or straight out to the connector.
If you follow the far left burnt resistor area, the solder points go to the following:
Bottom solder point (shared trace with all 3 selections) is bottom of resistor.
Next up solder point in line is top of resistor / bottom of diode.
Next up solder point in line is top of diode / connection to input / bottom of LED resistor.
Next up solder point (top in line) is the top of the LED resistor.
Now, what can I do to make this thing work correctly with the given load? I'm looking for 12v / 7v / 5v output to my fans (all fans). I'm THINKING all I need is stronger resistors, with the proper resistance rating. But I'm not entirely sure. I don't even know for sure exactly what ratings I'd be looking for. I'm also not sure if I'd need to replace the diodes as well. Seeing as they're on the same circuit as the resistors that popped. I'm not sure which direction things would pop in. I know the current direction (input goes to output goes to fans). But like I said, not sure which direction shorts would happen. So if the diodes need replaced too, let me know on that one.
Can anyone with some electrical knowledge lend me a hand here?
EDIT:
The Resistors that are there currently:
51ohm, 1/4w, 5% (Low Speed)
22.2ohm, 1/4w, 5% (Medium Speed)
Edited by pioneerisloud - 2/11/11 at 7:01pm
CPU
Motherboard
Graphics
RAM
Intel i5 2320 @ 3.1GHz
MSI B75MA-E33
HIS HD7970 3GB @ 1050 / 1700, 1.17v
Patriot 2x4GB DDR3-1066
Hard Drive
Hard Drive
Optical Drive
Cooling
Crucial MX100 256GB
WD Green 2TB
DVDRW
Corsair H50 Push / Pull
Cooling
OS
Monitor
Monitor
NZXT 120mm fans strapped to stock 7970 cooler
Windows 10 Pro
Dell 3007WFP
Dell 2007FP
Monitor
Keyboard
Power
Case
Dell 2007FP
Cheap Toshiba (R.I.P. Ducky)
PC Power & Cooling Silencer MKIII 950w
Cheap Garbage (free)
Mouse
Audio
Logitech G602
Yardsale Special
View all
hide details
CPU
Motherboard
Graphics
RAM
Intel i5 2320 @ 3.1GHz
MSI B75MA-E33
HIS HD7970 3GB @ 1050 / 1700, 1.17v
Patriot 2x4GB DDR3-1066
Hard Drive
Hard Drive
Optical Drive
Cooling
Crucial MX100 256GB
WD Green 2TB
DVDRW
Corsair H50 Push / Pull
Cooling
OS
Monitor
Monitor
NZXT 120mm fans strapped to stock 7970 cooler
Windows 10 Pro
Dell 3007WFP
Dell 2007FP
Monitor
Keyboard
Power
Case
Dell 2007FP
Cheap Toshiba (R.I.P. Ducky)
PC Power & Cooling Silencer MKIII 950w
Cheap Garbage (free)
Mouse
Audio
Logitech G602
Yardsale Special
View all
hide details