I pulled the bios from my new EVGA GTX 460 (came with FPB) using GPU-z and loaded it into NiBiTor to edit. But all options are grayed out. I also noticed a red circle next to where it says "Integrity" above the submit bios button. On my bios' pulled from my GTX 260 and 8800GT it is a green circle. So I'm assuming there is something different/wrong with this bios?
Is is because it came loaded with the Free Performance Boost bios from EVGA? Maybe those are locked?
Thoughts? Suggestions? I appreciate the help!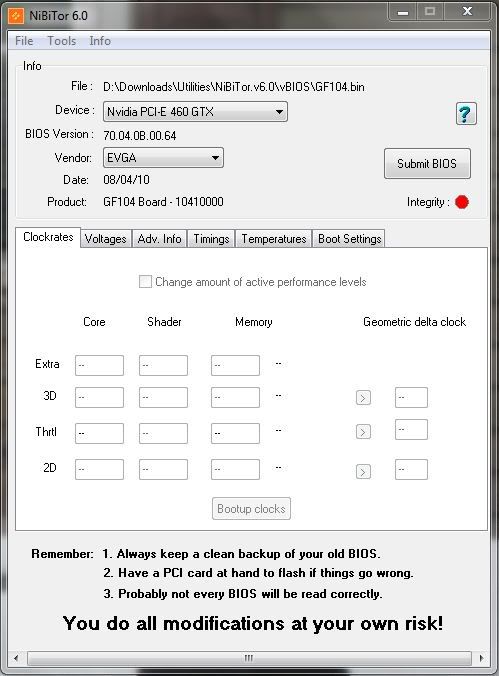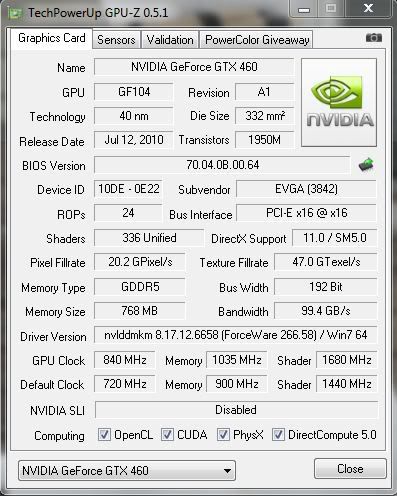 CPU
Motherboard
Graphics
RAM
Phenom II X4 B55 C3 rev 4.0GHz (250x16)
ASUS M4A88T-V EVO/USB3
BFG 8800 GTX
4GB G.SKILL Ripjaws DDR3 1600
Hard Drive
Optical Drive
OS
Monitor
OCZ Vertex 2 120GB
Lite-On DVD Burner
Windows 7 Home x64
ASUS VH232H 23" 1080p
Keyboard
Power
Case
Mouse
Logitech Illuminated
OCZ Fatal1ty 550W
Xigmatek Utgard
Logitech MX 518
Mouse Pad
Razer Goliathus
View all
hide details
CPU
Motherboard
Graphics
RAM
Phenom II X4 B55 C3 rev 4.0GHz (250x16)
ASUS M4A88T-V EVO/USB3
BFG 8800 GTX
4GB G.SKILL Ripjaws DDR3 1600
Hard Drive
Optical Drive
OS
Monitor
OCZ Vertex 2 120GB
Lite-On DVD Burner
Windows 7 Home x64
ASUS VH232H 23" 1080p
Keyboard
Power
Case
Mouse
Logitech Illuminated
OCZ Fatal1ty 550W
Xigmatek Utgard
Logitech MX 518
Mouse Pad
Razer Goliathus
View all
hide details