Too many reviews are placed on test machines with unbelievable airflow or on open air test benches. µATX and HTPC owners immediately flip to the last page of any card review to focus on core temperature and power usage before even considering the cards' overall performance. After all, we're more limited in some cases (pun). Migrating away from the GTX 470 (which happens to be for sale in my sig), I needed a powerful card that offered low[er] temperatures and power usage for a fully closed LianLi v350b, and you might need one as well. Before reading further this thread is aimed at those who:
a) Have a µATX case that is small/closed with little airflow
b) Have an HTPC that is naturally confined
The card of choice was the
ASUS GTX 560 DirectCU II
[900/1800/4200 Stock]
::Size::
Let's take a look at the card and it's relative size to my motherboard/tray.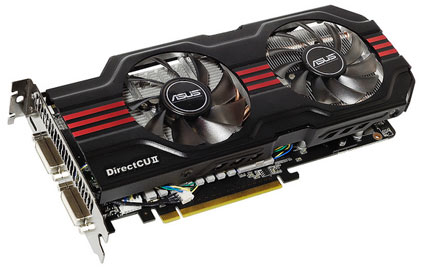 The size is just right for your case. It's roughly ~235mm in length, so fitting it in your case should not be an issue. The top placement of the power connectors in inconvenient. I had to drop the wires from my 5.25" bay. The
MSI Twin Frozr 2
does not have this issue, but I bought mine new for $220, so I can't complain.
::Temperature/Power::
Power
- Let's get power out of the way real quick. I'm pulling about 338w from the wall with my system (in signature). This includes a couple of HD's, an OC'd i7 Xeon, and an H50. No LED's or other case enhancements. Remember, a PC this small is not meant to glow in the dark. Don't add power usage with lights on these builds. This result isn't that far off from
Hardware Heaven
.
Temperature
- This is where this card shines. I'll show you a couple of benchmark scores below, but for now, let's look at the temperatures after both tests (Vantage/ 3D11) were run to show you max temps at an OC of 950/1900/4800.
I'll take
67c
any day of the week. This is in a tiny case! Not to mention, this is the most quiet card I've ever owned. It puts my ancient ATi 9600xt to shame in terms of noise. Like the Twin Frozr, the fans are slightly whiny, but the airflow noise is quiet.
So, now that these two issues are out of the way, let's take a look at two 3dMark runs and an example of a 1000/2000/4800 OC.
::Benchmarks::
This card shines at 950mhz, but
not
at 1000mhz. Not joking. For some reason, the law of diminishing returns on this card did not play out after about a core clock of 955mhz. It was dwindling returns; negative. No matter the voltage, this card performed significantly lower with a 1ghz OC than a 950. This is not saying your card won't act this way, but it's very possible. Here's the temps for the 1ghz OC in case your interested. Ignore the previous build of AB.
Now, back to the 950/1900/4800 OC, lets take a look at those benches.
PhysX is off
. Nobody's using it in games, so let's even the score with ATi:
That's, once again, with PhysX off. These scores a pretty dang good for a mid-range card that operates whisper quiet with low power usage.

For the record, on the

1Ghz OC

, my Vantage score was 20514 and 3d11 score was 4132.::Conclusion::

Don't be a fanboy when it comes to your µATX or your HTPC. Get the best card that provides the lowest noise, best power consumption, and lowest temperatures. I feel as though the 560 Ti is the card of choice, but that doesn't cancel out the 6850/70 if the price is right. However, this is just my advice. I hope this helps you with a decision to add this card to your rig.