Radeon HD 6950 to 6970 Guide
So this is my first guide and unboxing post for OCN. Any criticism is much appreciated.
I was fortunate enough to purchase two Sapphire Radeon HD 6950's and have unlocked them both to 6970's.
I wanted to post a step by step of unboxing and installing them and then flashing them to 6970's.
I suppose without any further ado: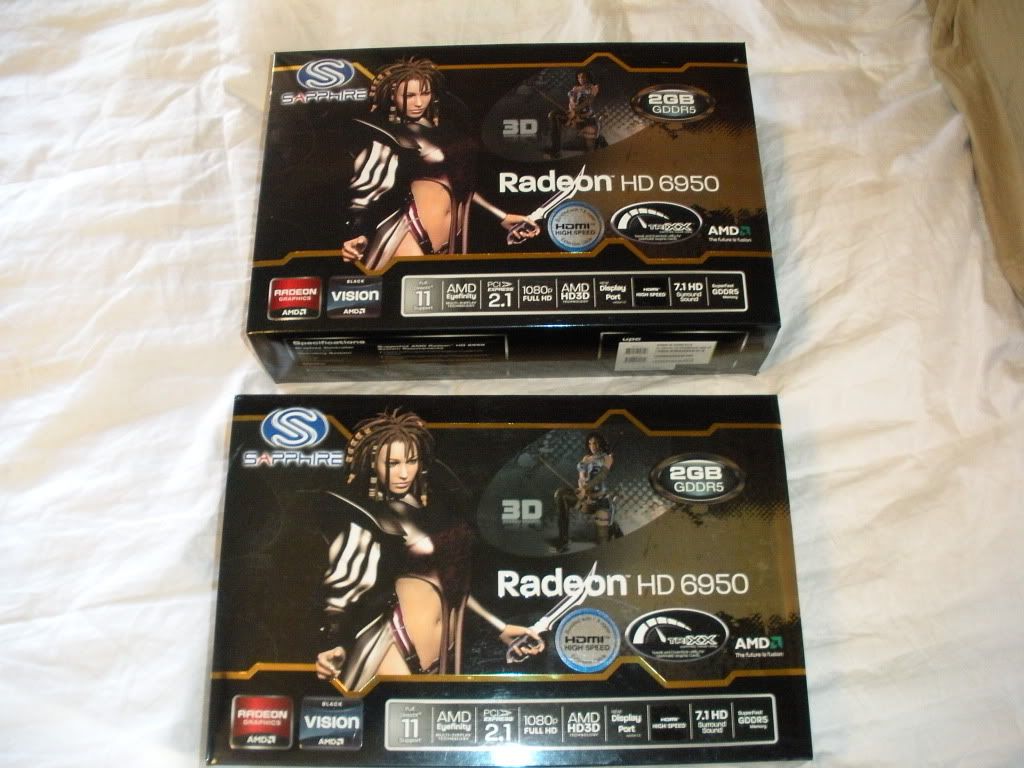 Here is the boxes I received in the mail. One from Newegg, and one from Superbiiz (for rebates).
The packaging is nice, feels about the same as my previous GTX 465.
The box is large for a video card due to the length of the card itself.
The box dimensions come in at 14.75 X 9.75 X 4 inches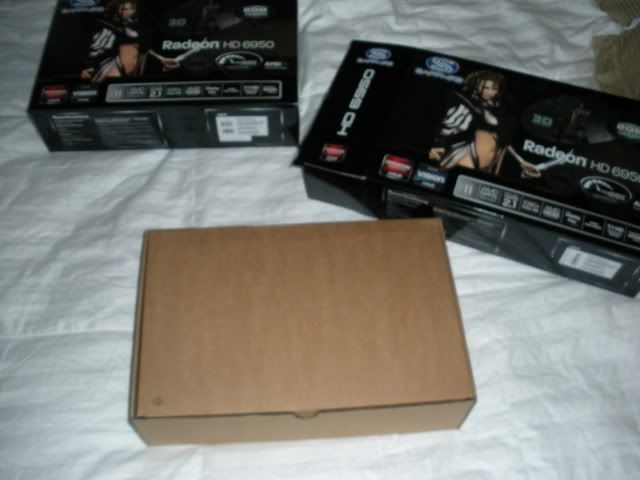 This is the immediate packaging after removing the outer layer. Not much to see here.
Opening up this box however reveals the latest hole in my wallet.
This card is huge. But we'll come back to that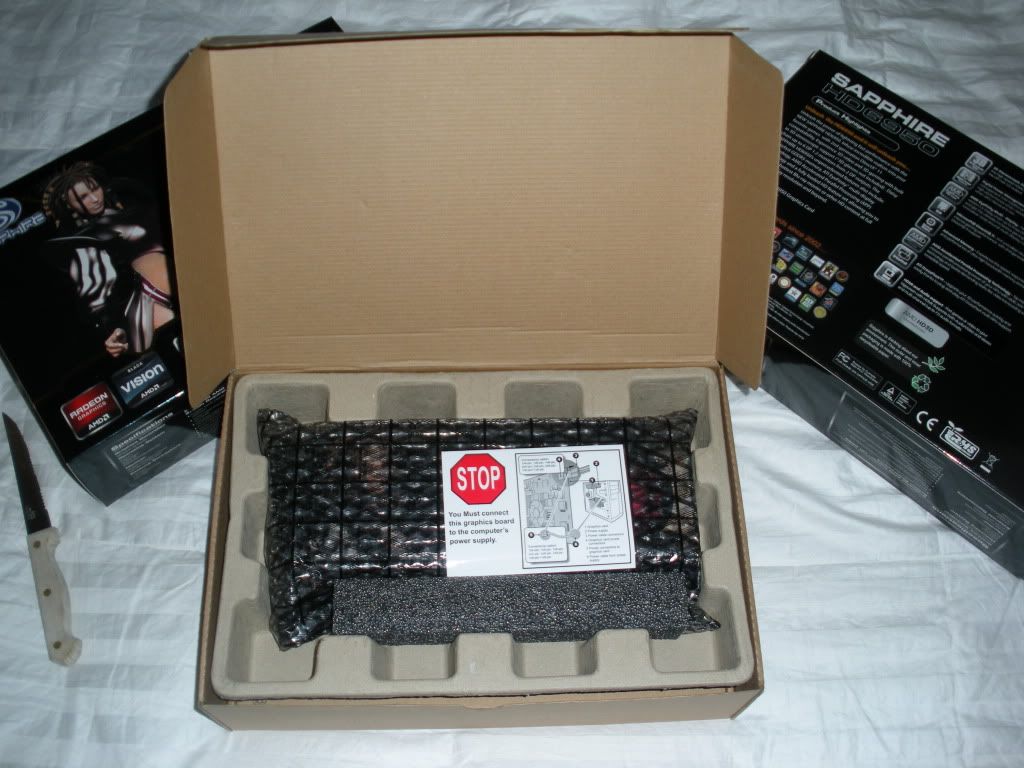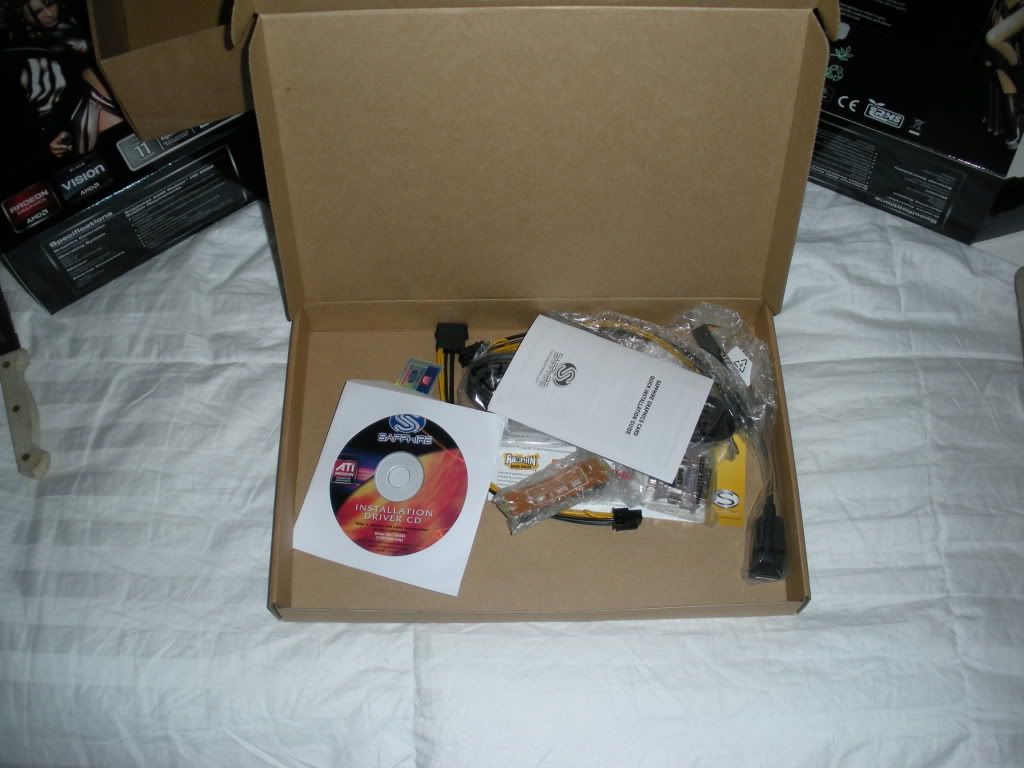 I thought to disappoint everyone, by making you scroll a bit further to see the actual card itself.
Here is the actual accessory box. It comes nestled under the card, and opening it up let's us see what
extras Sapphire was nice enough to include with this roughly $300 card.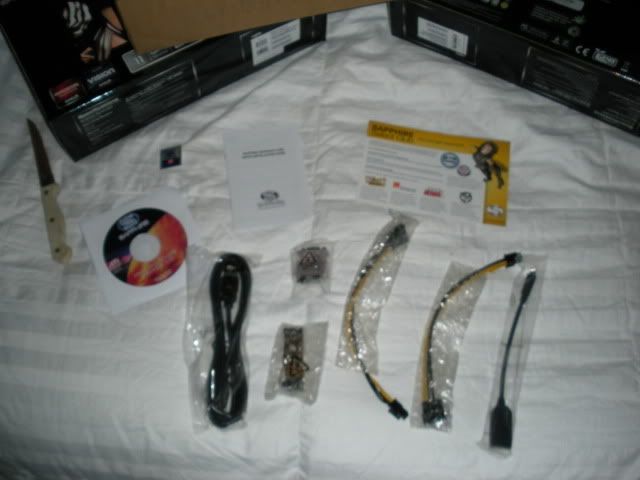 The box contains the following:
1 Sapphire Installation Cd
1 Sapphire Case badge
1 1.8 meter HDMI cable
2 Molex to 6-Pin power cable adapters
1 Installation Guide
1 Crossfire Connector
1 DVI to VGA adapter
1 Mini DisplayPort to DisplayPort Adapter
And a card with registration information for Sapphire
Seems pretty standard and the crossfire cable is too short for my motherboard (Asus Rampage III Extreme), as I need to use PCI-E slots 1 and 3.
So if anyone else has this motherboard, or a similiar design on their's: heads up.
Edited by Senator - 2/15/11 at 7:13pm
CPU
Motherboard
Graphics
RAM
[INTEL] i7 930, 4.4ghz @ 1.27V
[Asus] Rampage III Extreme
[Sapphire] 2X 6950's Flashed to 6970's @950/1425
[G.SKILL] Ripjaws X Series 12GB DDR3 @ 2133
Hard Drive
Optical Drive
OS
Monitor
[Crucial] 2X C300's in Raid0 & [Samsung] 2X 1TB F3
[Hewlett-Packard] DVD-RW
[Microsoft] Windows 7 64-bit
[Asus] 3X 23" LCD
Keyboard
Power
Case
Mouse
[Microsoft] Sidewinder X6
[Kingwin] Lazer LZ-1000
[Xigmatek] Elysium (Being Modded)
[Microsoft] Sidewinder
Mouse Pad
[XTrac] Ripper
View all
hide details
CPU
Motherboard
Graphics
RAM
[INTEL] i7 930, 4.4ghz @ 1.27V
[Asus] Rampage III Extreme
[Sapphire] 2X 6950's Flashed to 6970's @950/1425
[G.SKILL] Ripjaws X Series 12GB DDR3 @ 2133
Hard Drive
Optical Drive
OS
Monitor
[Crucial] 2X C300's in Raid0 & [Samsung] 2X 1TB F3
[Hewlett-Packard] DVD-RW
[Microsoft] Windows 7 64-bit
[Asus] 3X 23" LCD
Keyboard
Power
Case
Mouse
[Microsoft] Sidewinder X6
[Kingwin] Lazer LZ-1000
[Xigmatek] Elysium (Being Modded)
[Microsoft] Sidewinder
Mouse Pad
[XTrac] Ripper
View all
hide details