Hey all, just got a 128GB Crucial C300, it's my first SSD and I just wanted to check to see if I'm getting the speeds I should be.
Here's my AS SSD screenshot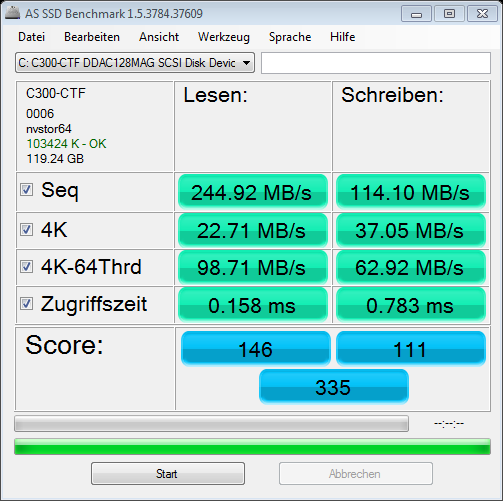 (Does anyone know why AS SSD won't let my switch from German? I have English selected but it doesn't change anything)
Note that I am not running this on SATA III yet, I'm currently running it on SATA II on an old AMD nForce 570 board using nVidia storage drivers.
I gotta say, if I had any doubts before, I'm totally sold on SSDs now, it's really like nothing else I've experienced on a computer.
Also, here it is poking out of my rig along with my also new NH-D14, I know it looks trashy just sitting there but I kinda like seeing it all the time and I didn't get a drive bay converter for it.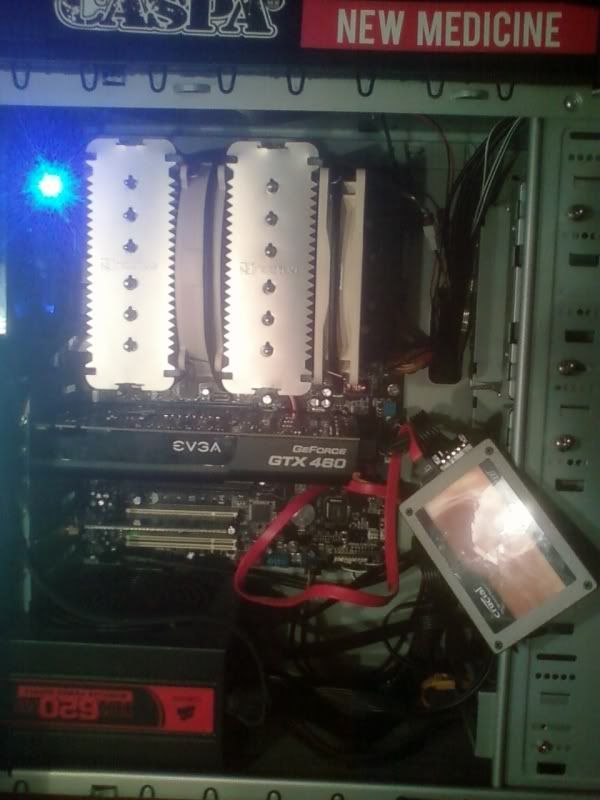 CPU
Motherboard
Graphics
RAM
i5 2500k @ 4.54Ghz
Gigabyte P67A-UD4-B3
EVGA GTX 460 1GB
2x4GB G. Skill Ripjaws X 1333Mhz CL7
Hard Drive
OS
Keyboard
Power
Crucial C300 128GB & Samsung Spinpoint F3 1TB
Windows 7 Home 64 bit
Logitech G15
Corsair HX620
Case
Mouse
Antec 900
Logitech G5
View all
hide details
CPU
Motherboard
Graphics
RAM
i5 2500k @ 4.54Ghz
Gigabyte P67A-UD4-B3
EVGA GTX 460 1GB
2x4GB G. Skill Ripjaws X 1333Mhz CL7
Hard Drive
OS
Keyboard
Power
Crucial C300 128GB & Samsung Spinpoint F3 1TB
Windows 7 Home 64 bit
Logitech G15
Corsair HX620
Case
Mouse
Antec 900
Logitech G5
View all
hide details