I was bored late last night and was looking at my CM 690 Nvidia and started thinking I don't have a Nvidia GPU so why have a Nvidia edition case. So I took everything out and started to think on what to do here.
Here is what I'm starting with.
So I ended up cutting all of the fan grill off the case, took all plastic off and took the mesh grill off.
Here all the parts that are getting painted at some time today. (I hope)
The case, mesh grill and the green.
I will aslo be painting the trim on the Sentry 2 the same color as the mesh grill.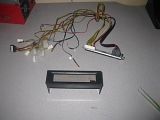 Here is what my computer looks like as I'm doing this, so the faster the the better.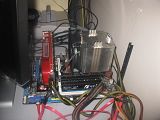 Will also be painting the fan blades all the fans. Sorry no pictures yet, will take some before and aftter painting.
Edited by JuniorDaisy - 2/24/11 at 9:25pm
CPU
Motherboard
Graphics
RAM
E8400 @3.8GHz
Asus Maximus Formula
ATI 4870X2 830/1000
4GB Patriot Viper II 6400LL @ 1008MHz
Hard Drive
Optical Drive
OS
Monitor
2 X 500GB
LG DVD-RW
Windows 7 64 bit
2 X 20" Dell 2009W
Keyboard
Power
Case
Mouse
Dell
750W PC P&C Silencer
Corsair 600T
Logitech V220
Mouse Pad
Nividia
View all
hide details
CPU
Motherboard
Graphics
RAM
E8400 @3.8GHz
Asus Maximus Formula
ATI 4870X2 830/1000
4GB Patriot Viper II 6400LL @ 1008MHz
Hard Drive
Optical Drive
OS
Monitor
2 X 500GB
LG DVD-RW
Windows 7 64 bit
2 X 20" Dell 2009W
Keyboard
Power
Case
Mouse
Dell
750W PC P&C Silencer
Corsair 600T
Logitech V220
Mouse Pad
Nividia
View all
hide details