i would appreciate some advice. i'm not an audiophile but i appreciate quality sound and i'd like to improve my gaming experience. i'm looking for an audio setup that will allow me to control volume through a physical knob. my focus is gaming. i play FPS games with the occasional Mafia II style game thrown in. budget is low, $100 - $150.

current setup:
on-board Realtek ALC892 8-channel
HD280 PRO headphones
generic low-end PC 2.1 speakers (creative i trigue 3400)
looking to upgrade to:
an improved source (X-fi, Xonar, DAC, etc. ?)
keeping my HD280 PRO's, i'm happy with them
keeping the PC 2.1 speakers (i use headphones while gaming, speakers are used only for youtube vids etc.)
here's my current setup. soundcard -> low-end 2.1 speakers -> HD280 connected through the volume control pod of the i trigue speakers.
i'm concerned that i'm losing audio quality by connecting my headphones through the speaker control pod. i want a solution that allows me to control volume with a physical knob. so, what i'm looking for is something that sits on my desk (with a physical volume control knob) that i can plug my headphones into and that would minimize loss in audio quality. i want to be able to plug my speakers into this device as well.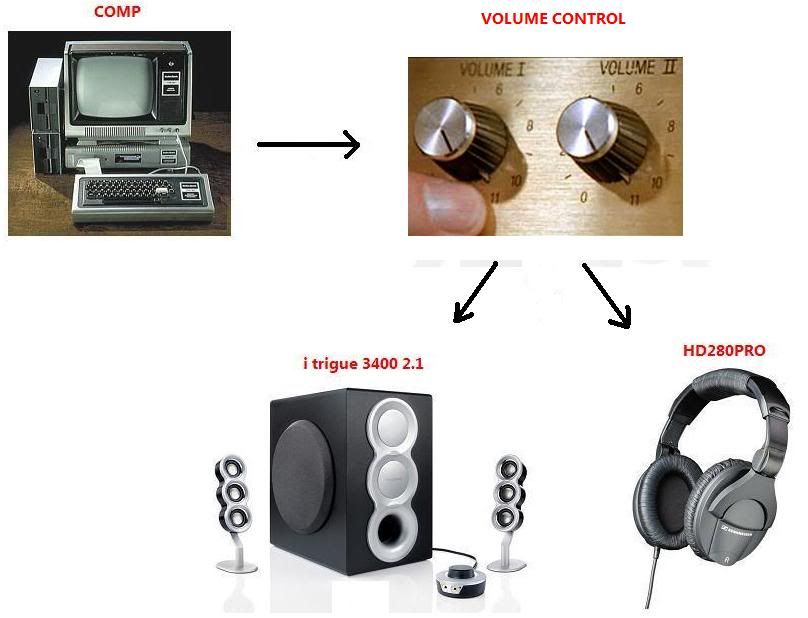 my criteria:
physical volume control
good quality audio pass through
connect headphones and speakers at the same time (ideally speakers would auto-mute when headphones are plugged in)
do not care about audio quality passed through to the speakers
must allow EQ adjustment (physical or software based)
since my primary purpose is gaming i figure i should stick to a sound card (X-fi, ASUS) instead of a DAC. input is welcome here. the
so i'm looking for an improved audio source and volume control. thanks in advance for any and all advice.
CPU
Motherboard
Graphics
RAM
i7-6700K @ 4.4 GHz
ASUS ROG Maximus VIII Hero
GTX 1070 SLI @ 1924/8000 MHz
16GB DDR4 3200 MHz
Hard Drive
Monitor
Power
Audio
2x 850 EVO 500GB
ASUS ROG Swift PG278Q
AX850
Titanium HD | JDS Labs O2 | HD650
View all
hide details
CPU
Motherboard
Graphics
RAM
i7-6700K @ 4.4 GHz
ASUS ROG Maximus VIII Hero
GTX 1070 SLI @ 1924/8000 MHz
16GB DDR4 3200 MHz
Hard Drive
Monitor
Power
Audio
2x 850 EVO 500GB
ASUS ROG Swift PG278Q
AX850
Titanium HD | JDS Labs O2 | HD650
View all
hide details