Quote:
Originally Posted by
tango bango
Very nice. So if one were to get the 950. It could be OC to say 4ghz.
4.0ghz on a 950 is a piece of cake. 4.2ghz is average with a good cooling setup.
Quote:
Originally Posted by
tconroy135
Yeah, almost any 9xx can go to 4Ghz, just the Extreme series do not need the BCLK adjusted.

Increasing the BCLK would increase the overall performance of the system, but this is not really true. Everything on the X58 is adjustable via multipliers and the system runs best by leaving the BCLK at 133 and adjusting the multipliers(UCLK,CPU,Mem,QPI,etc...).

Also the stock QPI on all x58 boards is 4.8, all I7(x58) can run at 6.4, but only the Extreme series are rated at this speed(which is really meaningless).
This is the same arguement that we used to have over higher FSB vs. lower mutliplier. The answer is actually higher fsb (in this case higher base clock). Yes, everything on the board is designed for multipliers, but I will give you an interesting idea to benchmark. Run 1866mhz ram with baseclock at 133mhz (133x14) and compare that to a fully stable 186mhz base clock (186x10).
Run the CPU at 133x28=3.724ghz and 186x20=3.720ghz. I have a feeling that you will show a slight increase in performance on the higher baseclock as you are also increasing the performance of the uncore and several other components.
Then I would also ask you to benchmark a game including minimum, average, and maximum FPS. I noticed in my testing a noticeable improvement in my minimum FPS (which is a real/tangible benefit to me). The results speak for themselves.
When I did this on a Q6600 (FSB is roughly equivalent to baseclock), these were my results.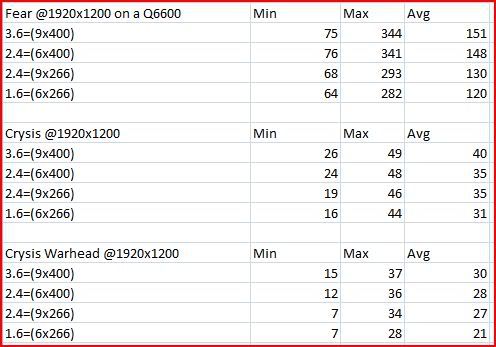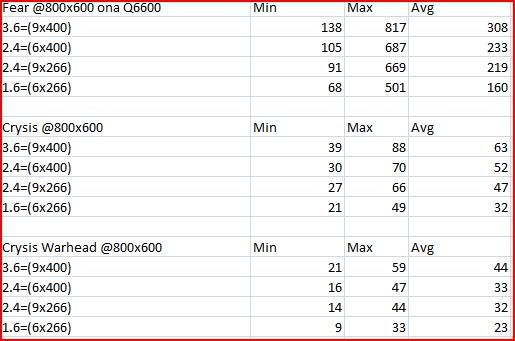 The side note about the higher QPI speed at stock is a real/tangible benefit as well. You could overclock the qpi of a 950 to reach the same performance, but you would be overclocking, which was the distinction that I was making. At stock, the qpi is faster.
Full test setup:
Q6600
EVGa 790i FTW (Analog)
4gb (2x2gb) Corsair XMS3 DDR3 1600mhz cas9
GTX 260 (Core 192) @Stock ***(IIRC, but this could have been a GTX 280)
Corsair TX850
1tb WD Caviar Black
Samsung 2433BW
Edited by ChickenInferno - 2/17/11 at 6:13pm