Hi All

About a month ago I purchased two ATi HD6850's for crossfire on my sig rig...

Noticed no problems except for that now I couldnt hibernate Vista (well I could, but it wouldnt resume from Hibernation) which after much effort and research I discovered was a Vista problem rather than the cards.

However I have noticed a few more problems which I hope all you super intelligent beings can help me with:

- When crossfire is disabled Hibernation works, however with crossfire disabled sometimes coming from a full system boot (as in turn it on) windows fails to start (screen comes on but eventually just goes black) have to reset and it usually works the second time.
- When crossfire is enabled hibernation doesnt work (it wont resume out of hibernation) but turning the computer on works every time.

Those two are the random powering on/off problems... However Ive noticed these two problems also...

- With crossfire enabled in NTW I got this:

and...
Both these problems stop when crossfire is disabled.
- The other day I was playing Borderlands with my mate, and with crossfire on and the game started fine, played fine for awhile and then randomly started distorting... I didnt record it sadly but basically horizontal lines of the displaying graphics appears on the screen sorta like this mock up I just did in paint: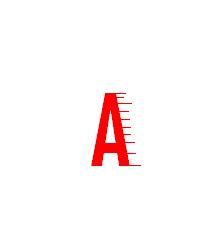 So in the example the game is rendering a A lol but it has these random horizontal lines coming from it... Imagine that but with everything its displaying on screen.
Random Info You Might Want:
- I run both cards at 30% fan... Temps dont get above 75... CPU doesnt get above 46.
- Games run maxed out at 1680x1050
Any help in solving this would be greatly appreciated... They are both new so I can return if needed...
Thanks
Edited by Stilldawn - 2/17/11 at 2:48pm