$400 Build. Assistance please? - Page 3
Joined: Nov 2010
Location: southern california
Posts: 565
Rep: 55

(Unique: 47)

Trader Rating: 31
Quote:
Originally Posted by
Yoko Littner
Want to do a complete system and as capable as possible for $400.
this will include the OS as well as Pc it self. no monitor, Keyboard, mouse, ECT..
So basically if someone could throw together a newegg list this would be very helpful XD.
Hardrive size must be 320GB Minimum.
must have some upgradability.
and Minor gaming capability's.
cpu:
AMD x4 840 3.2ghz
mobo:
biostar a7803L
ram:
kinston hyperX 4gb(2x2gb) 1600
gpu:
Asus engts450 gts 450 1gb
psu:
antec neo 520
hdd:
WD caviar blue 500gb 7200rpm
case:
HEC blitz (poor man's antec 902 clone)
drive:
samsung sh-s2223c 22x sata
Assuming u live outside of California, it puts u at grand total $399 + $9 shipping. Keep in mind you will also get -$35 from mail-in-rebates.
Therefore true final price is $365.
Depending how u see this, u could upgrade to the
Nvidia 460
/
ATI 5770
which is the same price as the Nvidia 450 ($100) after rebate.
The same applies to the cpu. Drop down to an
AMD x2 255 3.1ghz
and save another $50. Most games wont take advantage of 4 cores, but it's nice having extra horsepower for other pc applications/multitasking.
NOTE: if youre a student or know a student, you can get Windows7 for $30 or even free thru MSDNAA (engineering/computer science majors). contact your savvy friends and family members for a legal hookup.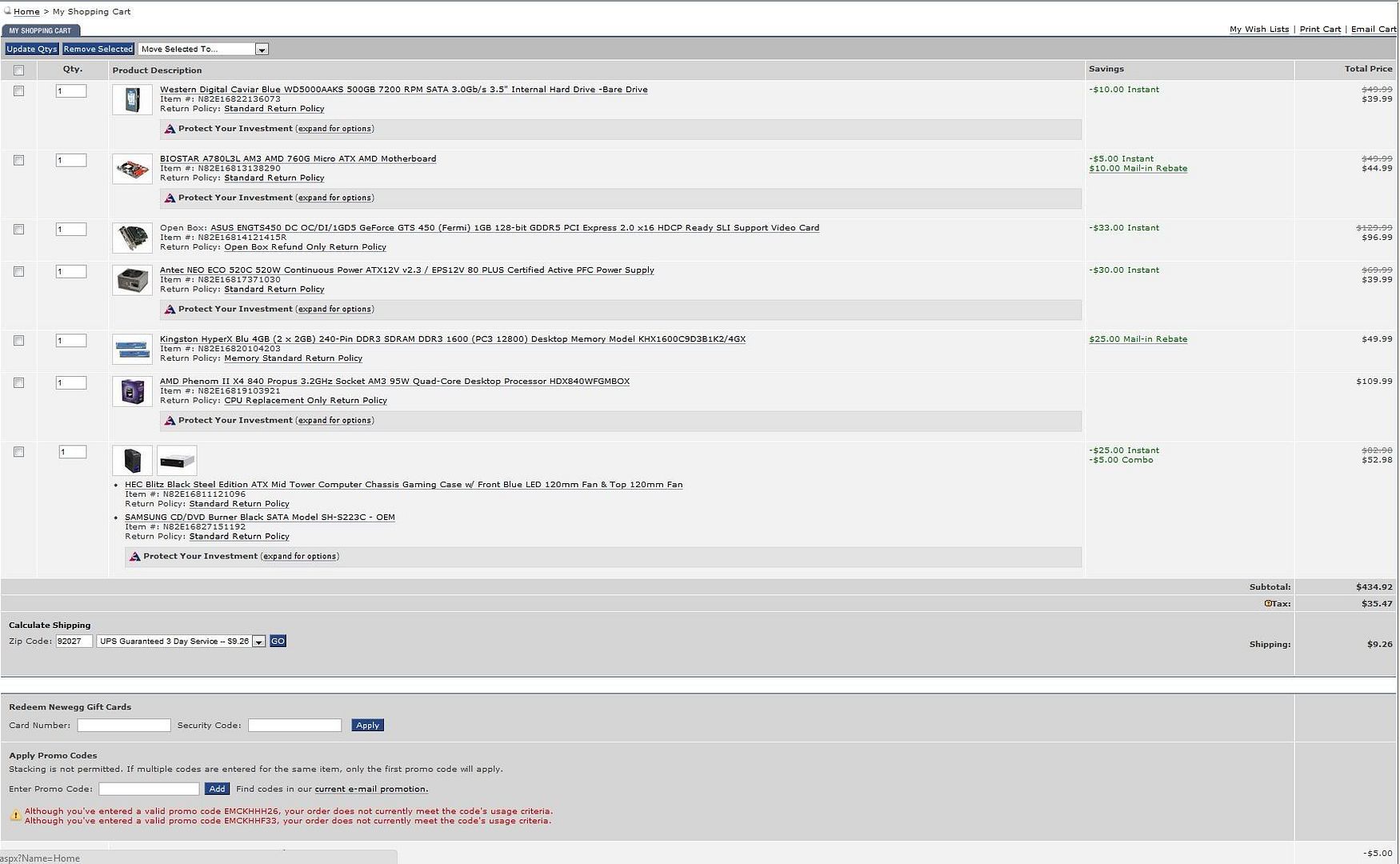 Joined: Dec 2010
Location: kansas city
Posts: 331
Rep: 7

(Unique: 6)

Trader Rating: 1
Quote:
Originally Posted by
ca.j.stokes
Unless you're assembling this from old parts, you can't build a system for light gaming for ~400. i3 cpu is about 120, mobo (h55n-usb3) = 94. a case (sugo05) = 120.
It's kinda not possible
Quote:
Originally Posted by
CookiiMonster
In all honesty I think you'd just have to lurk around OCN and look for some second hand bargains
Good luck
ok, so this is definitely not something you can just replicate, and it took me several months. but it can be done.
I never have done the math on this, so lets see how close i came. Keep in mind, some of these deals were crazy.
Sugo 07/ w PSU: Ebay $120
DFI LANParty MI P55-T36: anand tech forums $80
CPU: craigslist I5 760 $80+ bonus items (bought Corsair 600t, with asus p55 LE motherboard, i5 760 and XFX 750 black PSU in it for 200, sold an old antec 900 w/ 500w coolermaster PSU for 50, and sold the asus motherboard for $80)
RAM: Craigslist 4GB ballistix tracers $25 (bought 2 AMD athlon x4s, 4GB dominator 1600, 4GB tracers, 6GB OCZ black 1600, MSI g54 motherboard and
OCZ 40GB vertex2 SSD for $300, sold the 2 CPUs, the dominators, and the motherboard for $250)
SSD: Craigslist $25 (see previous)
HDD: store bought Seagate 500GB, $40
GPU: not going into super detail here, but bought a dead GPU for $5, under warranty got it exchanged plus extra $50 for an asus direct CU2 6850 $55
Optical drive: Hardforum 6x LG slim bluray $65
OS: Attended a microsoft event, windows 7 ultimate, one morning of sitting through MS presentations
total: $490
So i broke budget a little bit, BUT i also have a corsair 600T, xfx 750 PSU, and 6GB of OCZ ddr 3 left over. and the system has major gaming ability, bluray and an SSD.
you couldn't just order this any time you want.
but for me, that makes it even more fun.