I'm planning on blowing my tax refund on some new toys, so I want to venture into water cooling on my system. Its a Core 2 Quad Q9550 E0, on a Gigabyte EP45UD3LR. Its currently clocked at 3.4ghz on air, and I want to go faster. I'm already planning on upgrading the memory, since thats the primary limiting factor right now, and a new PSU, I'll probably be going with a Silverstone 1000w unit. I'm also planning a new GPU, either a GTX 560 or 570.
So far, I've been reading and playing around on frozencpu, and decided that I want to start with just a cpu loop, and later add a full coverage block to the graphics card, and maybe a northbridge block too. Because of this, I want a system with a fair amount of potential, but I'm also trying to keep the cost from being too exorbitant.
This is the list I've come up with so far, so any advice/suggestions/horror stories would be much appreciated.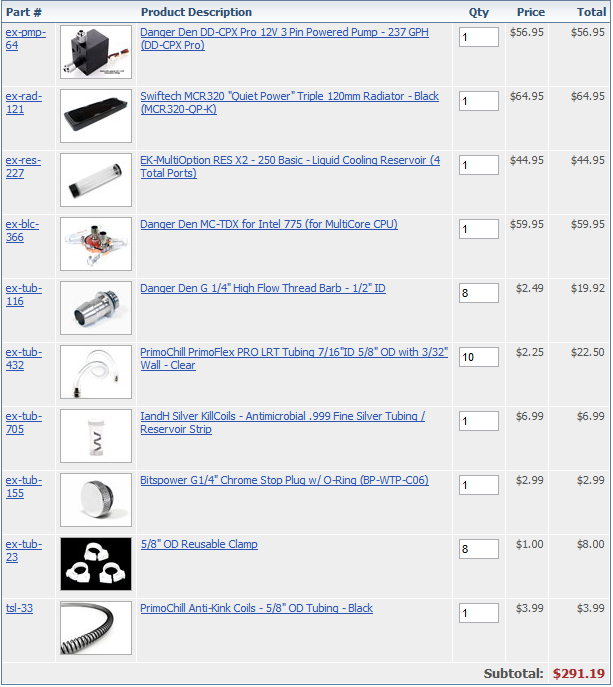 Oh, and I know that none of this is going to fit inside my Antec 902, so I'm planning on mounting the pump, reservoir, and radiator/fans on custom brackets off the back. I'm an experienced metal and fiberglass fabricator, so I'm not worried about anything on that end. Oh, and with 5 1tb hdds and 1 2tb hdd in the front cages, I'm less than worried about making the case top-heavy or unbalanced by hanging a bunch of heavy stuff off the back.