Quote:
Originally Posted by
Tator Tot
They're cautioning the usage of low voltage because of the transitor & phase count.

Though generally low voltage would be below 1.4v, I've tested the board up to 1.5v on an x6. And it was fine.
Do note that I had an Antec Spot Cool on low, blowing onto the VRM area.
The x6, I imagine pulls, 115-120 watts (max 125). The 555 x2 overclocked is significantly less watts. So is it the volts or the watts that is problem?
Also this: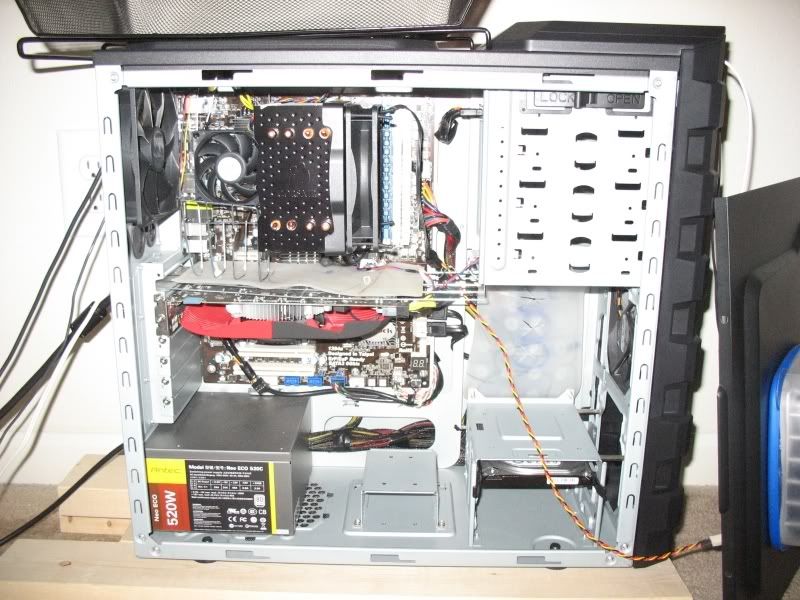 I use the 555's original heatsink fan as additional cooling for the vrm. And then threw on an old junked heatsink fan on to the northbridge...
Actually, I made a
thread about it too
.
I suppose that the 555 stock hsf is similar (maybe a bit better) to the Antec Spot Cool's performance. Hopefully it helps,
Jyk
Edited by jyk - 6/4/11 at 11:40am
CPU
Motherboard
Graphics
RAM
Phenom II 555 BE 3.8ghz
ASRock 870 Extreme 3
MSI N450GTS-M2D1GD5/OC
G Skill 4 GB DDR3-1333
Hard Drive
Monitor
Power
Case
Seagate 500 GB, 7200
Compaq WF1907 [19" LCD]
antec neo eco 520c
Cooler Master HAF 912
View all
hide details
CPU
Motherboard
Graphics
RAM
Phenom II 555 BE 3.8ghz
ASRock 870 Extreme 3
MSI N450GTS-M2D1GD5/OC
G Skill 4 GB DDR3-1333
Hard Drive
Monitor
Power
Case
Seagate 500 GB, 7200
Compaq WF1907 [19" LCD]
antec neo eco 520c
Cooler Master HAF 912
View all
hide details