Here's some pics of the new components.
The Aquaero 5 XT in black as Ive order it.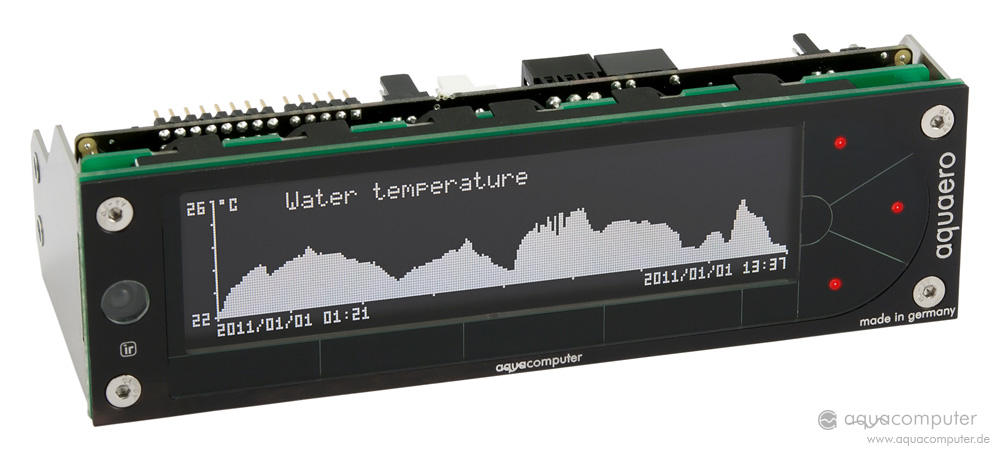 Animated screens from the menus

Water block for the onboard fan amp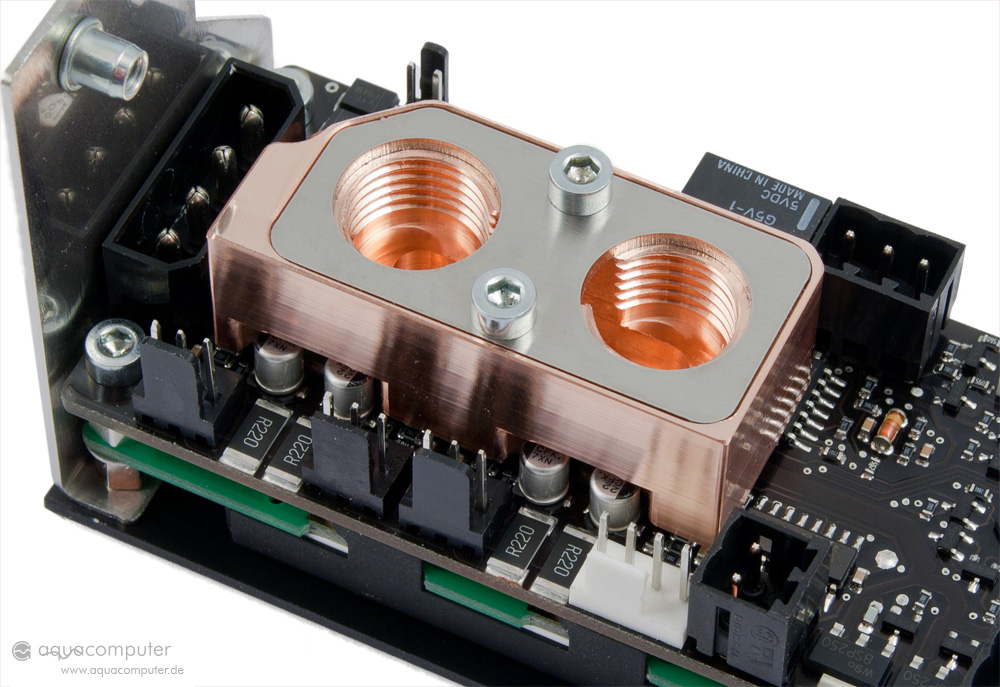 Infrared remote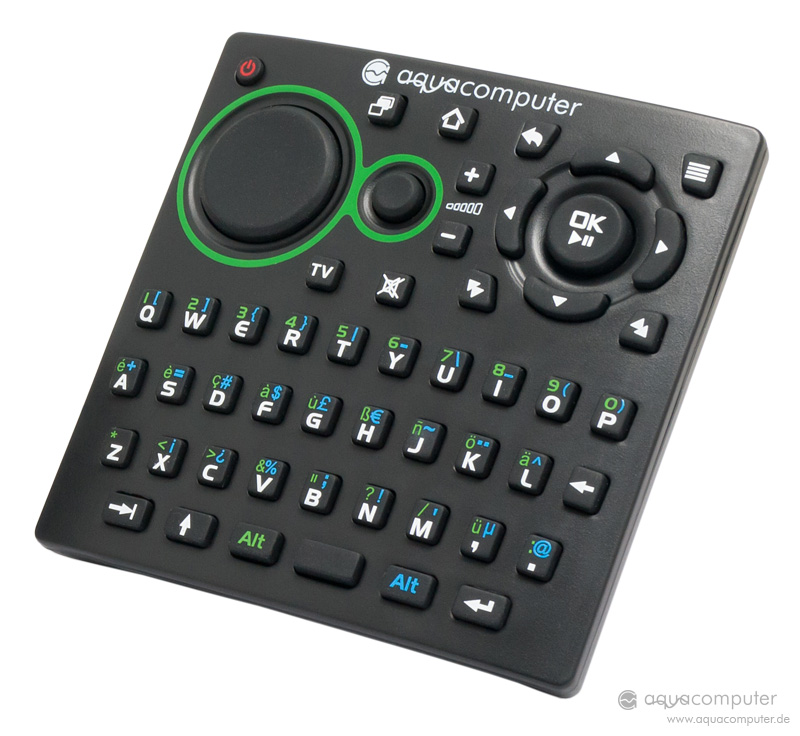 A video demo. Im getting 6 of the poweradjust 2 USB high power controllers as well to fully expand the system. To run 6 fans per controller(1 Rad) and a couple for D5s as the main head unit will only just manage 2 D5s with the water block on it.
For the poweradjust 2s im going to mount them on the 5-1/4 mount as per the video below but inside the case mounted face up to a rad for some airflow.
http://www.youtube.com/user/aquacomp...re=KjlC58W3v3Q
Also getting these goodies from Koolance.
http://www.koolance.com/water-coolin...roduct_id=2025
Koolance 370 CPU block
CPU
Motherboard
Graphics
RAM
i7 4960X @ 4.6Ghz
Asus Rampage IV Black Edition
4-way SLI Gigabyte 3GB GTX580 - UD @ 1000/2250
16GB Corsair Dominator GT 4x4GB 9-10-9-27 @ 200...
Hard Drive
Hard Drive
Hard Drive
Hard Drive
2x OCZ Vertex 2 120GB SSD RAID 0
4x Sandisk Extreme 120GB SSD RAID 0
8x Western Digital 3TB Green
Hotway ProRaid External USB3 Raid Enclosure
Hard Drive
Optical Drive
Cooling
Cooling
4x WD Caviar Black 1TB
LG BH14NS40 Bluray writer
26x CoolerMaster R4 Fans
6x Aquacomputer PowerAdjust 2 Ultra
Cooling
Cooling
Cooling
Cooling
2x Koolance 452X2 Res
4x D5 Pumps
Aquacomputer cuplex Kryos HF .925 silver editio...
4x Aquacomputer Aquagrafx GTX580 Water Blocks
Cooling
Cooling
Cooling
OS
8x Tecnofront AirBox 360 Plexi Radiator Shrouds
4 x Blackice GTX360 Rads
Aquacomputer Aquaero 5 XT
Win 7 64Bit Ultimate
Monitor
Keyboard
Power
Case
3x Acer H243H 24" LCD
Logitech G19
2x Enermax Revo 1500W
Mountain Mods Extended Ascension
Mouse
Mouse Pad
Audio
Other
Logitech Perfomance MX Darkfield Laser
Steelseries
Logitech Z5500 5.1
Koolance Compression Fittings and QDCs
Other
Other
Other
Other
MDPC Sleeving
Saitek X52 Pro
Saitek Pro Rudder Pedals
Track-IR 5
Other
Logitech G13 gaming pad
View all
hide details
CPU
Motherboard
Graphics
RAM
i7 4960X @ 4.6Ghz
Asus Rampage IV Black Edition
4-way SLI Gigabyte 3GB GTX580 - UD @ 1000/2250
16GB Corsair Dominator GT 4x4GB 9-10-9-27 @ 200...
Hard Drive
Hard Drive
Hard Drive
Hard Drive
2x OCZ Vertex 2 120GB SSD RAID 0
4x Sandisk Extreme 120GB SSD RAID 0
8x Western Digital 3TB Green
Hotway ProRaid External USB3 Raid Enclosure
Hard Drive
Optical Drive
Cooling
Cooling
4x WD Caviar Black 1TB
LG BH14NS40 Bluray writer
26x CoolerMaster R4 Fans
6x Aquacomputer PowerAdjust 2 Ultra
Cooling
Cooling
Cooling
Cooling
2x Koolance 452X2 Res
4x D5 Pumps
Aquacomputer cuplex Kryos HF .925 silver editio...
4x Aquacomputer Aquagrafx GTX580 Water Blocks
Cooling
Cooling
Cooling
OS
8x Tecnofront AirBox 360 Plexi Radiator Shrouds
4 x Blackice GTX360 Rads
Aquacomputer Aquaero 5 XT
Win 7 64Bit Ultimate
Monitor
Keyboard
Power
Case
3x Acer H243H 24" LCD
Logitech G19
2x Enermax Revo 1500W
Mountain Mods Extended Ascension
Mouse
Mouse Pad
Audio
Other
Logitech Perfomance MX Darkfield Laser
Steelseries
Logitech Z5500 5.1
Koolance Compression Fittings and QDCs
Other
Other
Other
Other
MDPC Sleeving
Saitek X52 Pro
Saitek Pro Rudder Pedals
Track-IR 5
Other
Logitech G13 gaming pad
View all
hide details