So I've been trying to change the VID on my Q9550 to get it to a higher clock speed. When I change it in my motherboard's bios, it doesn't seem to take effect. Here are two screenshots of my bios and my desktop when running a burn test.
Can you guys think of anything I'm doing wrong?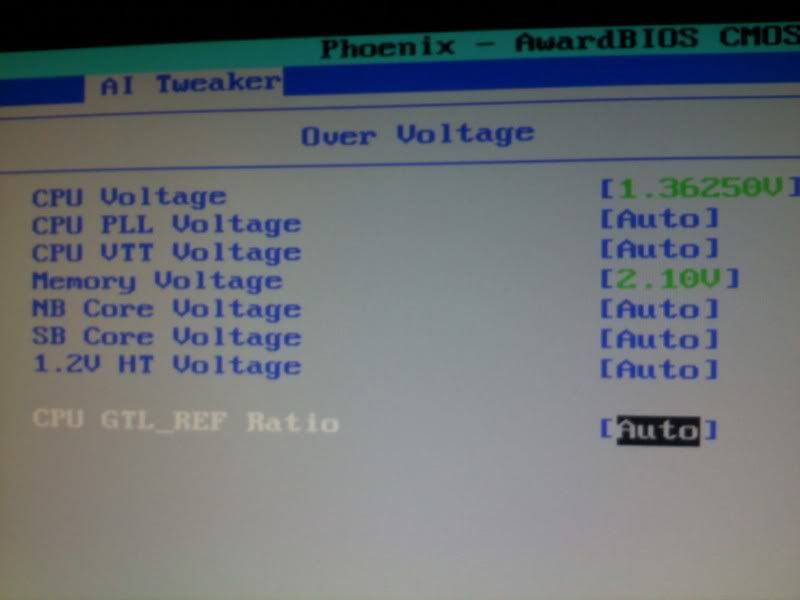 http://i45.photobucket.com/albums/f7...screenshot.png
If you can't see the desktop screenshot very well, CPUID is showing a VID of 1.280V and AIDA64 is showing a VID of 1.225V.
Edited by metalfox7 - 2/23/11 at 7:26am
CPU
Motherboard
Graphics
RAM
Core 2 Quad 9550
Asus P5N-72T
EVGA GTX 260 core 216
4GB DDR2 1066
Hard Drive
OS
Monitor
Power
WD 500GB
Windows 7 x64
23" LG 1920x1080
Corsair HX620
Case
Mouse
Antec 900
Razer Deathadder
View all
hide details
CPU
Motherboard
Graphics
RAM
Core 2 Quad 9550
Asus P5N-72T
EVGA GTX 260 core 216
4GB DDR2 1066
Hard Drive
OS
Monitor
Power
WD 500GB
Windows 7 x64
23" LG 1920x1080
Corsair HX620
Case
Mouse
Antec 900
Razer Deathadder
View all
hide details