Quote:
Originally Posted by windfire;12515510 
Only use this as a very last resort.

Q1: What brand/model is the 2 GTX460s?
Q2: I see you list Thermaltake DuOrb as GPU cooling. Are you using that on both cards? I am seeing some blue shroud on the cards?
Q3: Can you remove the case side panel to show a better pic of your setup?

One thing you can do now to help out the temperature difference between the 2 cards:
Connect the monitor to the bottom card. With this move, you will make the bottom card the main card of the pair and the main card usually does just a little bit more work (thus slightly hotter) in a SLI setup. This should improve the temperature of the top card by, say, 2-3C.
Q1: Galaxy GeForce GTX 460 GC 768 MB (700/1400/1848)
Q2: no that's my old cooler for my old GTS 250. that card is currently enjoying it's vacation in the closet
fixed
Q3: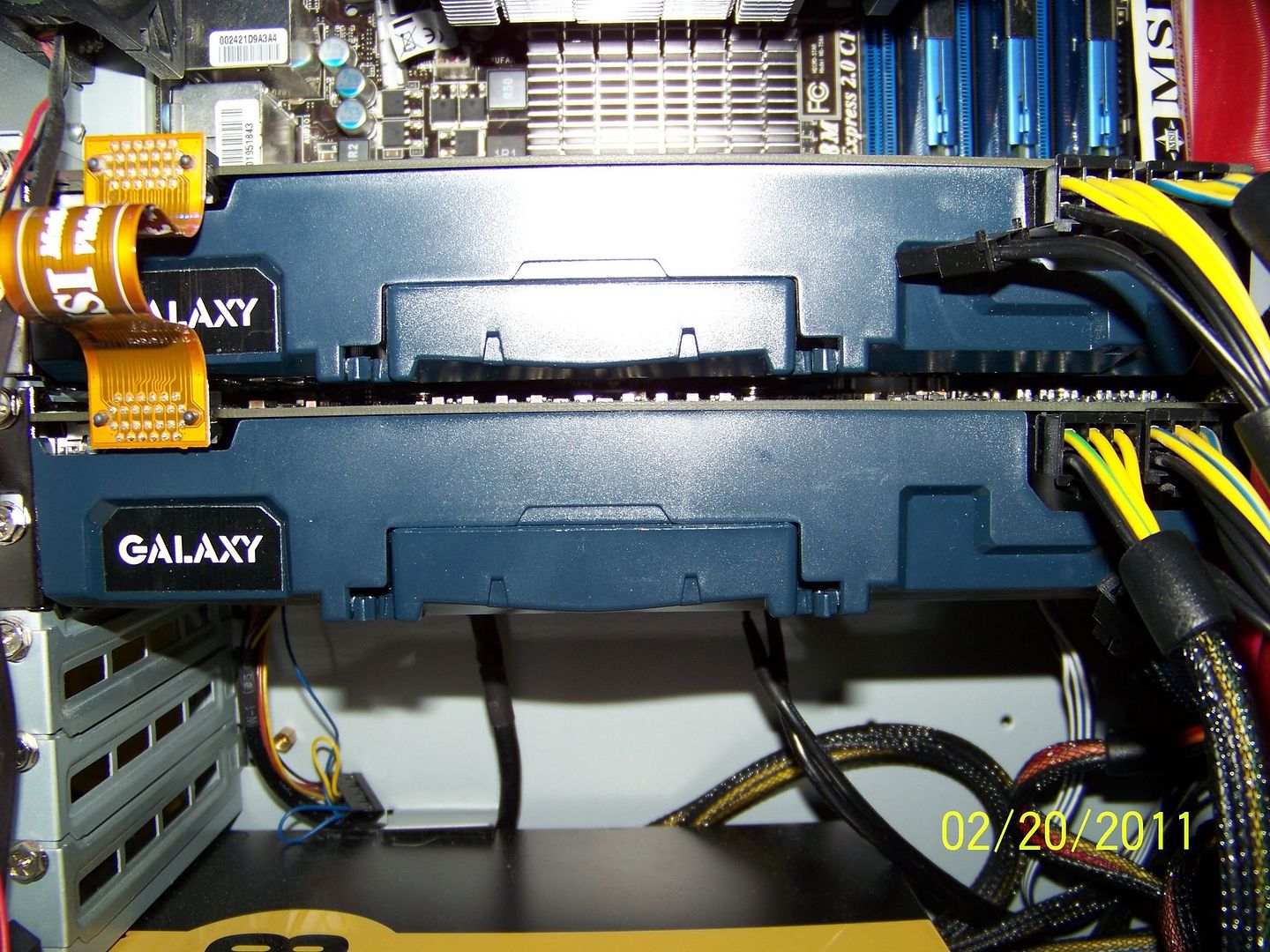 there ya go sir. as u can see, there is 2mm gap between the cards. that's pry the main reason for the heat
yea i tried connecting to the bottom card since both PCI-E slots are X16 and i shouldn't lose any perf. but that did not do much to help the temperature.
btw i'd love to buy a different motherboard, but budget is out after i bought the 2nd card and if i change mobo i will have to buy another copy of windows 7 which is another $30 i believe.
Edited by james8 - 2/24/11 at 7:25pm
CPU
Motherboard
Graphics
RAM
INTEL Core i7 6700K
ASUS Maximus VIII Hero Z170
MSI Geforce GTX 980 Ti Gaming 6G
G.SKILL Ripjaws 4 series 16GB DDR4 3000
Hard Drive
Hard Drive
Cooling
OS
SAMSUNG SM951 NVMe 512GB
SAMSUNG 850 EVO 1TB
COOLER MASTER Nepton 280L
MICROSOFT Windows 10 Pro x64
Monitor
Monitor
Keyboard
Power
BENQ XL2420TE
DELL UltraSharp U2415
WASD V2 custom
CORSAIR HX850i
Case
Mouse
Audio
Other
NZXT H440 white
CORSAIR Vengeance M95
CREATIVE Sound Blaster Z
CPU Delid
Other
LED Lighting
View all
CPU
Motherboard
Graphics
RAM
Intel Core i5 4300U
Microsoft Surface
Intel HD Graphics 4400
8 GB DDR3L
Hard Drive
OS
Keyboard
Mouse
256 GB SSD
Windows 10 Pro x64
Surface Pro 4 Type Cover with Fingerprint ID
Microsoft Arc Mouse Surface Edition
View all
hide details
CPU
Motherboard
Graphics
RAM
INTEL Core i7 6700K
ASUS Maximus VIII Hero Z170
MSI Geforce GTX 980 Ti Gaming 6G
G.SKILL Ripjaws 4 series 16GB DDR4 3000
Hard Drive
Hard Drive
Cooling
OS
SAMSUNG SM951 NVMe 512GB
SAMSUNG 850 EVO 1TB
COOLER MASTER Nepton 280L
MICROSOFT Windows 10 Pro x64
Monitor
Monitor
Keyboard
Power
BENQ XL2420TE
DELL UltraSharp U2415
WASD V2 custom
CORSAIR HX850i
Case
Mouse
Audio
Other
NZXT H440 white
CORSAIR Vengeance M95
CREATIVE Sound Blaster Z
CPU Delid
Other
LED Lighting
View all
CPU
Motherboard
Graphics
RAM
Intel Core i5 4300U
Microsoft Surface
Intel HD Graphics 4400
8 GB DDR3L
Hard Drive
OS
Keyboard
Mouse
256 GB SSD
Windows 10 Pro x64
Surface Pro 4 Type Cover with Fingerprint ID
Microsoft Arc Mouse Surface Edition
View all
hide details