So today I got my two RS240 rads, XSPC 750 res/pump, XSPC GPU block, XSPC CPU block, 10 feet black primoflex, and Sunbeam Rheosmart-6 fan controller.
Its my first time ever water cooling in fact I have never seen a WCed computer in person, only here on OCN. Had some scary leaks at first, but following the info I learned here nothing was damaged.
It is beautiful and effective.
CPU (3.6ghz w/ 2700mhz cpu-nb) temps are:
33c idle (down from 40c)
45c load (down from 55c)
GPU temps (800mhz core, 1600mhz shader, 1800mhz memory) are:
23c idle (down from 37c)
27c load (down from 55-62c!!!!!)
The CPU changes were OKAY but the video card is unbelievable, and that is with an overclock! I plan to see how far I can push that one, but I dont plan to go any higher than 900mhz w/ 1.080v....this card came with a Mosfet heatsink but not sure how much I trust it.
I replaced the thermal pad under the MSI mosfet/nb heatsink a much better pad and mounted three 50mm fans on the heatsink. Between that and the H20 I am going to try for 3.9ghz stable or maybe, just maybe 4.0ghz. The only thing making me hesitant is the MSI system board Mosfets which have been known to fry at sertain temps and voltages (hence the modded Mosfet cooling).
Well here is my lame excuse for a work log. Please forgive my poor photography skills....I have no feel for cameras.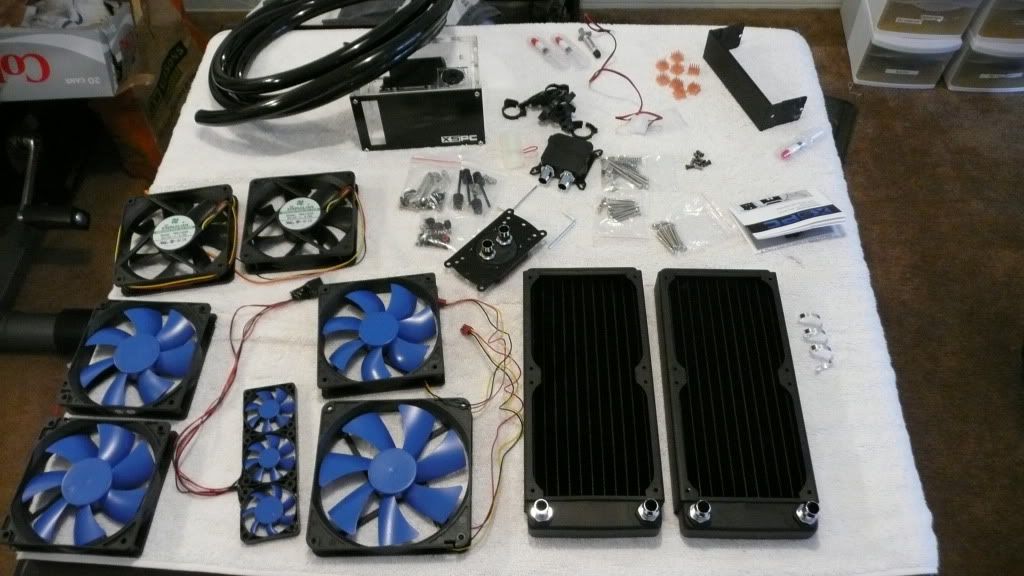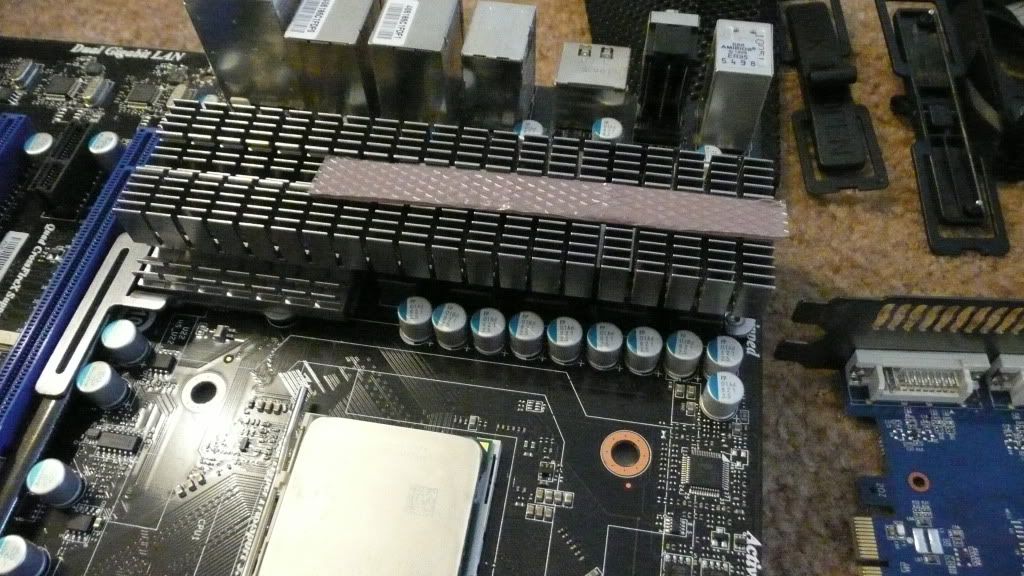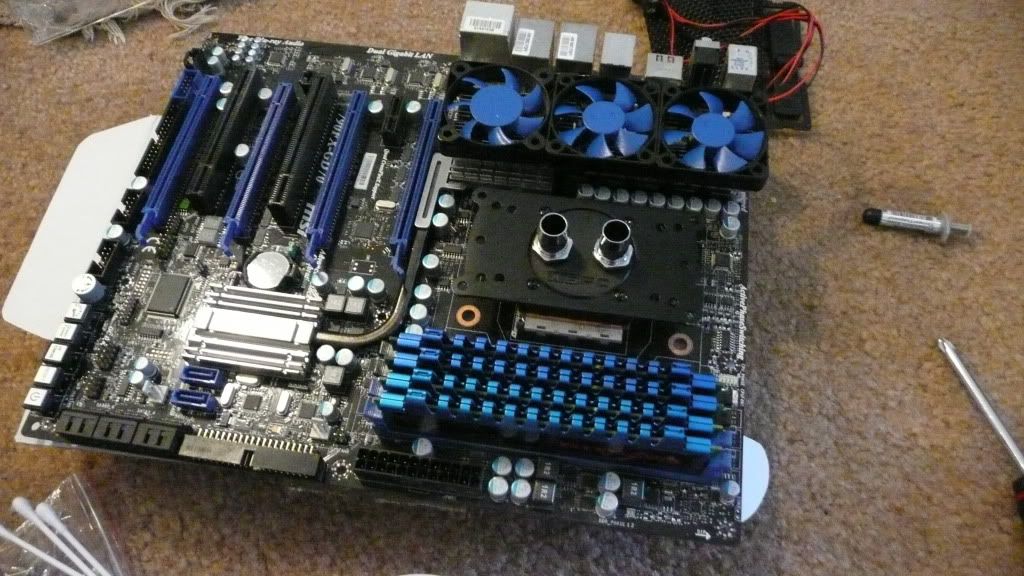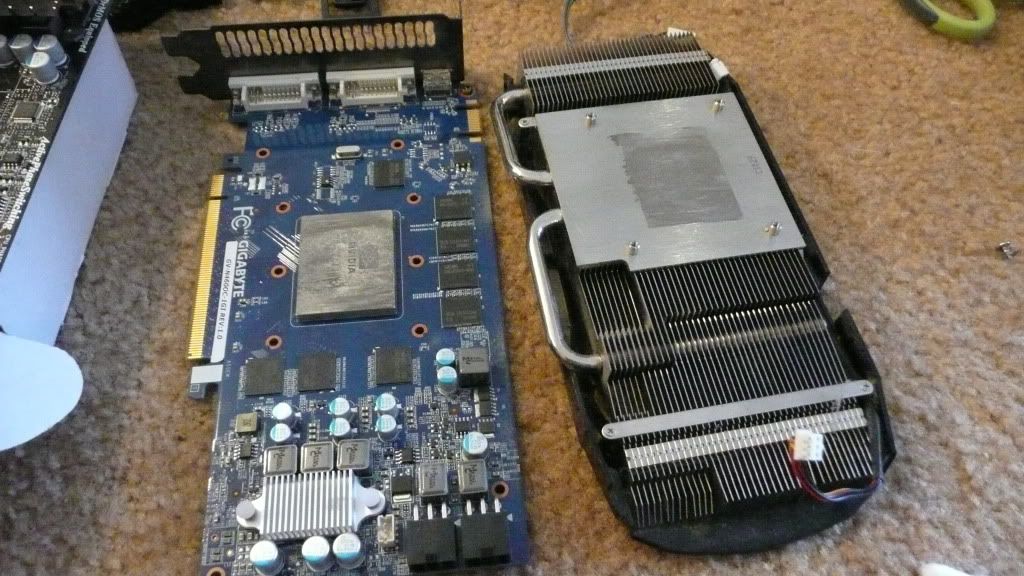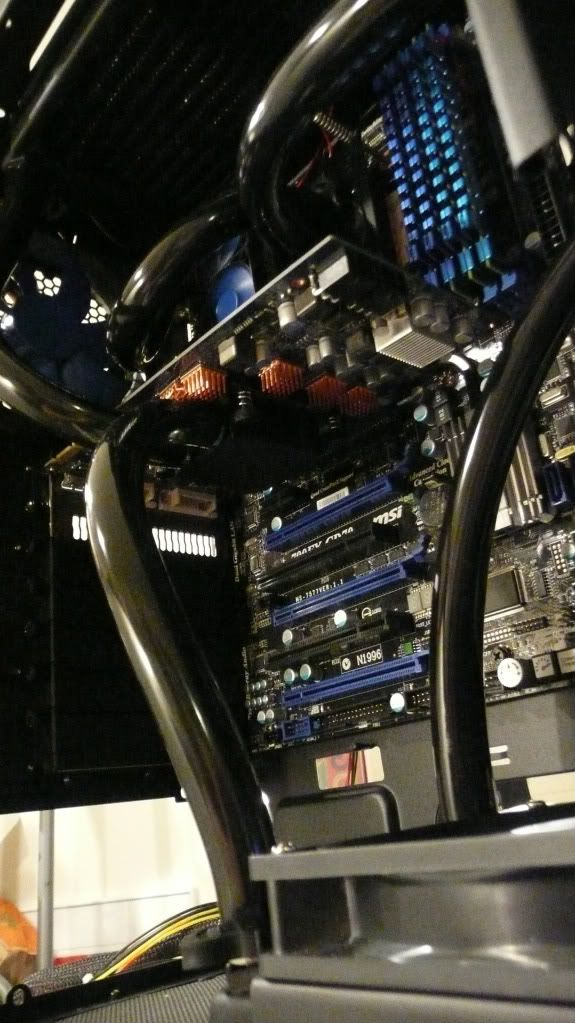 There it is, my first WCed PC. Let me know what you think!
CPU
Motherboard
Graphics
RAM
Phenom II x4 955 BE C2 @ 3.84ghz (240x16, 1.47v)
MSI GD70-790FX, IMC @ 2640mhz (240x16, 1.3v)
Gigabyte GTX460 OC 1GB GDDR5 850-1700-2000 1.025v
8gb G.Skill Ripjaw DDR3-1600 cl 7-8-7-24-1t, 1.65v
Hard Drive
Optical Drive
OS
Monitor
(2) 1TB Samsung F3
Sony DVD/DVR/CDR
Windows 7 Home Premium 64-bit
Viewsonic 22" widescreen 5ms
Keyboard
Power
Case
Mouse
Belkin n52te and xGene Mini
Cooler Master RS-500
Cooler Master 690 II Advanced
Logitech G5 with Setpoint
Mouse Pad
Audio
RevolTec Precision Advanced
Onboard
View all
hide details
CPU
Motherboard
Graphics
RAM
Phenom II x4 955 BE C2 @ 3.84ghz (240x16, 1.47v)
MSI GD70-790FX, IMC @ 2640mhz (240x16, 1.3v)
Gigabyte GTX460 OC 1GB GDDR5 850-1700-2000 1.025v
8gb G.Skill Ripjaw DDR3-1600 cl 7-8-7-24-1t, 1.65v
Hard Drive
Optical Drive
OS
Monitor
(2) 1TB Samsung F3
Sony DVD/DVR/CDR
Windows 7 Home Premium 64-bit
Viewsonic 22" widescreen 5ms
Keyboard
Power
Case
Mouse
Belkin n52te and xGene Mini
Cooler Master RS-500
Cooler Master 690 II Advanced
Logitech G5 with Setpoint
Mouse Pad
Audio
RevolTec Precision Advanced
Onboard
View all
hide details