I have been exploring ideas of how to make the interior of my ABS Black Pearl look 'cleaner'. The exterior is black brushed aluminum but most of the interior panels are silver aluminum. I am contemplating biting the bullet and fully disassembling the case to have the interior powder-coated but I have also come up with a fairly simple idea using acrylic sheeting to 'clean up' the interior. Below is a stock picture of the case.
The following SketchUp diagrams feature a rough model of the case. As shown below, panels A, B (optical drive mounts) and C (motherboard tray) are silver aluminum.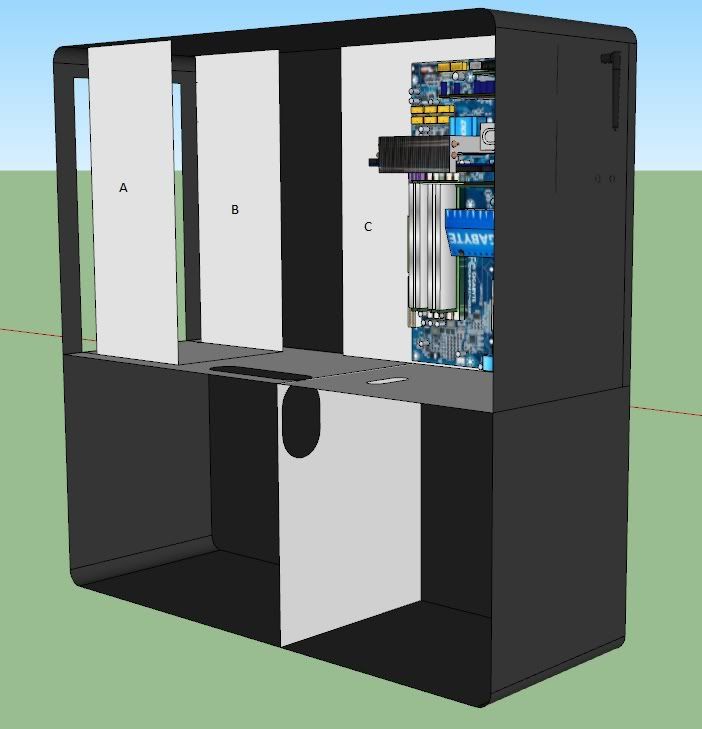 The images below describe my idea regarding acrylic. Two sheets of smoked acrylic will be installed covering panels A, B and part of C. The sheets will be bolted to the unpainted aluminum panels using the mounting holes already drilled in the aluminum.
The acrylic sheet covering panel A is purely for looks. The sheet covering panel B and part of panel C serves the dual purpose of hiding the unpainted aluminum panels and also providing cable management options (front panel, USB and SATA connectors can be routed underneath it and out of sight).
I am lucky enough to have a professional plastics shop located about 3 blocks from my house. All I need to do is create templates and the shop will custom cut the acrylic for me.
I do have a couple of concerns. Mainly whether smoked acrylic will be dark enough to hide the silver aluminum beneath it or whether I will need to use black acrylic to hide the unpainted aluminum. Given how inexpensive this project will be (probably ~$30 for the material and custom cutting), I may just go ahead with the smoked and see how things turn out.
But before I do, let's hear some thoughts and opinions from OCN...
Edited by MCBrown.CA - 3/2/11 at 10:27am
CPU
Motherboard
Graphics
RAM
920 D0 | 4104MHz@1.23V
Big Bang XPower
5850 | 880/1050
6GB Sector 7 | 1728MHz
Hard Drive
OS
Monitor
Power
F115
W7P64
245BW
SPI Magna 1kW
Case
cardboard (case/loop in prog)
View all
hide details
CPU
Motherboard
Graphics
RAM
920 D0 | 4104MHz@1.23V
Big Bang XPower
5850 | 880/1050
6GB Sector 7 | 1728MHz
Hard Drive
OS
Monitor
Power
F115
W7P64
245BW
SPI Magna 1kW
Case
cardboard (case/loop in prog)
View all
hide details