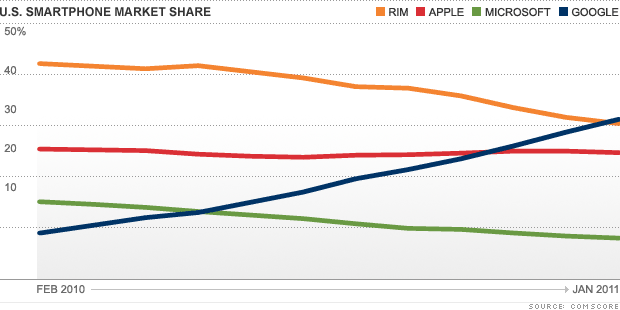 Quote:
NEW YORK (CNNMoney) -- Android is now the most-used smartphone operating system in the United States -- a stunning race to the top from a platform that didn't exist just 27 months ago.
Nearly one third, or 31.2%, of U.S. smartphones ran Google's (GOOG, Fortune 500) Android OS in January, according to a study released Monday by comScore. That outpaced the 30.4% of American smartphone owners who use BlackBerry devices, which are made by Research in Motion (RIMM).

Source
Not sure is it a repose, but ya
Now Android is on top, it'll start a downward trend, whats goes up must come down right?
Edited by DrDarkTempler - 3/7/11 at 1:26pm