Hey guys, sorry if this has been mentioned before.
I just purchased a mouse pad yesterday (although it's a cheap mouse pad, works great for me) after using my mice strictly on my desk top surface, which has contributed to quite a bit of scratches on my mouse feet.
Anyway, while I was gaming I happen to glance over and see the wife buffing her nails and for some odd reason, I had an epiphany. What if I used my wifes nail buffer to polish out my mice's feet?
Well, it worked great! Feet look almost as glossy as the day it arrived. Some minor scratches that are apparently too deep to remove is evident...but at any rate, it did a good job with out scratching up the bottom of my mouse.
Of course, if I wanted to I could have done this with the high grit sandpaper I have in my garage, but rather not scuff up the bottem of my mouse.
Anyway, just passing this along. I doubt this will work forever as this will likely contribute to wearing down. However, if you're starting to feel some resistance on your mouse, handy little tool to keep in your computer desk drawer!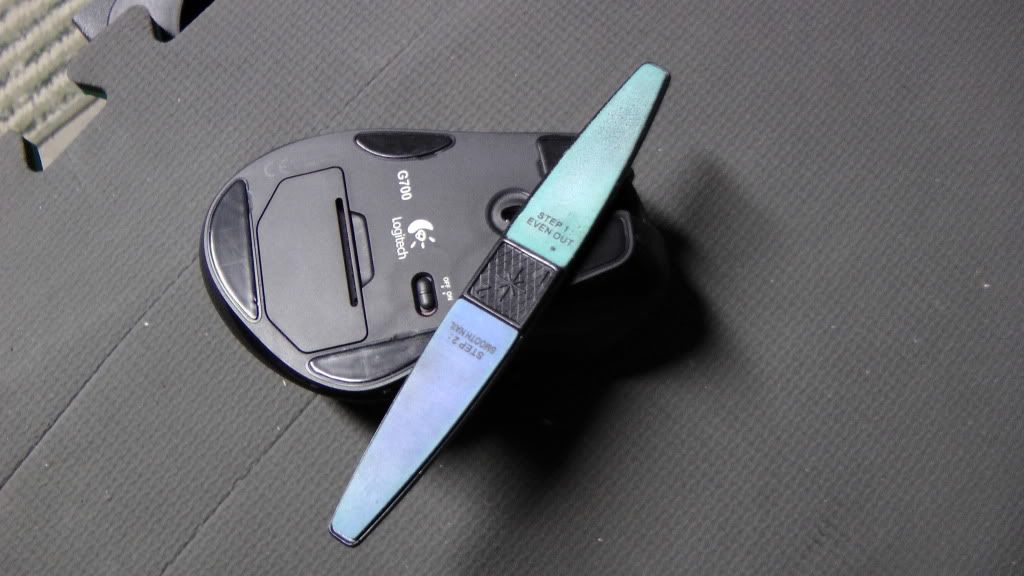 Edited by dedmonwakin - 3/7/11 at 3:40pm
CPU
Motherboard
Graphics
RAM
i7 870
Asus P7P55D-E Pro
1GB GTX 460 SLi
G.skill Ripjaw 8GB
Hard Drive
Optical Drive
OS
Monitor
Samsung Spinpoint 1TB/320GB/Corsair SDD 32GB
24x CD/DVD
Win 7 64bit
25" HP 2509m 3ms (GTG)
Power
Case
Mouse
Corsair TX750W
SilverStone FT02B-W
Logitech G700 & Logitech M510
View all
hide details
CPU
Motherboard
Graphics
RAM
i7 870
Asus P7P55D-E Pro
1GB GTX 460 SLi
G.skill Ripjaw 8GB
Hard Drive
Optical Drive
OS
Monitor
Samsung Spinpoint 1TB/320GB/Corsair SDD 32GB
24x CD/DVD
Win 7 64bit
25" HP 2509m 3ms (GTG)
Power
Case
Mouse
Corsair TX750W
SilverStone FT02B-W
Logitech G700 & Logitech M510
View all
hide details